​Opera Carolina Brings Beloved Carmen Back to Charlotte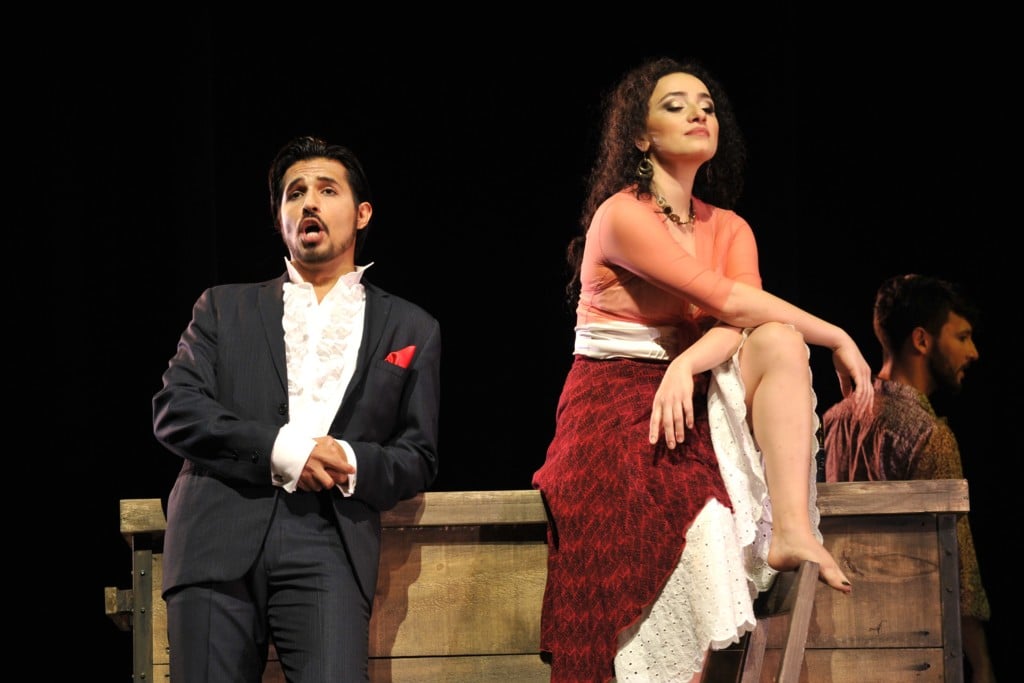 "LOVE IS a rebellious bird that nobody can tame," George Bizet's uber-heroine, Carmen, muses in Habanera, perhaps the most well-known aria ever performed.
Whether it is love, lust, or an illicit combination, Carmen, opera's most compelling seductresses, is hell-bent on harnessing the powers bound within these emotions to elevate herself from a life of endless toil into a glorious journey of adventure and passion. Charlotte temperatures will rise considerably later in January as Opera Carolina returns the sultry Carmen to the Belk Theater after more than a decade since last performed here.
Asked why Carmen continues to be so beloved more than a century after its 1875 debut, James Meena, artistic director for Opera Carolina, doesn't hesitate in his response. "As with all the great masterpieces, it's all about the music," says Meena. "The familiarity of Carmen's melodies, used for countless commercials and across film and television, speaks for itself. The music is simply iconic, making it easy and accessible for new audiences. Within seconds of the curtain going up, they hear music they are very familiar with. They may not know it's from Carmen, but its music that has been in the social consciousness since the piece premiered."
Staging is a spectacle as the late 19th century period piece shows off the performers in vividly colored Spanish costumes, choregraphed flamenco-style dance, elaborate set pieces acquired from the Opera de Quebec, and an ensemble cast featuring superstar soprano, Alyson Cambridge.
"We have more than 250 people involved from the cast and chorus, to the orchestra, local children's choir [Choir School at St. Peter's], dancers [Dance USA], and behind the scenes staff," says Meena. "The performance is truly an extravaganza."
Audiences connect not only with the instantly recognizable music with Carmen but relate to the drama and relationship complexities on display. "You have these characters that are very human and relatable," says Alyson Cambridge, in her first appearance with Opera Carolina and debut performance as Carmen. "There's incredible drama and tragedy. It's a story of love, passion, lawlessness, of vulnerability and pain. But there's also great humor and the unfolding of complex relationships. There's so much in one opera."
Meena noted OC is performing Carmen virtually uncut, avoiding the standard opera practice of trimming from the original score to accommodate preferences for shorter run times.
"For those people who know Carmen, they're going to hear some music they've not likely heard before," says Meena. "It's another way to keep things interesting and fresh."
Carmen's lead is typically cast with a mezzo soprano, or "half-soprano," a vocal range somewhat lower in scale and a vocal-category most often placed in secondary operatic roles. Meena breaks with tradition in casting Cambridge, a soprano, whose resume include performances at the Metropolitan Opera, Lyric Opera of Chicago, and London's Royal Albert Hall.
"Alyson is an amazing artist," says Meena, "I particularly like her voice type as she has great low notes and can sing the entire range. She's a terrific actress as well, and people are going to be blown away by her performance." (Alyson Cambridge performs "Habanera" from Carmen in this YouTube video.)
Cambridge said she is thrilled to be taking on the role and finds a great acting challenge in tackling such a complex character.
"What's interesting about Carmen," says Cambridge, "is she both takes advantage of, and is a victim of, of her strengths and vulnerabilities. She succumbs to her own passions which becomes her undoing. She's a very complex character – she's not just a sexy femme fatale, there's a lot more to her."
Tenor Dario di Vietri plays Don Jose, the Spanish army soldier entranced by Carmen's seductive ways. di Vietri is a graduate of the Milan Academy, studied with Luciano Pavarotti, and has performed around the globe including stages at Spain's Opera of Oviedo and the National Opera of Athens.
The cast is complemented by baritone Alex Lawrence as Escamillo, the dashing toreador and object of Carmen's affections and mezzo soprano Christine Amon as Mercedes, Carmen's confidant and BFF. Carmen was notably scandalous when she first appeared on stage, drinking, smoking cigarettes and breaking theatrical and societal taboos. She's no less a bad-ass today at the height of the #MeToo movement, a righteous woman who takes a back seat to no man and is wholly unabashed in claiming all she desires.
Want to Go?
Opera Carolina Presents: Carmen
Belk Theater
Jan. 19 – 8 p.m.
Jan 20 – 2 p.m.
Jan. 24 – 7:30 pm
For tickets, head here.