10 CMPD Cold Cases: 5 Solved, 5 Unsolved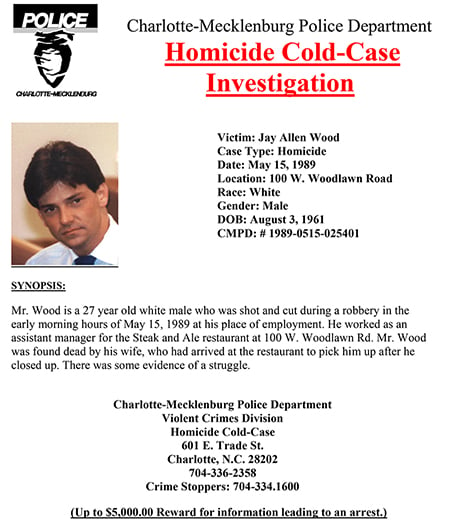 SOLVED
JULY 4, 1979 — Five people were shot and killed at the "Outlaw clubhouse," a rented house at 2500 Allen Road South, where the Outlaw motorcycle gang kept a virtual fortress surrounded by eight-foot fences and vicious dogs. Gregory Scott Lindaman and Randy Allen Pigg, both of whom died in the years after the shooting, were the triggermen, police said. CMPD worked the case for years and finally found someone who provided names. SOLVED: 2015
1979 —Jerry Lee Brooks, the so-called "skimask rapist," attacked at least nine women in south and east Charlotte in 1979. Brooks left Charlotte in 1980 and lived in nearly a dozen other places. In 1991, he was convicted of armed robbery. He was released from prison in 2005, but not before submitting a swab of DNA. In 2011, the Charlotte-Mecklenburg Sexual Assault Cold Case Unit entered DNA collected from crime scenes into the federal database, and it matched Brooks. They arrested Brooks at a condo he rented in Surfside Beach, South Carolina, and he pleaded guilty to three rapes and was sentenced to life in prison. SOLVED: 2013
APRIL 29, 1985 — Tony Baucom was overcome by smoke and flames inside his apartment at Highland Oaks at East 7th Street and Hawthorne Avenue after a fire engulfed the building. Arthur Blake was charged with murder and first-degree arson in connection with Baucom's death. Blake was a suspect in 1985, but investigators didn't have enough evidence to charge him. In March 2014, CMPD's Homicide Cold Case Unit detectives received information from fire investigators that led detectives to re-open the almost 30-year-old investigation. SOLVED: 2014
JANUARY 14, 1988 — Thirty-year-old Tommy Corum was 10 days into his new job as a taxi driver when he picked up a passenger at Hardee's on Kings Drive. He was shot on Waco Street, off Baxter Street and Queens Road. Jackie Sanders, who was serving time in Tabor Correctional Institution for several other felonies, was charged with first-degree murder and armed robbery when DNA evidence linked him to the crime. SOLVED: 2015
NOVEMBER 21, 2004 — Ronnie Page, 32, was driving with his niece strapped in a car seat when he was carjacked. The man shot and killed Page before driving away—without knowing Page's niece was in the backseat. When he realized the child was in the car, he pulled over at an apartment complex, gave the child to a stranger, and ran away. Steven Elam eventually pleaded guilty to second-degree murder and two counts of armed robbery. He had evaded police for years, but was connected to Page's murder when police matched DNA from the crime to Elam's DNA in a national database. He was entered into the database because of a 2007 federal conviction for a weapons violation. SOLVED: 2011.
---
UNSOLVED
MAY 15, 1989 — Jay Allen Wood, 27, worked as an assistant manager for Steak and Ale restaurant at 100 West Woodlawn Road. In the early morning hours, he was shot during a robbery. Wood's wife, Tanya, found him when she went to the restaurant to pick him up. There was evidence of a struggle, and the restaurant's safe was open with money missing. Tanya and Jay Wood were newlyweds who had moved from Winston-Salem about three weeks before his murder. Wood was killed two days after another restaurant employee, Ernest Jones, was robbed by two men, one armed with a gun and one armed with a knife.
AUGUST 12, 2005 — Michael Tyrone Evans, 39, was found dead in the driver's seat of his dark gray Chevrolet Trailblazer at the American Coin Laundry at 3333 Freedom Drive. A witness heard shots and saw a cream- or white-colored car drive away from the victim's car.
DECEMBER 27, 2007 — Kellie Sulton Owens, 30, was found shot in her home at 9121 Meadow Vista Road, with her two-year-old daughter in the apartment, unharmed. Owens worked as a counselor for at-risk children in the Charlotte-Mecklenburg Schools system.
APRIL 11, 1981 — Five-year-old Neely Shane Smith was last seen playing at her apartment complex, Williamsburg Jamestowne Apartments. Two months later, on April 11, her remains were found 15 miles from her home at 6701 Union Road, near the Mecklenburg County-Union County line. Nineteen months before that, 10-year-old Amanda Ray was killed, and her body was found 19 miles from home. In 1987, Fred Coffey, who lived in Neely's apartment complex, was charged and convicted of Ray's murder and is currently serving a life sentence. He was a suspect in Neely's death, but never has been charged.
NOVEMBER 6, 1986 — Sandra K. Grimes, 41, was reported missing by her son after she went to the store in the early afternoon of October 21 and did not return. Her remains were discovered in the woods off the 1500 block of Merriman Avenue two weeks later.
---
This article appears in the August 2016 issue of Charlotte Magazine
Did you like what you read here? Subscribe to Charlotte Magazine »
---