10 Deals on Food, Fun & Stays in Charming Abbeville, SC
With Abbeville's #JustRight package, choose the best lodging, dining, and entertainment for you and your fellow travelers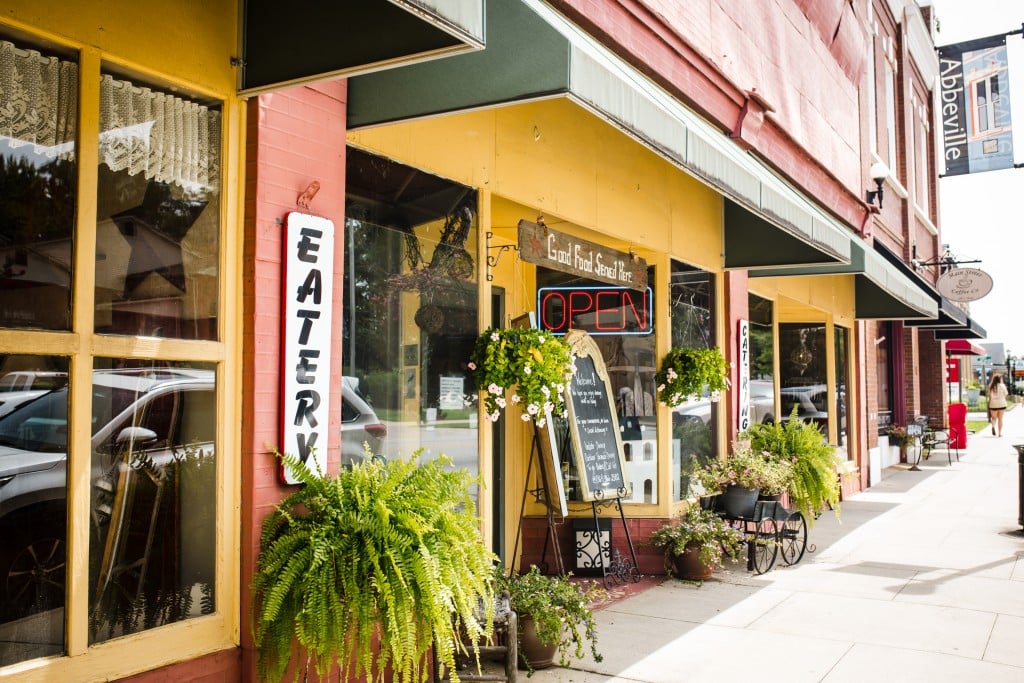 Located about an hour south of Greenville, Abbeville, South Carolina, is a small town packed with big-time charm.
From the colorful buildings hinting of Charleston to the historic architecture, interesting shopping, and tasty restaurants and bakeries, there's never a shortage of things to do in Abbeville.
Right now, there are a variety of discounts to cash in on during your next weekend away in downtown Abbeville, thanks to the #JustRight Abbeville Getaway Package. This package is perfect for first-time visitors to the picturesque Southern town, offering deals on the best places to eat, drink, shop, play, and stay.
To help you craft your trip, below is an overview of the participating businesses and what they're offering—10 discounts in total! Simply mention the #JustRight package when booking or ordering, and the savings will be granted.
Where to Eat, Play & Stay with the #JustRight Abbeville Getaway Package
Eat
Start your day at Main Street Coffee Company, where you'll get $10 off your purchase with the #JustRight package. In addition to joe, this go-to breakfast and lunch spot offers favorites like shrimp and grits, taco salad, bacon-provolone grilled cheese, and tomato-basil soup.
The Village Grill serves up small fare, like appetizers, soups and salads, as well as entrees such as a New York strip served with sauteed mushrooms. Or opt for a pasta dish—the blackened chicken fettuccine is served with homemade garlic-cheese toast. With the package, you'll get $10 off any meal.
To pick up some goodies to enjoy later, head over to Urban 2 Country, where you'll get 10 percent off all specialty foods and chocolates. And for a post-show sweet treat or nightcap, pop into JP's Food and Spirits for a dessert or cocktail. The #JustRight package gets you a free dessert and coffee or one bar drink.
Play
Any trip to Abbeville must include a stop at the Abbeville Opera House. This historic three-story brick Beaux-Arts style building opened its doors to the public in 1904, and today, offers shows featuring touring musicians, tribute bands, comedians, and stage plays. With the #JustRight package, enjoy two tickets to the current showing. (Call ahead to ensure seats are available).
For the history buff, the Abbeville County Historical Society maintains many historic sites and homes, such as the Burt-Stark Mansion, a Greek Revival-style home built in the 1830s, which oozes with Civil War significance.
If shopping is what you seek, look no further than Breezy Quarters, a shop packed with handmade scented soaps, skincare, and all things self-care. With the #JustRight package, treat yourself with a $10 gift card.
Stay
Book a night or two at the Belmont Inn for convenient and historic accommodations located in the heart of Abbeville's town square. With the package, get 15 percent off your room, plus a free dessert or drink from JP's Food and Spirits, which is located in the inn.
Other accommodations deals in the #JustRight package include the charming, family-owned Sharon Manor or the Veranda on Main, a stately, white-column B&B located just off the main town square. Just mention the #JustRight package when you book.