10 Historic Sites in Charlotte Protected in 2021
A look at a few selected by the Historic Landmarks Commission for an ever-growing list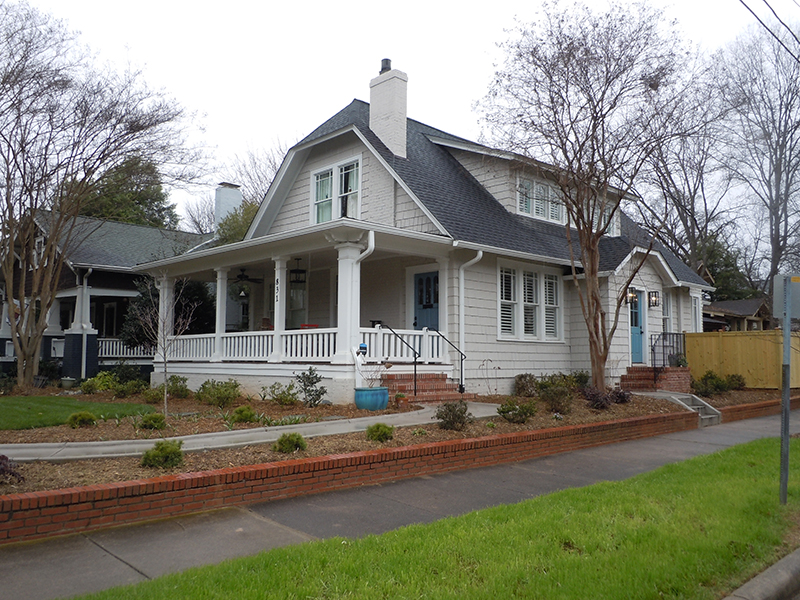 An architect's bungalow in Dilworth, a barber shop in downtown Cornelius, a former textile factory near NoDa: They're three of the 10 buildings that the Charlotte-Mecklenburg Historic Landmarks Commission designated official historic sites in a busy 2021.
It may come as a surprise that relentlessly future-focused Charlotte even has a Landmarks Commission. The county agency got started in 1973 during the run-up to the U.S. Bicentennial. Through almost five decades, it has designated 358 sites in Mecklenburg County—more than in any county in the state.
So why do we see so few old buildings in our city? Big, long-running economic growth has made it lucrative for developers to demolish and rebuild on a huge scale. In most cities, older structures linger for decades. Not Charlotte. We've lost many of what historic preservation advocates call "background buildings" beyond the designated landmarks—which means we need to protect what we've got.
The Landmarks Commission helps do that by officially designating important sites as historic. To earn the designation, structures need to be at least 50 years old and have "architectural integrity," i.e., look much like they did at least half a century ago. And they must possess special significance, which can mean they have outstanding design or typify some aspect of our past. Significance also can be social or cultural, as with a beloved gathering place or a site associated with a history-making event or person. The Commission documents all this history in carefully footnoted "Designation Reports," collected and available at landmarkscommission.org. Then local governing bodies vote yea or nay.
In Dilworth, owners Steven and Polly Menaker worked hard to renovate their handsome wood-shingled bungalow on Worthington Avenue at Park Road. It's a fine specimen of suburban architecture, built in 1919. But its significance is that, for its first three decades, it was home to leading local architect William Peeps, who designed some of our region's most admired structures, including the glass-roofed Latta Arcade and the Ivey's department store uptown.
Compared to the stylish Peeps House, the Potts Barbershop in Cornelius is much humbler in appearance. But it's no less historic. R.J. Stough and J.B. Cornelius, the cotton-mill investors who founded the town, built the workaday brick box with two wood and glass storefronts in the 1920s or '30s to hold several of their enterprises. That alone might have qualified it as a landmark. But in 1960, it became home of Potts Barber Shop. Wilson H. Potts was the town's leading African American entrepreneur, and his shop became a vibrant community hub—and still is.
In NoDa, rapid development is melting away evidence of the district's textile heritage. So the Landmarks Commission was glad to designate the Larkwood Silk Hosiery Mill on N. Brevard Street, now re-done as office space. Built in 1929 with an art deco addition in 1935, it was renamed Chadbourn Hosiery and operated until 1978. Designation helps ensure that generations of Charlotteans who labored there will not be forgotten.
What does designation mean, exactly, for an owner? The Commission's citizen review board must approve alterations. Those usually affect only big exterior changes, though interior designation is also possible. Designation has no effect on smaller details like paint color, and it doesn't prevent owners from using the building for another purpose. Surprisingly, an owner can demolish a landmark; state law allows landmarks commissions only to delay demolition for a year.
Jack Thomson, the commission's executive director since founding director Dan Morrill retired in 2019, says historic designations enhance a sense of community: "The weaving of people, place, and experience is what creates Charlotte's social fabric."
> See the entire list of protected structures here.