10 Travel Tips from a Charleston Local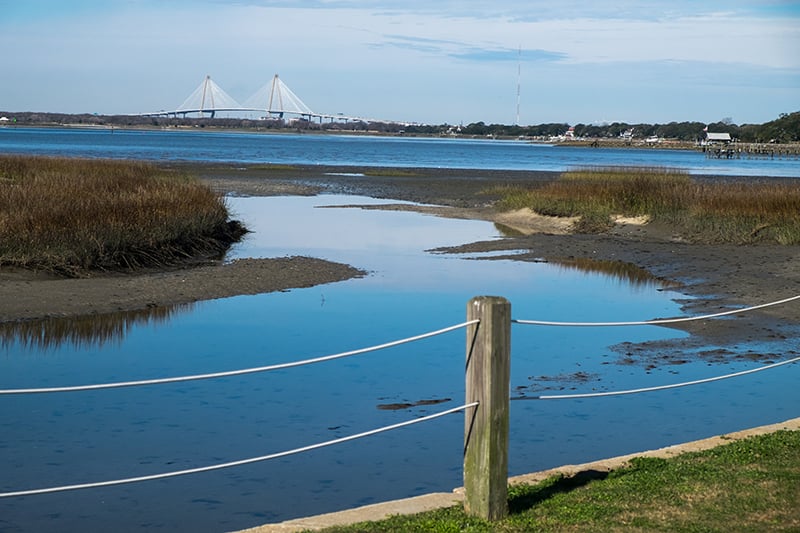 I WILL NEVER forget my first visit to Charleston. My wife and I had just exchanged vows during a small, intimate ceremony at the century-old bandstand beneath the huge live oaks at White Point Garden park on the Battery, when I made my first mistake as a husband.
I grossly underestimated the distance of the walk our wedding party had to make to the nearest touristy restaurant. I spent much of the stroll listening to my new bride lecture me about having to make the mile-long trek—sometimes across scenic, cobblestone streets—in her new heels.
Years later, I now consider myself a Lowcountry local, having lived and worked here as a journalist for more than a decade. All of those things you've read about Charleston being one of the best, friendliest places to visit are all true, but let me tell you something only locals know: It's an even better place to live.
Want to experience the Holy City as a local? Here are a few tips.
---
1. Out of Line: The most popular question we get is some version of, Do you have any food recommendations? That's often a matter of taste, but I can tell you this: You'll never find a local standing in a long line outside of a Meeting Street restaurant. You can't swing a 12-foot alligator around downtown Charleston without hitting a great place to eat, so don't waste your trip by spending it in line. Either make a reservation at one of those restaurants you've already read about, or simply follow your nose. Want a couple of hidden gems? Try The Wreck of the Richard & Charlene, a no-frills seafood restaurant in Mount Pleasant that sits on Shem Creek, away from the boisterous bars and restaurants, or Bowens Island Restaurant on the marsh side of Folly Beach. For brunch—which is nothing short of a sport here in the Lowcountry—check out Hominy Grill or Poogan's Porch, both of which are downtown.
2. Sand Castles: We're blessed with several beaches within a short driving distance from downtown. My personal favorite—I can't believe I'm telling you this—is near Fort Moultrie on Sullivan's Island. It's away from the crowds but right on the shipping channel for gorgeous views of the Ravenel Bridge and downtown Charleston.
3. Hop Art and Craft Beer: Charleston is emerging as a craft beer destination, but you have to go a little out of your way to find the best breweries, which are short on décor but heavy on the hops. Coast Brewing Company is a neighborhood brewery hidden on the former naval base in North Charleston. Try its signature Hop Art, an American IPA. Or come to town during the spring and summer, and enjoy the stronger, seasonal Boy King, a double IPA. Not too far away, on Dorchester Road, is Holy City Brewing, with many home-brewed beers on tap with locally influenced names, including Pluff Mud Porter, Washout Wheat, and Overly Friendly IPA. If you don't want to wander too far from downtown, try a Peanut Butter & Jelly beer at Edmund's Oast.
4. The Bridge: There are many bridges in the Lowcountry, but only one "the bridge." You'll recognize this cable-stayed span by its double-diamond towers. Its official name is the Arthur Ravenel Jr. Bridge. It's also known as the Cooper River Bridge (or Coopa in local parlance) because it spans two-and-a-half miles over the Cooper River, connecting Charleston and Mount Pleasant.
5. Snapshots: One of the hidden, photogenic gems of the Lowcountry is the Pitt Street Bridge, which technically isn't a bridge at all. This bridge to nowhere used to connect Mount Pleasant to Sullivan's Island, but was later converted to a greenway and pier. Take a stroll to the end for a chance to capture shots of kayakers and wrecked boats, and for the opportunity to get a panoramic view that includes downtown Charleston and the Ravenel Bridge. If you're up for a drive and a ferry ride, you might also want to check out the Boneyard Beach on Bulls Island. It's not ideal for swimming, but you'll pick up some hauntingly good photos of dead trees and perhaps an unbroken shell or two. Be sure to avoid the Rainbow Row trap. This beautiful collection of pastel houses is best left to the painters who can capture the scene without the trees and other obstructions that mar a photograph.
6. Street Cred: Don't get lost when you ask for directions. Learn the correct street pronunciations, many of which date back to the Huguenots who fled from France to Charleston in the 17th century. If someone tells you to take "Legree" to the Battery, look for Legare. Hasell is pronounced "Hazel," Barre is pronounced "Barry," and Vanderhorst is pronounced "Vandross."
7. Not That Market: If you find yourself doing some touristy stuff, the City Market is as good a place to visit as anywhere. Just don't make the mistake of asking a local if this was once the slave market. It wasn't. The Old Slave Mart Museum on Chalmers can answer those questions for you.
8. Bill Murray: Yes, he lives here, and we love him. You never know when he's going to pop up—be it in an engagement photo or the local bowling alley. The best place to see him? At a Charleston RiverDogs game—he's part owner of the minor league baseball team and is also the team's Director of Fun.
9. Gator Bait: Remember what I said about swinging a 12-foot gator? Yeah, don't do that—or pose for pictures with one. During mating season in the spring, these guys tend to pop up as often as a Charlotte squirrel—but keep your distance. Those teeth don't lie.
10. It Floods: We're barely above sea level, so we check the tides during a good rain to know where not to drive. We also know not to play in the floodwater—but it's not uncommon to see us paddling our kayaks through the Market. The good news: Any of the bars will stay open while you wait for the water to disappear. Because as any Charleston local will you tell, there's always time for a good cocktail.
Andy Paras works for ABC News 4 in Charleston. Before that, he worked at the Charleston Post & Courier.
---
This article appears in the March 2016 issue of Charlotte Magazine
Did you like what you read here? Subscribe to Charlotte Magazine »
---