13 Must-See Arts Events: November 2017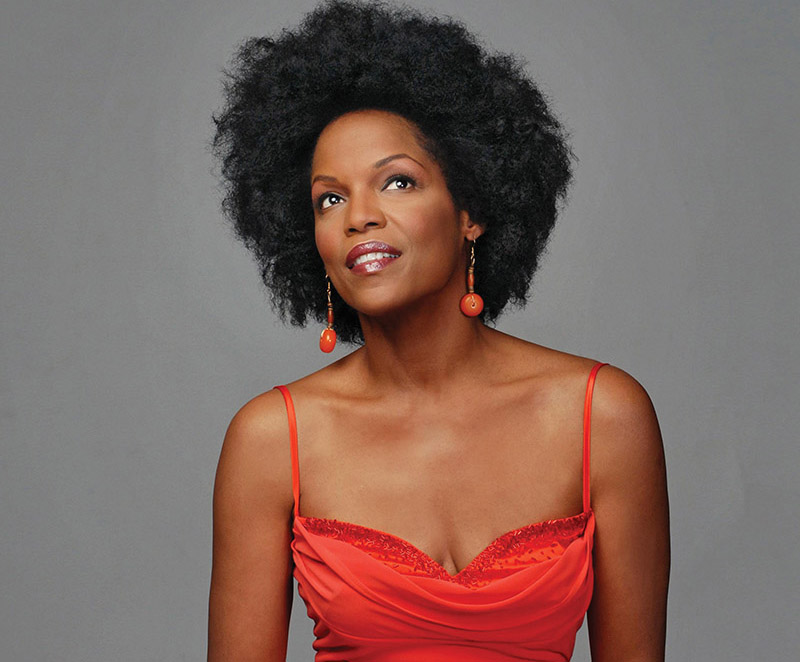 NNENNA FREELON JOINS JAZZ AT THE BECHTLER
November 3
Six-time Grammy nominee Nnenna Freelon sings with the Ziad Jazz Quartet in this installment of the monthly Bechtler jazz program. Even if her name isn't familiar to you, you may have seen her perform. She received a standing ovation at the 43rd Grammy Awards in 2001 for her performance of "Straighten Up and Fly Right."
---
SIMPLY THREE STRINGS GENRES TOGETHER
November 11
It's not just Puccini and Beethoven for this trio of string players. Simply Three is known to perform tunes from Adele, OneRepublic, Katy Perry, and others. Check out the group at the McGlohon Theater in Spirit Square.
---
BY THE NUMBERS: LESLIE ODOM JR.
November 14
The Hamilton star performs in "Celebrating Big Dreams: Starring Leslie Odom Jr. and Special Guests," a show that kicks off and celebrates Blumenthal Performing Arts' 25th season. Take in some facts and figures about Odom and Hamilton before he hits the Belk Theater stage.
17: Age Odom made his Broadway debut, as Paul in Rent.
3: Awards Odom won for his role as Aaron Burr in Hamilton on Broadway. He received a Tony Award for "Best Actor in a Musical," a Broadway.com Audience Choice Award for "Favorite Onstage Pair" (with Lin-Manuel Miranda), and was part of the cast that won a Grammy for "Best Musical Theater Album."
181: Years since the real Burr died at age 80, after suffering a stroke.
More than 3 million: Copies of the Hamilton original cast recording sold since 2015.
August 6, 2015: The day Hamilton debuted at the Richard Rodgers Theatre on Broadway. It was also Odom's 34th birthday.
---
JAY-Z BRINGS 4:44 TO SPECTRUM CENTER
November 16
Jay-Z is back for the 4:44 Tour, which is named for his newest record. Some fans feared he would skip Charlotte, but our city made the list of 31 tour dates. His show gives local rap fans another reason to celebrate what has been a strong year for touring acts. Already in 2017, Kendrick Lamar, J. Cole, and Chris Brown have performed at the Spectrum Center.
---
IT'S 'YEAR OF THE ENGINEER' AT DISCOVERY PLACE SCIENCE
In August, Discovery Place Science launched a program called "Year of the Engineer" that spans the school year. This initiative focuses on bolstering STEM (science, technology, engineering, and mathematics) learning in the Charlotte area. The museum says it's committed to partnering with "250 engineers to provide 2,500 experiences that touch 250,000 guests throughout the greater Charlotte region." The campaign includes the makerspace lab Thinker Space and the interactive exhibit Think It Up. Both offer fun ways for kids to engage in engineering activities.
---
CHECK OUT LEAH ROSENBERG'S 'COLOR FOR THE PEOPLE'
Through December 2
McColl Center artist-in-residence Leah Rosenberg is behind the creative exhibit Color for the People, which runs this fall at the gallery. The artist-baker picks a color from Charlotte's landscape each week and uses it to paint walls and furniture in the center. Then on Thursday nights (November 2, 9, 16, 30), she'll serve cocktails and treats to match the color of that week. The "Color Bar" is intended to promote shared experiences during divisive times.
---
SEE STAGE PRODUCTIONS OF TWO CLASSIC NOVELS
Grapes of Wrath, October 27–November 12
Fahrenheit 451, November 2-11
John Steinbeck and Ray Bradbury both emerged as vital authors in the middle of the 20th century. This fall, stage adaptations of a masterwork by each writer hit Charlotte theaters. Theatre Charlotte puts on The Grapes of Wrath, and Three Bone Theatre stages Fahrenheit 451 at Duke Energy Theater.
---
THE MEANING BEHIND BON IVER
November 6
Indie folk band Bon Iver's fall tour hits Charlotte with a show at The Fillmore. But what does the name of the band mean? It's derived from the French phrase "bon hiver," which means "good winter." Singer-songwriter Justin Vernon took the phrase from the TV show Northern Exposure, on which "bon hiver" was used as a greeting.
---
AND I QUOTE: RECENT TWEETS FROM COMICS WITH UPCOMING TOUR DATES
Jim Gaffigan
November 10, Spectrum Center
"You know when you work out a lot and your body is sore? That's how my body feels, but I don't work out."
Moshe Kasher
November 16-18, Charlotte Comedy Zone
"Help. I just accidentally told my Lyft driver I do stand-up comedy for a living."
Lewis Black
November 18, Ovens Auditorium
"I see laughter as a comic hiccup that allows us to stare into the abyss while we straddle the grave."
---
GET THE FACTS: THE NOVANT HEALTH THANKSGIVING DAY PARADE
November 23
Here's the practical info you need for the annual parade, one of the city's most beloved traditions for 70 years:
What's the route?
North on Tryon Street, from Stonewall Street to 9th Street.
What time does it start?
9:30 a.m.
Is there reserved seating?
Sure is. Purchase a spot at guidebook.com/app/CLTParade/.
Will it be televised?
If you can't make it out, you can watch a replay of the parade on WBTV (CBS) at 1 p.m.
Where do I park?
Nothing designated, y'all. It's the usual uptown free-for-all.