Where to Eat in Uptown Charlotte Right Now
From mainstays to recently opened spots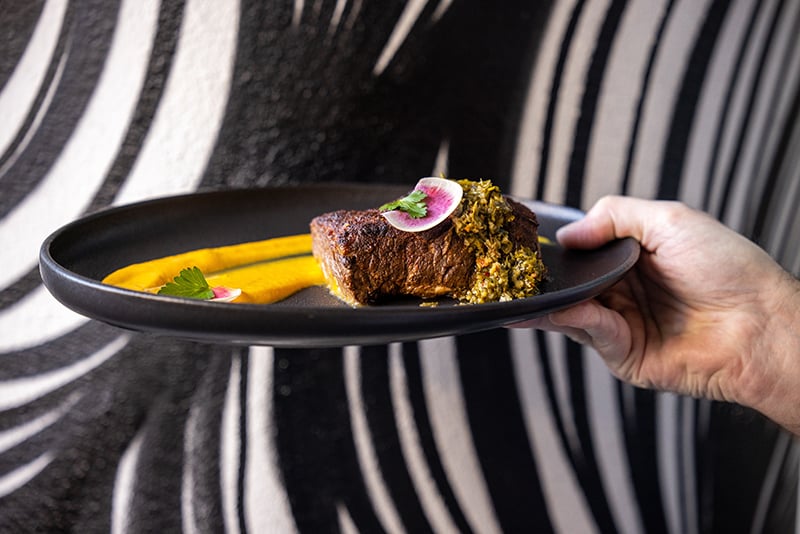 On any given weekday, uptown restaurants cater to lunchtime crowds and expense account holders. At night, they invite you to shake off the day, settle in with a cocktail, and take in the glittering skyline. —Taylor Bowler
---
ANGELINE'S
303 S. Church St.
704-445-2540
The Pappardelle Bolognese and Margherita Pizza are both exquisite, but start with the Whipped Ricotta with sourdough, lavender honey, and pistachios. Save room for one of Pastry Chef Catie Van Slyke's desserts. After dinner, ride the elevator to the 19th floor of the Kimpton Tryon Park Hotel for a nightcap from its sister cocktail bar, Merchant & Trade.
204 NORTH
204 N. Tryon St.
704-333-3747
This trendy spot with modern Southern food is best for cocktails and conversation at the bar.
CHURCH AND UNION
127 N. Tryon St., Ste. 8
704-919-1322
Top Chef alum Jamie Lynch's seasonal menu includes Braised Bacon & Melon, Chicken Paillard, and Koji Swordfish.
MOA KOREAN BBQ
128 S. Tryon St.
704-503-9412
You can order Korean Tacos and Kimchi Bulgogi Nachos a la carte, but the tabletop barbecue is the main attraction. Watch your server cook beef brisket and pork belly as you sip a craft cocktail.
ALEXANDER MICHAEL'S
401 W. Ninth St.
704-332-6789
The Blackened Catfish is cooked just right, the Cajun Pasta is piping hot, and chatter fills the no-reservations dining room.
MIMOSA GRILL
327 S. Tryon St.
704-343-0700
This popular after-work spot has a seasonal menu, friendly service, tasty seafood dishes, and creative mixtures to top grits.
THE ASBURY
235 N. Tryon St.
704-342-1193
The menu mixes countryside favorites like biscuits and deviled eggs with bold flavors and contemporary techniques.
LA BELLE HELENE
300 S. Tryon St., Ste. 100
980-209-0941
Enjoy Ratatouille, Steak Frites, Crispy Duck Confit, and decadent desserts in this space modeled after a Parisian brasserie.
MARIPOSA
500 S. Tryon St.
704-910-0865
Executive Chef Jonathan Moore serves "world-to-table" dishes like Elote Corn Fritters, Pulled Duck Arepas, and Gullah Paella.
CLOUD BAR BY DAVID BURKE
555 S. McDowell St.
980-237-5356
Grab a seat on the rooftop patio, sip on a Queen City cocktail, and order the Maple Glazed Bacon Clothesline. The presentation is exactly as it sounds.
HAYMAKER
225 S. Poplar St.
704-626-6116
Enjoy locally and seasonally inspired dishes from chef William Dissen in this bright, stylish space next to Romare Bearden Park.
THE KING'S KITCHEN
129 W. Trade St.
704-375-1990
Chef Jim Noble's restaurant, which serves traditional Southern fare, donates profits to faith-based food banks and employs people who have just come out of rehab or prison.
DANDELION MARKET
118 W. Fifth St.
704-333-7970
On weekends, this Irish pub turns into one of uptown's hottest nightlife spots. But during the day, come for a cozy meal with flickering candles and shared plates.
ESSEX BAR & BISTRO
101 S. Tryon St., Ste. 14
980-406-3857
Order a few tapas and a bottle of wine, head out to the patio, and watch the activity at Trade and Tryon.
FORCHETTA
230 N. College St.
704-602-2750
Chef Luca Annunziata serves lasagna just like his mom made it and carbonara as it's served in Rome.
CAROLINE'S OYSTER BAR
120 E. Brooklyn Village Ave.
704-499-6633
Head to the second level of uptown's 22-story JW Marriott hotel to sip a cocktail and enjoy fresh daily selections from the raw bar.
BASIL THAI
210 N. Church St.
704-332-7212
Thai lovers can satisfy their cravings with Pad Thai, while the more adventurous can try dishes like Crispy Red Curry Duck—a rich, deep-fried half duck in a spicy red curry sauce.
ARIA TUSCAN GRILL
100 N. Tryon St.
704-376-8880
This trendy spot serves high-end Italian dishes with a sophisticated wine program to match.
CICCHETTI
100 N. Tryon St.
980-299-0039
Come for the drinks and stay for the food at this wine bar, restaurant, and retail shop.
LUCE
214 N. Tryon St., Ste. J
704-344-9222
The Italian menu includes specialty salads, handmade pastas, and fresh seafood and meats.
McNINCH HOUSE
511 N. Church St.
704-332-6159
The restaurant has a long-standing reputation for its five-course tasting menu and award-winning wine pairings, but it's also the most popular place for marriage proposals in Charlotte.
FAHRENHEIT
222 S. Caldwell St.
980-237-6718
Located on the 21st floor of Skye Condos, chef Rocco Whalen's restaurant is the place to sip cocktails, eat oysters, and see the city twinkle.
MERT'S HEART & SOUL
214 N. College St.
704-342-4222
James Bazzelle's pride and joy serves down-home Southern cooking with a dash of low country.
FIN & FINO
135 Levine Avenue of the Arts
704-800-5680
The raw bar serves a variety of oysters, but as a "social seafood house," its sweet spot is shareable plates like Verlasso Salmon and Littleneck Clams.
MICO
201 W. Trade St.
980-999-5550
The South American-inspired menu is full of complex flavors and unexpected mashups like coriander tofu aioli and green walnut molasses.
SEA LEVEL
129 E. Fifth St.
704-412-2616
Feast on classics like Maine Lobster Rolls or East Coast Shrimp & Grits, or try an unexpected dish like the Catfish Reuben.