Where to Eat in Uptown Charlotte Right Now
From mainstays to recently opened spots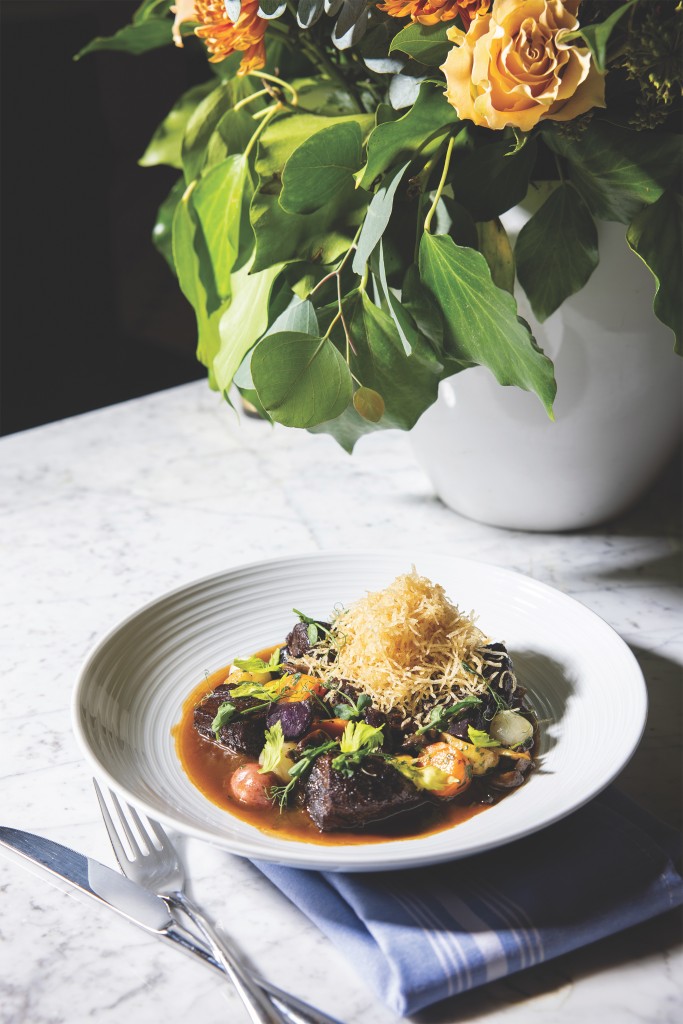 These picks are based on our 2021 Best of the Best Awards, 25 Best New Restaurants: 2022, and 2022 50 Best Restaurants lists, and rolling editorial decisions.
---
The Asbury
235 N. Tryon St.
704-342-1193
Chef Mike Long's inventive menu mixes countryside favorites like biscuits and deviled eggs with bold flavors and contemporary techniques.
Try This: The Chicken Sandwich and Sticky Biscuits
Sea Level NC
129 E. 5th St.
704-412-2616
Concrete beams and rustic brick give an industrial feel to this seafood restaurant, which serves up dishes that are accessible, inventive, and sustainably sourced.
Get This To Go: Weeknight Seafood Supper (3 courses)
McNinch House
511 N. Church St.
704-332-6159
Guests order from a daily prix fixe menu (ranging from five courses to nine courses), choose their wine and entrées, and the staff takes care of the rest.
Try This: Rosemary & Dijon Crusted Rack of New Zealand Lamb
Fin & Fino
135 Levine Avenue of the Arts, Ste. 100 
704-800-5680
Come for the raw bar, but stay for bartender Brittany Kellum's drinks. Then splurge on a slice of cheesecake.
Try This: Lobster & Shrimp Roll
Mariposa
500 S. Tryon St.
704-910-0865
Mariposa replaced Halcyon, the farm-to-table restaurant at the Mint Museum that closed last December. The space got a sexy makeover with prism chandeliers, velvet couches, and murals by local artist Owl, while Executive Chef Jonathan Moore serves "world-to-table" dishes like Elote Corn Fritters, Ceviche Aguachile, and Gullah Paella.
Try This: Gullah Paella ($35), a skillet of rice pilaf, andouille, chorizo, Gulf shrimp, fresh daily catch, oysters, soffritto, and saffron.
Haymaker
225 S. Poplar St. 
704-626-6116
Enjoy locally and seasonally inspired dishes from North Carolina chef William Dissen in this bright, stylish space next to Romare Bearden Park.
Try This: Billy D's Fried Chicken Sandwich
Alexander Michael's
401 W. 9th St.
704-332-6789
The blackened catfish is cooked just right, the Cajun pasta is piping hot, and chatter fills the no-reservations dining room.
Try This: What It Is (blackened chicken breast over rotini in Cajun cream sauce)
Forchetta
230 N. College St.
704-602-2750
Chef Luca Annunziata serves lasagna just like his mom made it and carbonara as it's served in Rome.
Try This: Fagatoni (stuffed crepe purses with Maine lobster and mascarpone, vodka sauce, and Parmesan cheese)
Aria
100 N. Tryon St.
704-376-8880
This restaurant serves up an extensive Italian menu in an elegant, modern space.
Get This To Go: Grandma B's Lasagna
La Belle Helene
300 S. Tryon St., Ste. 100
980-209-0941
When 5th Street Group reopened La Belle Helene in uptown last year, they resuscitated one of the most gorgeous dining rooms in Charlotte. The restaurant, modeled after a French brasserie, closed in June 2020 after less than two years. Top Chef alum Jamie Lynch put his spin on a few dishes like the ratatouille, a chilled vegetable casserole that's appeared in countless Instagram feeds. 
Try This: Boeuf Bourguignon($38) is a hearty helping of braised short ribs, veggies, and marble potatoes that will keep you warm all night.
Mico at The Grand Bohemian 
201 W. Trade St.
980-999-5550
The South American-inspired menu is full of complex flavors and unexpected mash-ups like harissa creamed spinach and brown butter bread crumbs.
Try This: Lamb Kofta kebabs + Flourless Chocolate Cake
Red Salt by David Burke
555 S. McDowell St.
980-237-5354
Celebrity chef David Burke is known for his Himalayan salt aging process for beef, and avant-garde approach to food presentation is on full display with bites like the maple-glazed bacon clothesline.
Try This: 32-oz. Dry-Aged Porterhouse for Two
Geno D's Pizza
224 E. 7th St.
704-900-5202
Uptown pizza lovers rejoiced when this business, which originated on the Jersey Shore, opened at The Market at 7th Street last summer. Everyone will (rightfully) tell you to order the Grandma Pie, but don't ignore the more traditional Jersey-style pizzas on your second visit. 
Try This: Yes, you still need to try the rectangular Grandma Pie($12) first.