Halloween Parties in Charlotte: A 2019 Guide
From bar crawls to costumed balls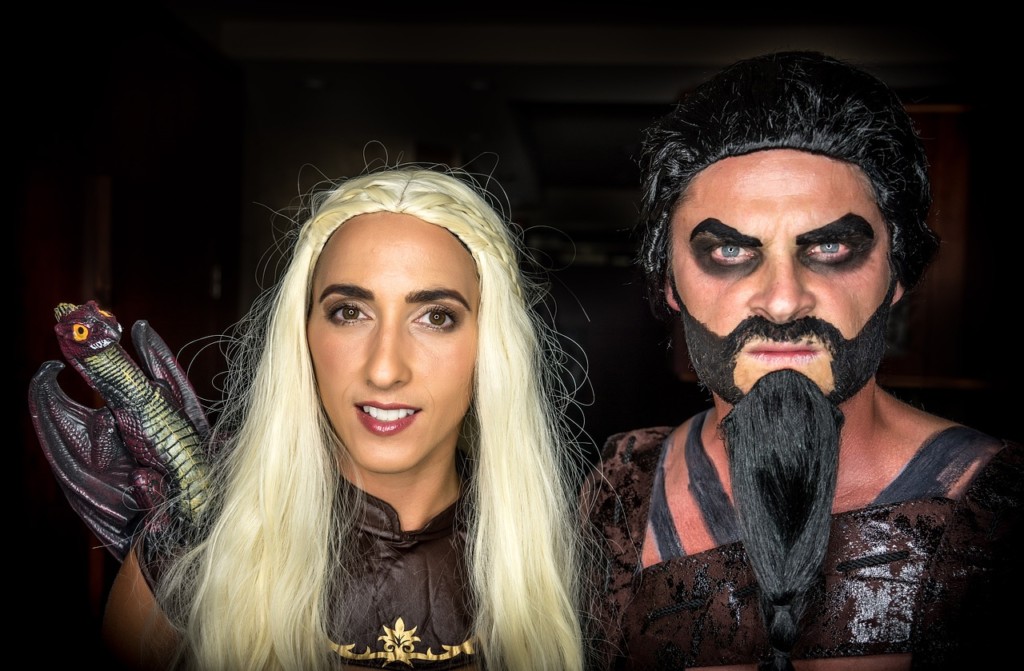 IT'S ALL just a bunch of hocus pocus, right? Grab your costume, your cauldron, and your calendar and prepare for these Halloween parties in Charlotte.
---
Charloween Bar Crawl
Oct. 25, 5 p.m.
Get your Halloween weekend started immediately as the work clock hits 5 p.m. Friday with this Uptown bar crawl. There's no exact route – just a list of eight participating bars and your free will. Registration is at Whisky River, but after that, the night is yours. More info.
---
Grave Diggers Ball
Oct. 26, 6 p.m. until 11 p.m.
The 20th-annual iteration of this frightful concert and costume concert returns to Uptown with Diplo as the headlining act. In addition to the concert, there are costume contests for best overall, sexiest and best group costume. More info.
---
Sangria and Cigars
Oct. 26, 8 p.m.
The Duke Mansion is throwing its annual fall gala, and this year is Latinx-themed. The party features delectable Latin food, a silent auction, live music, and a DJ. Dress with a "tropical flair" and get ready to dance. More info.
---
Halloween Pub Crawl
Oct. 26, 1 p.m.
The duo who brings you the annual St. Patrick's Day Pub Crawl returns to bring you the 19th-annual Halloween version. More than 20 bars are included on the crawl route, and the fun starts at 1 p.m., so pace yourself. More info.
---
Haunted pinHOUSE
Oct. 26, 7 p.m.
Plaza Midwood's newest self-serve beer bar, Pinhouse, is throwing its first Halloween party featuring "haunted bowling," a costume contest, live music and the debut of the "fall wall," a wall of taps dedicated exclusively to fall booze. There's no admission fee to this party.
---
All Hallows' Twirl
Oct. 26, 10 p.m.
A $500 cash prize is at stake at this Halloween party at the Visulite Theatre. This party caters more to a gay male crowd, and DJ Edil Hernandez is in charge of music tonight. More info.
---
Carnivale
Oct. 26, 9 p.m.
Queen Park Social's third-annual Halloween party is tonight, and it's shaping up to be a nightmare on South End. There will be a DJ and a costume contest with $500 going to the winner and $200 to second place. There's no admission fee to this party.
---
Zombie Crawl
Oct. 26, 6:30 p.m.
The undead will gather tonight at the Town Green in Matthews for the first Zombie Crawl. Stops along the crawl include Carolina Beer Temple, Moe's Original BBQ, Jekyll & Hyde Taphouse & Grill, Seaboard Taproom & Wine Bar, Temple Mojo Growler Shop, Grace O'Malley's Irish Public House, Stumptown Station, and Beantown Tavern. More info.
---
Dead Famous Halloween Party
Oct. 26, 9 p.m.
Dress as your favorite departed celebrity and enter the costume contest at Brazwells Pub for a chance to win $500 in cash and prizes. More info.
---
Shipwrecked: Moo & Brew Halloween Ball
Oct. 27, 5 p.m.
Expect "freaky foolishness" and "spooky specials" at this party billed as the "saltiest Halloween bash in the QC." The proceeds help fund Kids First of the Carolinas. More info.
---
Nightmare on College Street
Oct. 31, 6 p.m.
On Halloween night, head to Uptown for this bar crawl featuring a half dozen bars. The scariest part is you'll probably still have to go to work Friday. More info.
---
Antagonist Halloween Party
Oct. 31, 6 p.m. until 11 p.m.
New kid on the block Protagonist is throwing its first Antagonist (Get it?) Halloween party. Come dressed as your favorite antagonist and enjoy the party that features themed beer cocktails, music, and more. The best costume wins a $50 gift certificate. There's no admission fee to this party.
---
Boos and Brews
Oct. 31, 3 p.m.
Hoppin' hosts its second-annual Halloween party tonight featuring a photo booth and gift certificates for the best, second-best, and third-best costumes. There will also be a DJ on site, and there's no admission fee to this party.
---
POTIONS
Oct. 31, 10 p.m.
Join the folks of Haberdish at this Halloween night costume party on the patio. The party features a DJ, a special one-night-only drink menu and a costume contest along with an afterparty at Growler's. There's no admission fee to this party.
---
VBGB
Oct. 31, 8 p.m. until 1 a.m.
Begin the evening in costume with Halloween trivia. Along with the game of trivia, there will also be contests for most original costume and best group costume with winners receiving $100 gift certificates. Trivia transitions to a dance afterparty at 10 p.m. There's no admission fee to this party.
---
Plaza Midwood Halloween Brewery Crawl
Oct. 31, 6:30 p.m.
Pilot brewing, Legion Brewing and Resident Culture Brewing join forces tonight for this ghoulish bar crawl. Transportation is provided between breweries. Festivities include: Harry Potter trivia at Pilot at 7:30, music BINGO at Legion Brewing, and live music and a costume contest at 8 p.m. at Resident Culture. There's no admission fee to these parties.
---
Whiskey Warehouse Halloween: Beetle Juice..Beetle Juice…Beetle Juice
Oct. 31, 9 p.m.
Say it three times and everyone's favorite ghost is sure to appear, right? Join Whiskey Warehouse for its Halloween party, which includes a DJ and a costume contest with $500 in cash and prizes available. There's no admission fee to this party.
---
Petra's Annual Halloween Bash
Oct. 31, 9 p.m.
The Plaza Midwood spot throws its annual Halloween party tonight, so be sure to get your best costume ready and prepare to dance. The party features a midnight costume contest, a back patio dance party and both a DJ and live music. More info.