1993: Charlotte's Deadliest Year
Twenty years after our city's worst year for crime, the street names and neighborhoods have changed, but the wounds still hurt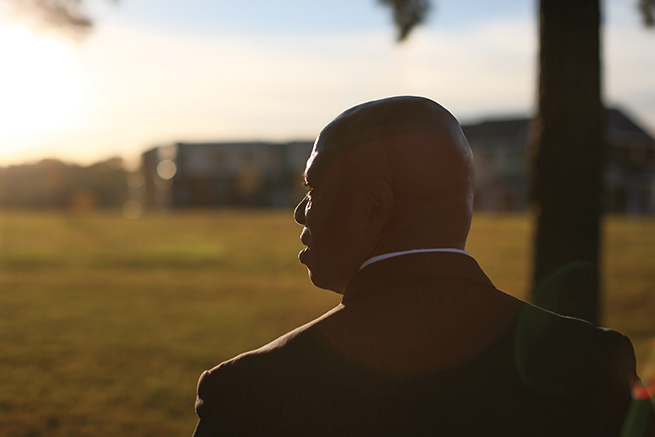 At the corner of Nobles and Burnette avenues in west Charlotte, concrete dust and red dirt coat the brick on the newly built roundabout. The sound of hammers and handsaws cuts the silence of a fall afternoon.
"This makes my head hurt," Gary McFadden says, trying to find his bearings. He's been here before. He made many visits in his two decades as a homicide detective with the Charlotte-Mecklenburg Police Department. But it's hard to recognize now. Gone are the squat, brick buildings with their peeling paint. Gone are the crowds in the courtyards—the young kids playing with plastic toys and the groups of boys just a few years older standing around with hard stares.
Boulevard Homes, "The Homes" to its residents and police, is no more. Only the street signs remain.
When crack hit Charlotte, it hit the Homes the hardest. The complex of one- and two-story apartments sprawling a half-mile from West Boulevard had one of the highest crime rates in the city. Officers didn't like going in alone. Too many places to hide and get lost. Halfway into the development, their radios would cut out.
"You're OK once you get inside your house," one resident described life in the Homes to a Charlotte Observer reporter in 1993. "It's just outside that's scary."
On the other side of the city, people didn't think much about the Homes. It was just another place to speed past, doors locked, on your way to the airport. But for a few generations of Charlotte's poor, it was home.
John Burnette and Andy Nobles spent a lot of time in the Homes, too. Assigned there as rookie officers, they set out to try a different type of policing: less barking orders and more listening. They helped grill at barbecues, brought diapers to mothers, played basketball with teenagers, and tutored neighborhood kids in reading.
The idea was to build relationships and foster trust. That's one reason, police say, it was easy to catch the officers' killer. Unlike with other murders, the neighbors would talk.
Around dusk on October 5, 1993, Burnette and Nobles chased a car theft suspect through the courtyard and into the woods. Five minutes later, both officers were shot in the head with Burnette's own gun. They died at the hospital an hour later. By 1 a.m., Alden Harden was in custody, charged with their murders.
Their murders were the low point of Charlotte's most violent year on record. Twenty years later, the events of 1993 still loom over lives throughout the city, and the memories are still painful.
McFadden's voice slows and softens as he glances at the tree line. "John and Andy," he says. "They cared."
It was easy not to care in 1993. To numb yourself to the parade of names in the paper and on the evening news. The number of murders in Charlotte had tripled in 10 years, but the people dying were crackheads and dealers.
Not anyone you knew.
Burnette and Nobles changed that. People were scared before, but now they were angry. Community policing was too soft, some said. Charlotte needed tougher cops and tougher sentences. Fewer barbecues, more boot camps. "I don't have the 20 to 40 years to prevent crime from the cradle," one man wrote Charlotte Mayor Richard Vinroot. Another letter writer suggested sending in the National Guard to west Charlotte. One woman attached a cutout of an Observer article on the killings and scrawled in the margins, "When is this going to be stopped? I am angry & my heart hurts."
Some blamed the projects and the people living in them. Others blamed the police.
Five minutes later, both officers were shot in the head with Burnette's own gun.
For each murder there was a scene to secure and witnesses to interview. Then a mother to comfort or a family to notify. And then the mundane follow up paperwork and the court appearances. That's not to mention the accidental deaths and suicides or the unsolved cold cases from years before.
And the police department did it all with just six detectives.
"Any way you divide that, really, we just weren't functioning," McFadden says. "We worked those crime scenes as basically a one-man unit half the time. We would come in at 4 on a Friday, work all Friday night and Saturday.
Go home Saturday afternoon, then be back in Sunday morning. The longest I worked without going home was 38 hours."
It wasn't always so bad. Back in the early 1980s, when the city averaged around 40 murders a year, a handful of homicide detectives could handle the load.
That started to change at the end of the decade. The city went from 48 murders in 1988 to 80 in 1989. In 1991, there were 121 murders. Violent crime in general spiked, too. Up 16 percent between 1989 and 1993. But no year was more violent than 1993. One hundred twenty-nine people were killed that year. More than ever before. More than ever since.
"We think crack was the catalyst for all of this," McFadden says.
There had been drugs in Charlotte for decades. Marijuana, of course, was present, but so were harder drugs like heroin and powder cocaine. Even illegal liquor houses were trouble spots for the police. But something was different about crack. It was purer, for one thing. Cheaper, too. An average rock sold for $10. At first it seemed like a big-city problem. It started in New York and Miami. But as the 1980s rolled on, it showed up in smaller towns.
By 1987, it was available in 46 states, according to the Drug Enforcement Administration.
"The cheapness of crack and the ease of distribution really set the ball rolling," says Paul Friday, a UNC Charlotte criminologist who came to Charlotte in 1992 and has studied crime here since.
That cheapness allowed younger distributors to enter the market, as young as their early teens. "You didn't have the discipline that you did in organized crime," Friday says. "When they were controlling heroin it was fairly tight.
But the distribution system changed. It was more street-level and there was a greater availability of weapons. Combine that with the immaturity and machismo and the imagery of the gangster, and you had a lot more violence."
Older dealers figured out quickly that juveniles wouldn't do much time in jail for drug violations. So they enlisted younger children as handlers or runners. Even younger kids could make money just keeping look out for the police.
"He wouldn't go to jail," McFadden says of arresting juveniles caught selling crack. "We'd have him downtown for maybe two or three hours, call his mom, and all he would have is a court date. That would be it."
Powder cocaine had been a rich man's drug, but crack worked its way into poorer communities. Places like the Homes and Double Oaks; Earle Village and Piedmont Courts; Fairview Homes and Dalton Village; Kenny Street and
Katonah Avenue. And just as addicts could get a quick and powerful high from smoking, an enterprising dealer could amass a small fortune in a few weeks of selling.
"All of a sudden, they became the great guys in the neighborhood so people wouldn't turn against them," McFadden says. "If you had a neighborhood cookout, they would provide the money. If your lights were off or rent was due …"
Even younger kids could make money just keeping look out for the police.
On the radio, gangster rap came into its prime. In 1991, just up the interstate in Greensboro, Christopher Wallace, the man who would become Notorious B.I.G., spent nine months in jail on crack distribution charges. Three years later, his album Ready to Die made No. 15 on the charts. Three years after that, he was dead.
The desperation of the addicted led to increases in prostitution and spinoff enterprises such as fencing houses, where addicts would trade stolen goods for a few rocks, and the sellers would then offer the stolen goods to neighbors at a discount.
"Everything from meat from the grocery store to TVs," McFadden says.
And guns.
Lamont McCullough, a 17-year-old high school dropout and crack dealer, traded four rocks for a shotgun in May 1993. On Memorial Day night, he saw a blue van coming down Katonah Avenue, where he sold. The police vice unit had a similar van they would use for "jumpouts"— in which officers would rush drug markets and other high-crime areas, searching anyone they could catch. McCullough aimed and shot. The bullet hit his five-year-old neighbor,
Chiquita Howzer, sitting in the front seat coming home from a cookout. She died an hour later.
Howzer wasn't the only one to get caught in the crossfire in 1993. Brenda Hill Todd was walking home from work down Beatties Ford Road after midnight one December night. Her shooters would later claim they were cleaning a gun in the car when it went off, hitting Todd on the street.
Two miles away, Dee Sumpter was happy to move to Elon Street that year. A single mother of four, she was thrilled to be buying a house. And although parts of the west side were sketchy, her block was close-knit, she says.
Aside from one burglary, the neighborhood was pretty quiet.
She and her 20-year-old daughter Shawna Hawk settled into life there. Dee worked as a receptionist and Shawna took classes at Central Piedmont Community College while also working at an east side Taco Bell. They watched TV and read the papers, even stumbled on a crime scene once driving to the grocery store. But the crime didn't really touch their lives.
"That was something that happened to other people," Sumpter says. "On February 19, 1993, I became 'other people.' "
That's the day she found Shawna strangled in the bathtub. It took more than a year for police to connect her murder to others, to figure out that someone was killing young black women who had worked in east side fast food restaurants. The homicide unit was stretched thin. And this serial killer had an unusual M.O. Shawna Hawk was Henry Louis Wallace's third victim. He would kill seven more before confessing in March 1994.  Wallace had been Hawk's boss at Taco Bell. He even showed up at her funeral.
Sumpter now describes the weeks and months after Shawna's murder as the "pinnacle of pain. I remember lying in bed and thinking 'I don't want to be here anymore.' " Her lifelong friend Judy Williams thought Sumpter needed a new purpose. The pair, along with Williams's son and present-day City Councilman David Howard, thought a support group for mothers of other murder victims could help channel some of their pain. So in March 1993, Mothers of Murdered Offspring (MOMO) started meeting.
Beyond supporting other victims' families, Sumpter began to advocate for changes to police department procedures, saying detectives were not doing enough to solve Shawna's murder and others. It was a tense relationship. She made some enemies on the force. But today, she says, her organization and the department's homicide support group work together to help victims' family members cope.
"There were some great people in these neighborhoods," McFadden says as he turns off Oaklawn Avenue onto Brewton Drive. Like a lot of streets on the west side, this one's name has been changed since 1993. Some were changed to forget—like the streets in the old Fairview Homes project, rechristened Park at Oaklawn. Some were changed to remember—like Jeff Adams Drive off Statesville Road, named in memory of tennis champ and International Trucking heir Jeff Adams, who was shot by a robber at his south Charlotte apartment after coming home from a fundraiser in October 1993.
Brewton Drive serves both purposes. This used to be Wayt Street. Further into the neighborhood was Kenny Street, now Peaceful Way. The area was a collection of run down rental houses sandwiched between Interstate 77, Fairview Homes, and the Double Oaks housing projects.
The neighborhood was rough in the 1990s. It had been rough for decades.
Barbara Brewton-Cameron grew up on Wayt Street in the 1950s and 60s. She married Casey Brewton, and they were raising three kids there in 1973 when Casey was shot and killed. Devastated, Barbara moved out. Nine years later, she came back. She bought what had been a crackhouse and used some of the rooms for a soup kitchen and a clothing house. In the coming years, she quietly expanded as the drug traffic surrounded her.
Eventually, she moved the soup kitchen into a church on Oaklawn, Community Outreach Christian Ministries, and partnered with Gene Davant from Habitat for Humanity to convince landlords to sell. More help followed.
"Every corporation in the city donated and volunteered back here," McFadden says. "You couldn't just write a check. She made you come here and work."
The police, too, tried more community policing here. And it worked. By 1997, crime in the neighborhood was down 77 percent. The entire neighborhood marked the new beginning with a new name—Genesis Park. Brewton-Cameron died in 2008, but her ministry remains.
In 2012, there were 52 murders in Charlotte and Mecklenburg County combined—the least since 1988. There are 300,000 more people living here than in 1993. In the years since then, murder numbers have ebbed and flowed.
Police and those who study crime credit improved community policing, less competition for control of drug markets, even better emergency medicine preventing deaths.
Most notably, CMPD has beefed up its homicide unit from six officers in 1993 to 22 today.
"When we look at the cold cases from that period of time, there was just no time to really work them," says UNCC criminal psychologist Vivian Lord. "There was just no way that the number of detectives could do more than just get the preliminary information. In the most recent cases, you can see where they've been able to follow those threads. Usually this ends in a dead end but you have to be able to run those down."
But there is still violence. There are still drugs. Crack use is down, but black-tar heroin use is up, especially in more affluent areas, says Friday, the UNCC criminologist. McFadden says he's seen children he encountered investigating murders in 1993 now turn up as witnesses or victims or suspects. And there are occasional glimpses of the type of violence that seemed all too routine 20 years ago. Like five killings in one week this September, three of which police say were drug-related. That same week, four people were shot as volunteers cleaned up at a MOMO rally on Pinckney Avenue in north Charlotte.
McFadden says it again: "There were good people in those neighborhoods."
And there were good times, some of which seem funny now from the distance of a couple decades. Like the mother who hid a gun in the spaghetti pot in an attempt to keep her son out of jail. Or the time police pulled over a city bus to catch a fleeing suspect and found three other people they had warrants on.
So many of the old projects are gone now. New developments with hopeful names rise in their place. Renaissance and Brightwalk. Arbor Glen and Seigle Point. The idea is to remove the stigma and social isolation of public housing by building places that appeal to people with a mix of incomes. First Ward Place pioneered the concept more than a decade ago when it replaced Earle Village. Today, it's hard to imagine that 8th and Davidson was once one of the busiest crack corners in town.
Every spring, some of the projects hold reunions in Independence Park. McFadden goes most years. Most of the people there seem happy to see him. And it's nice to be remembered, to be approached by someone with a familiar smile. But it's bittersweet, too. A feeling he could only describe as "odd." One memory sticks with him.
"That's Mr. McFadden," he overheard one woman say. "He handled both my sons' murders."
Chuck McShane is a freelance writer in Davidson. He can be reached at chuckmcshane@gmail.com. On Twitter: @chuckmcshane.