20+ Farmers Markets in Charlotte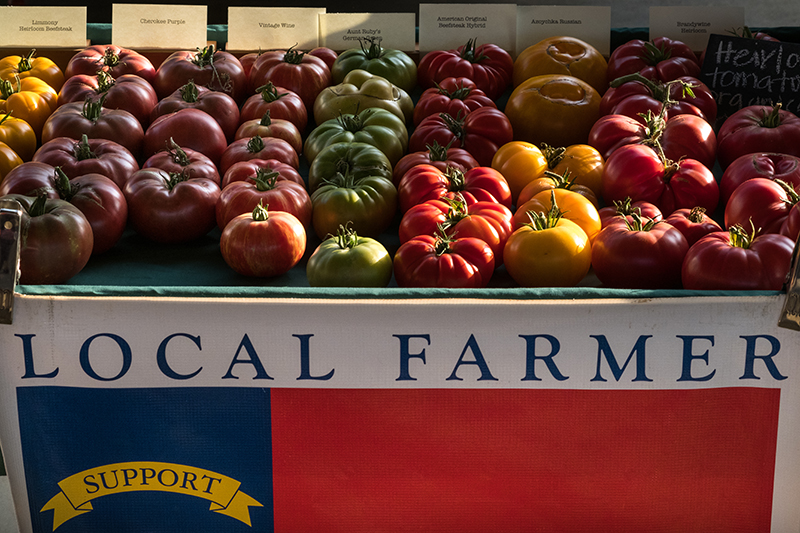 UPTOWN
7TH STREET PUBLIC MARKET
Part gourmet foods store, part farmers market, 7th Street Public Market was created to promote local food culture and serve as a source of fresh, locally grown foods and artisan products in uptown. The centerpiece of the market is a farm stand featuring produce, meat, eggs, and dairy products from regional producers like Greeneman Farms. The market also acts as an incubator for boutique food businesses. Wed-Thur 7 a.m.-7 p.m., Fri 7 a.m.-8 p.m., Sat, 8:30 a.m.-8 p.m., and Sun, 8:30 a.m.-7 p.m., individual vendor hours may vary, 224 E. 7th St.
COTSWOLD
COTSWOLD FARMERS MARKET
Kicking off in 2016, this lively market takes place between May 6 and Oct. 28. All farms and producers are located within 100 miles, and vendors sell produce, breads, fruits, eggs, meats, and more. Bonus: The markets also features live local musicians. Sat 8 a.m.-noon, 309 S Sharon Amity Rd.
​DILWORTH
KINGS DRIVE FARMERS MARKET
The Kings Drive Farmers Market has served Charlotte since the early 1940s. Offerings depend on the season, with April May having fresh strawberries and blueberries, blackberries, and raspberries on the slate between May and July. Tues and Fri, 6 a.m.-7 p.m., Sat, 6 a.m.-3 p.m.
MECKLENBURG COUNTY MARKET
The oldest in North Carolina, this market is still in its original location—a small, red brick building in Dilworth—and was founded in 1937 by the Mecklenburg County Home Extension Club. As with regular vendor Beverly's Gourmet Foods, many of the vendors are descendents of the original founders. Mon-Fri 9 a.m.-6 p.m., Sat 7 a.m.-3 p.m., Sun noon a.m.-5 p.m., 1515 Harding Pl.
MEAT & FISH CO.
As the protein source for the market, Meat & Fish Co. works with farms around the Carolinas, sources local and regional fish, as well as grain- and grass-fed meats. But high quality does not always mean the highest prices. In fact, LaVecchia says it's the highest quality you can get and almost at wholesale prices. Whether a customer wants to pay five dollars for a pound of ground beef or $40 for a pound of Kobe beef, "We want to cater to everyone and educate them about food," she says. "Our passion is the food." Mon-Sat, 11 a.m.-7 p.m. 919 S McDowell St.
NODA
​NODA FARMERS MARKET
The farmers market in NoDa is located behind Smelly Cat Coffeehouse and NoDa Company Store. But in colder weather, it moves down the street to Neighborhood Theatre. Sat, 9 a.m.-noon. 704 E 36th St.
SOUTH END
ATHERTON MARKET
Nestled in the heart of historic South End, the Atherton Market hosts a variety of vendors selling locally grown produce, prepared foods, seafood, meat, cheese, and more. The largest selection is on Saturdays. Mon-Sat 9 a.m.-6 p.m., 2104 South Blvd.
WEST CHARLOTTE
CHARLOTTE REGIONAL FARMERS MARKET
The N.C. Department of Agriculture and Consumer Services operates this large, year-round market, which is one of five farmers markets owned by the state of North Carolina. The facility includes four open-air sheds, where vendors offer fresh flowers, produce, prepared foods, baked goods, cheeses, and even handmade crafts at the Craft Barn (open Saturdays, March through September). Look for the "Local Farmer, Local Food" flags—they distinguish local farmers from other vendors. A greenery shed offers plants, trees, and shrubs. Tue-Sat, hours vary by season, 1801 Yorkmont Rd.
ROSA PARKS FARMERS MARKET
This market, which has fruits, baked goods, veggies, honey, james, and jellies, runs June through September. Tues, 10 a.m.-2 p.m. 2845 Beatties Ford Rd.
BALLANTYNE
MEETING STREET MARKET
Open May through October, this market at Cedar Walk in south Charlotte offers a variety of fresh food options from vegetables and fruits to herbs, eggs, meats, and prepared foods. Tue 4 p.m. to dark, 11038 Cedar Walk Ln.
PLAZA MIDWOOD
PLAZA MIDWOOD FARMERS MARKET
Veggies, fruit, eggs, honey, flowers, jam, jelly, and more are offered at this market, which runs from early May through the end of November. Sat 10 a.m.-1 p.m. 2007 Commonwealth Ave.
---
DAVIDSON
DAVIDSON FARMERS MARKET
More than thirty-five farmers from within one hundred miles of Davidson participate in this year-round market, which began as a grassroots effort in 2007. Since its debut in May 2008, the market has offered locally grown fruits and vegetables, meats, and cheeses produced through sustainable or organic methods. Breads, flowers, and soaps are also available. Sat 8 a.m.–noon, 216 S. Main St., Davidson.
GASTONIA
​GASTONIA FARMERS MARKET
The Gastonia Farmers Market is open from April through December and boasts a large selection of fruits, vegetables, baked goods, crafts, honey, meats, flowers, and plants. Each participating farmer receives a grower's certificate from the N.C. Cooperative Extension Service and a farm visit from the market's committee. Days and hours vary seasonally. 410 E. Long Ave., Gastonia.
HARRISBURG
HARRISBURG MARKET
Managed by Piedmont Farmers Market, this market opens for 2012 on April 16 and runs through September. Mon 4-7 p.m., 6960 Robinson Church Rd., Harrisburg
HUNTERSVILLE
​HUNTERSVILLE GROWERS' MARKET
Sponsored by the Town of Huntersville Parks and Recreation Department, this weekly market runs from May through August, offering produce, flowers, and baked goods along with jewelry, plants, and crafts. Sat 8 a.m.-noon, 200 Gilead Rd., Huntersville
​THE BRADFORD STORE
The Bradford Store offers many of the things you'll find at a typical farmers market—local produce, preserves, prepared foods, cider, meats, and cheeses—in a unique setting. A registered historic landmark, the store was established in 1912 on William Bradford's cotton and corn farm to provide the community with a store, cotton gin, blacksmith shop, and sawmill. Tues-Fri 10 a.m.-6 p.m., Sat 9 a.m.-5 p.m., 15915 Davidson Concord Rd., Huntersville.
MATTHEWS
MATTHEWS COMMUNITY FARMERS MARKET
Established in 1991, Matthews Community Farmers Market operates all year and is one of the area's largest. All of the food and products sold at this market are grown, raised, or made within fifty miles of Matthews. Managed by a board of directors elected from the market's active membership, this market features more than fifty vendors during the regular season Hours vary by season, 188 N. Trade St., Matthews.
MINT HILL
MINT HILL FARMERS MARKET
Located in the Carl J. McEwen Historic Village, this market runs from May through September and offers produce, meats, handmade crafts, baked goods, and plants. May-October, Sat 9 a.m.-1 p.m., 7601 Matthews-Mint Hill Rd., Mint Hill.
MOUNT HOLLY
MOUNT HOLLY FARMERS MARKET
An intimate year-round venture, the Mount Holly Farmers Market is open from May 13 through August and offers local produce, flowers, cheeses, baked goods, and more. At the educational tent in the center of the market, the market's chef-in-residence offers free cooking workshops. Sat 8 a.m.-noon, 226 S. Main St., Mount Holly.
ROCK HILL
OLD TOWN MARKET
This market in Rock Hill is open on Thursdays and Saturdays in June through August and is a combination farmers market and handmade market, featuring locally grown produce alongside handmade work from local artisans and crafters. Children's activities and live music are also a draw. 803-417-4067, 300 E Main St., Rock Hill, S.C.
PINEVILLE
DOWNTOWN PINEVILLE FARMERS MARKET
Pineville's Downtown Farmers Market expects to open for a second season in early May. Look for local produce, baked goods, and handmade crafts in the parking lot of the Pineville Police Department. Sat 8 a.m.-noon, 300 Main St., Pineville.
WAXHAW
WAXHAW FARMERS MARKET
Waxhaw is home to many local farmers, and many of them are represented at the seasonal Waxhaw Farmers Market. Look for dairy products, produce, fruits and berries, baked goods, flowers, local honey, meats, and more. Sat 9 a.m.-12 p.m., 208 N Church St., Waxhaw.