20 Hours of Darkness: Charlotte man braves Icelandic winter conditions in day-long Spartan World Championship race
In Iceland in December, there are only four hours of daylight. But the Spartan World Championship race lasted 24 hours. See how ex-Marine and Life Time fitness instructor Billy Heatherly fared during one of the toughest tests of his life.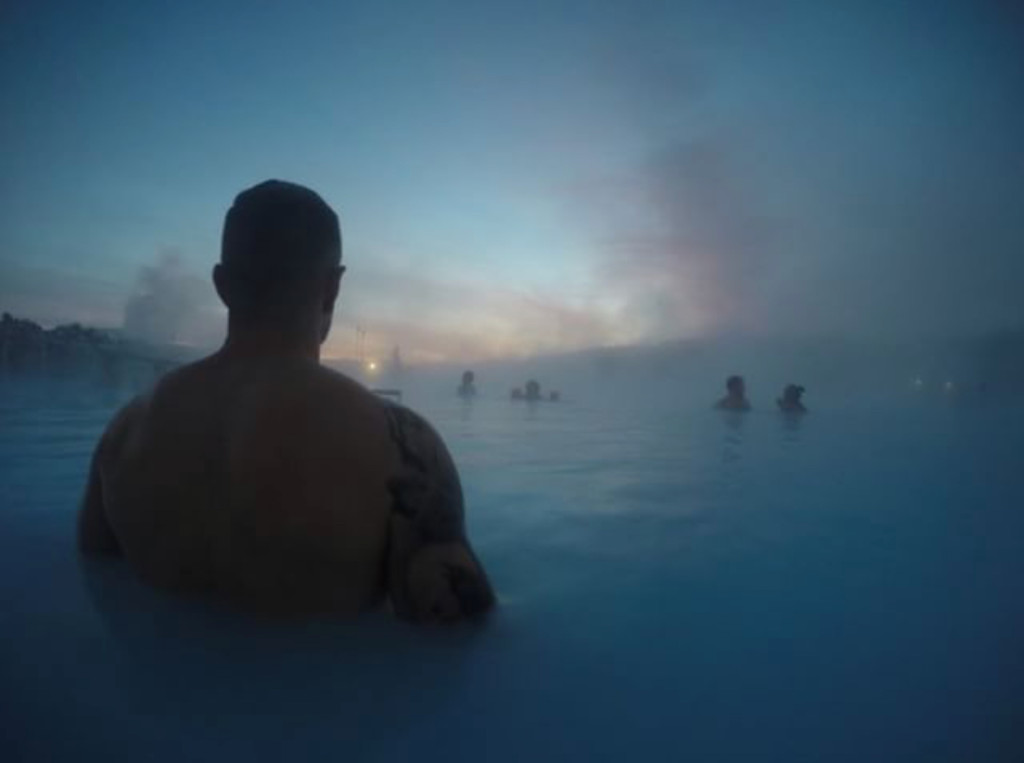 "PEOPLE WERE SLIDING down the mountain," says Charlottean Billy Heatherly. "Obstacles were frozen."
The scene at the first-ever Spartan World Championship in Reykjavik, Iceland was dismal. The competition was held in this past December—which means, in Iceland, not only is it freezing, but, because of the country's hemispherical placement, there are only four hours of daylight each day during the entire month. That breaks down to just one-sixth of the day when it is not pitch-black outside.
And the Spartan World Championship race lasted a full 24 hours. In total darkness, the racers had to stumble through a 5-mile loop of mountainous terrain accented by obstacles—again and again and again. The loop included a 1,200-foot mountain climb and 23 obstacles, according to Heatherly. To win the race, you had to complete the loop as many times as possible within the 24-hour window. Simple. Child's play. Could do it in my sleep, I joke to myself as Heatherly describes the challenge, post-race.
Heatherly had been training for this moment since the beginning of 2017 when he first started dedicating himself to OCR (obstacle course racing) and Spartan races. But before that, Heatherly had some obstacles of his own to overcome.
Heatherly, 26, spent five years as a U.S. Marine who served in the infantry—a couple years as a rifleman for the Marines, and two years as a sniper. He doesn't like to admit it, but, like others before him, he was struggling to acclimate to civilian life after serving our country.
"I was having trouble with PTSD," he says, "drinking a lot, not taking care of my body. I had no mojo or competitive drive."
He moved to Charlotte from Pennsylvania in March 2016 (for a girl—more on that later) and started playing rugby and doing other physical activities. Unfortunately, though, nothing seemed to cure his apathy.
"I wouldn't care about getting tackled in rugby," he tells me.
It wasn't until one of Heatherly's clients at the previous gym he worked at urged him to do a Spartan race. Heatherly eventually obliged thanks to the constant badgering from his client, and after his first Spartan race, he was hooked. (He's now a Spartan Strong instructor at Life Time Athletic Charlotte.)
The music and energy of the event drew him in, but his post-race endorphins sealed the deal.
"After the race," Heatherly says, with passion, "I was like, 'I know what I wanna do. I wanna compete in this, and I wanna give everything I have to this.' For the first time in a year-and-a-half, I found something I wanted to do."
Once he placed 20th in his first-ever Elite race (Elite is the most competitive Spartan category), Heatherly realized he could "actually become something at this." So, he cut out drinking, started eating clean, and, in his words, "started giving a crap" about himself.
It wasn't long after dedicating himself to the sport that he would begin breaking the top 10 at races. Then, he landed on the podium. All of this happened within 2017.
Heatherly got his mojo back.
***
TWICE A WEEK, Heatherly drives to the mountains from Charlotte for training. Ever since his appearance at the Spartan World Championship, he realized mountain climbing is his biggest flaw.
When he first began doing Spartan races, Heatherly used to clock about 30 to 50 miles of running per week. The sport calls for incredible endurance and mental stamina, after all. But now, he does upwards of 100 miles a week.
Yes, you read that right: Running. On his feet. 100 miles. Every week.
His short mountain runs last about an hour-and-a-half, and long runs take about three-and-a-half hours. On those long runs, Heatherly will run from King's Pinnacle to Crowders Mountain, and then back to the Pinnacle. He does one strength workout and one cardio workout per day. And, as for off-days? Not quite. Even on his rest days, Heatherly goes swimming or does plyometrics in the pool.
But even for someone who runs 100 miles a week and never takes a day off, some questions arise: How does the treacherous Icelandic winter terrain measure up? And what about all that darkness?
***
TO HEATHERLY, signing up for the Spartan World Championship was a no-brainer. He wanted to do it big, and the organization's world championship in Iceland was exactly that.
"It was really the environment," Heatherly recalls about the day-long race in Iceland. "It was pitch dark. I needed a head light."
He continues: "To make it worse: the first four hours, it was 40 degrees and downpouring. Then, the fifth or sixth hour, the temperature dropped to 20 degrees and it was snowy."
The course quickly became icy. Each racer had a tent with the comforts of home just taunting them to sit down for a while and absorb the heat. "Every time you completed a lap, you had the choice to complete another lap, or you had the choice to go into your TA section which was warm, had food, a turf floor…" Heatherly recalls.
Inside the tent was a welcome respite for a weary racer, and outside, the darkness, cold, rain, and snow loomed. "You're just like, 'Ugh, I hate my life, I gotta do another lap,'" he says.
Heatherly, despite being an intense athlete, doesn't forget to have both a sense of humor and a hold on reality. You need to have extreme mental strength to head back out into dark, icy conditions after a moment in the cozy TA (transition area) tent.
Oh, and that girl Heatherly moved to Charlotte for? Though a romantic relationship didn't work out, the two became best friends, and she was in his pit crew for the race.
For his first huge Spartan race, Heatherly placed pretty well. He came in 31st out of 86 racers in the Elite group, completing seven 5-mile loops in the Icelandic mountains. Nearly 300 hopefuls raced in the Open Heat category.
Every two to three laps, Heatherly needed to stop to change clothes—they'd get torn up on the course. But it wasn't until one of the final times he changed clothes that something inexplicable happened around 3 or 4 a.m.
"I hadn't seen a person out on the course in God knows how long, and it's pitch black, and exhaustion started to kick in—all the factors, malnutrition—and it was the craziest thing. I was going through the wood-line of the race, and I saw my guys from the Marines to the right, through the woods."
After that lap and his confusing visions, Heatherly needed to sit down in the tent. "I was hitting my low, hardcore—the weather, mental, what I just saw—the lowest of the low."
As he sat in the warm tent, telling crew member Lissette Ocampo and the rest of his pit crew how low he was feeling, Heatherly had hit a wall. Maybe his mental stamina was finally wearing off. But then Ocampo had words of encouragement: 'If that's what you saw, then race with them. They're racing with you.'
So Heatherly "sucked it up, changed, and got back out there." It was the most memorable moment of the race for Heatherly. Or, it at least tied with one other very special moment.
"That, and the hotdog at the end," Heatherly gushes. "That was the best hot dog of my life. I put so much ketchup and so much mustard and so much salt on it, it would give someone a heart attack."
Elite Spartan racers: They're just like us.