2012 Best of the Best: Recreation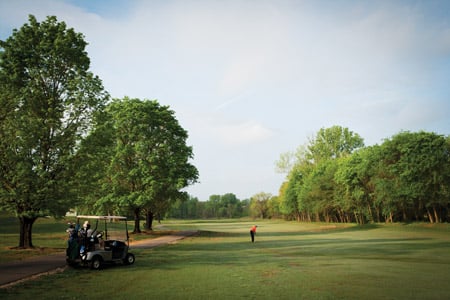 GOLF COURSE REDO: Dr. Charles L. Sifford Golf Course
This was Charlotte's first municipal golf course. Then I-77 devoured the back nine, and the front nine deteriorated over time. A year ago, the county pumped $10 million into completely renovating it—adding gorgeous practice facilities and a sports academy—and renamed it for the Charlotte native who was the first black golfer on the PGA Tour. Now it's a fun, affordable nine holes, five minutes from uptown.
PRIVATE PARK: The Green
Yes, that's right, this urban oasis with a literary theme is private—it's owned by Wells Fargo. Lucky for us, the bank doesn't mind if your kids splash in its playful fountains or if you plop down on the grass to read a magazine. It's also home to occasional art installations—remember the giant bejeweled skull?—outdoor plays, and concerts. And if you get hungry, there are plenty of restaurants just steps away.
MOUNTAIN BIKING: U.S. National Whitewater Center
No, your bike doesn't have to be amphibious—unless you don't
make one of the several tight corners at the river's edge. Actually, the mountain bike trails here predate
the mammoth outdoor entertainment complex. There are fourteen miles of trails, with lots of fun climbs and descents and beautiful views of the Catawba River. Bonus: After a few hours of riding, hit the USNWC restaurant for a cold craft brew or two.
PUBLIC TENNIS COURTS: Jeff Adams Tennis Center, Renaissance Park
Thirteen courts, which are lighted until 10:30 p.m., mean little to no waiting, even on those pleasant spring afternoons when seemingly everyone dusts off their racquets. Plus, these beauties have been resurfaced fairly recently, and there's even a center court with grandstand seating—perfect for all those fans who turn out to see your blistering serve.
URBAN OASIS: Wing Haven Gardens and Sanctuary
How this blissful place stays such a secret is a mystery. Located in the heart of Myers Park, less than ten minutes from uptown, Wing Haven contains formally landscaped areas trimmed by boxwoods and natural woodlands with towering oaks, all hemmed in by brick walls. Turn off your cell phone and enjoy the songbirds for whom the gardens were designed, and you'll forget the world outside.
CLIMBING EXPERIENCE: Inner Peaks
This place is an entire gym devoted to all styles of climbing, from bouldering to ropes to more traditional climbing walls. You could visit here weekly for a year and have a different experience each time. The staff also organizes fun and challenging events, such as a contest to see who can build the highest stack of crates. Looking for a more Zen approach?
IP also offers yoga for climbers.
RUNNING TRAIL: 5K Course at McAlpine Creek Park
This short course combines challenge with the diversity of the great outdoors. The first leg's wide-open straightaway (dirt, so it's easy on the knees) merges with a nature trail shaded by a lush tree canopy. A trip around a lake and a flat "pancake" loop are rewards for surmounting a kill-your-quads hill. A marshy area great for spotting Blue Heron adds interest as you finish the 3.1 miles. For really long distance runners, the course connects to McAlpine Creek Greenway for a flat, gravel trail that links up
with James Boyce Park.
DISC GOLF: Renaissance Park
Not many people realize that Charlotte has one of the best collections of disc golf courses in the country. "Renny," as regulars call it, has two eighteen-hole layouts—the Gold one is as tough as you'll find anywhere. You'll have to toss that disc long, high, around trees, over ravines, and up hills. And then you'll have to go get it. It'll test your skills and your physical endurance.
BIRD WATCHING: McDowell Nature Preserve
A whopping 119 species of birds inhabit this 1,000-plus acre preserve—the county's oldest—along Lake Wylie. Several trails wind through the varied terrain, providing endless opportunities to spot that osprey or Pileated Woodpecker. Be sure to pick up a trail map at the Nature Center and check to see if any birding programs are scheduled for this summer, particularly if you have restless kids.
PARK: Reedy Creek Park
This huge park and nature preserve has something for everyone. There are the requisite softball fields, volleyball courts, basketball court, and soccer field—but there's also a cricket field, disc golf course, and a community garden. Dogs can romp off leash at the four-acre Barkingham Park. But the coolest features are the Robinson Rockhouse ruins deep inside the forested nature preserve, which are accessible along the ten miles of hiking trails.