2012 Cracked Crowns
From the cringe-inducing headline "Mistressville, USA" to a giant catfish to ridiculous campaign ads, 2012 was a year to remember. Or forget. OK, now we're confused. So let's just get to the awards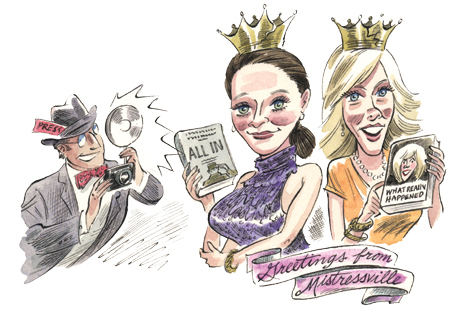 So Really, If You Think About It, Not Much Has Changed for Paula Broadwell
At the beginning of the year, Dilworth resident Paula Broadwell was an author who had received unprecedented access to CIA director David Petraeus. At the end of the year, Dilworth resident Paula Broadwell was an author who had received unprecedented access to CIA director David Petraeus. Think about that. Heh.
It Could've Been Worse. They Could Have Called Us "Tampa"
In the early media frenzy over the Petraeus/Broadwell story, a writer named Diane Dimond wrote a thinly reported story for The Daily Beast (that's what they're calling Newsweek's website now, y'all) about Broadwell living in the same neighborhood that Rielle Hunter, John Edwards's (former? Current? Who knows) objet d'amour, used to call home. The story was headlined "Dilworth, Charlotte: Mistressville, USA?" This being Charlotte, and The Daily Beast being national media, we were delighted with the attention.
Rielle Hunter, Connoisseur of Scalps
In her book, which we're sure you haven't read, former senator John Edwards's mistress wrote about the media besiegement of her home near Freedom Park (she's since moved). One quote: "How scary is it that I can identify Jim Morrill, a political reporter from The Charlotte Observer whom I have never met, by spotting the top of his head?" It is scary, yes. But not for the reason that she thinks it's scary.
One of the Original Renderings of the New Knights Ballpark Was Really Just a Copy-Paste of the Current Columbus Clippers Ballpark.
Ctrl-C, Ctrl-V. Because who's gonna know, really?
Jimmy Clausen, Boy Blunder
Jimmy Clausen has had a rough time. Three years ago, he was the Panthers' starting quarterback. Now he's the third-stringer and this year tweeted about, among other things, getting a bad haircut at Supercuts and searching for face cream. It could be worse. Charles Johnson, the Panthers' $72 million defensive end, missed his flight in February and tweeted—repeatedly—about flying standby.
It's Bev Time
Governor Bev Perdue, the real one, said the passage of her state's anti-gay marriage amendment made North Carolina look like Mississippi. A fake Perdue Twitter account (@GovBevPerdue) tweeted: "Called the Mississippi governor today and apologized for my remarks. Offered to send him some Bojangles Bo-Berry biscuits to make amends." The Huffington Post bit. (The real Perdue, by the way, didn't apologize).
Billy Graham, Outsourcer of Words
This summer, the Rev. Billy Graham, ninety-three, felt so strongly about Chick-fil-A's support of traditional marriage that he issued a statement in which he vowed to travel to the fast food joint to have lunch. And then he didn't. And it turns out, he didn't actually say he was going to do so. Rather, a group of people crafted a message for Graham, which we all took to be his actual words, since it included the word "said" and was surrounded by quotation marks.
Robert Pittenger Is Not Impressed
The incoming congressman from North Carolina's ninth district aired a campaign ad during the primary election and, in it, made this face. If you had to spend more than $1 million of your own money to get elected, you'd make this face too.
Cherie Berry's Fake Twitter Account May Be Is More Interesting than the Real Cherie Berry
North Carolina's Commissioner of Labor has her picture in every elevator in the state. Somebody created a parody Twitter account (@elevatorqueen) in which she discusses Black Friday shopping with Bev Perdue, salsa dancing with Senator Richard Burr, and yeah, elevators. A sample tweet from Thanksgiving: "After all this food today I don't even know if *I* would fit the weight limit on my elevators."
It's Sort of Like the Scenes in Home Alone With the Pizza Delivery Guy
The shimmering golden statue in the median near the intersection of Queens, Queens, Providence, and Providence did what a lot of things in medians do: it got hit by a car. Then, the driver left the scene of the accident. (Coward! May he face the wrath of a thousand Internet commenters!) Not to worry: The statue's back. We rebuilt him. We had the technology.
Just Think of the Po' Boy You Could Make!
WFAE's Julie Rose did a lovely story about people who fish in the pond at Freedom Park, which seemed cute and innocuous until you got to the end and you learned that a man named Jose Sosa caught a twenty-one-pound catfish there. Sosa used a plastic bottle and fishing line (bor-ring!), but we suggest a new slogan for Parks and Rec: Freedom Park: a perfect place to take the kids hillbilly handfishin'.
DNC, Where the D Stands for Debt
If you thought you knew what the words "on track" meant, the Democratic National Convention was a game-changer for you. All year long, the host committee assured the media that fundraising for the convention was on track. Every time a member of the host committee found themselves in front of a microphone, a reporter would ask how much of the $36.5 million they had raised. "We're on track," would come the answer. The convention came and went. The host committee announced it had come up $10 million short. (Next time we buy a 75-cent Coke from a vending machine, we're going to put in 50 cents and tell the machine that we're on track to get another quarter. We'll see if we get that can.)
Because Who Thought a Contrived Made-For-TV Marriage Plot Wouldn't Last?
You guys, The Bachelorette was from Charlotte! And she got engaged to an entrepreneur missing an f! Then they weren't engaged anymore! Whatevs.
Lawsuit We'd Like to See: Jerry Reese v. Mothra
Because after the seventh time you file a lawsuit to stop the Charlotte Knights from moving uptown, you might as well try suing something new.
Charlotte: Where Marriages Go to Die. Er, Struggle
This fall, three weeks after country music star Jason Aldean graced the cover of People magazine for an article about his great home life with his wife and two daughters, he was photographed making out in a Los Angeles bar with Charlotte Bobcats cheerleader and 2012 American Idol contestant Brittany Kerr. Aldean publicly apologized for what he called a "lapse in judgment," and, at last report, was still with his wife.
This Is What Happens When You Lay Off Too Many Copy Editors
In January, The Charlotte Observer published, in the print newspaper, an article stating that NBA player Baron Davis "is recovering from a herniated dick." (Note to karma: we know, we know. We just couldn't resist.)
Disney World Is Awaiting the Arrival of the Carolina Panthers
Of COURSE the guy who predicted a Super Bowl win for this year's Carolina Panthers would go down with a season-ending injury. Ryan Kalil, the team's starting center, took out a full-page ad in July predicting a syrupy sweet campaign for his team. Then his season ended when he came down with something called a Lisfranc injury to his foot, which you can get by inserting it into your mouth.
Somebody Is Spending $1 Billion to Build a Replica of Rock Hill in the New Mexico Desert
Because why not? Pegasus Global Holdings is building a city-sized testing lab to try out new technologies. The Washington D.C.-based technology development company decided to make the lab look like Rock Hill after one of its execs saw the town from the air on a flight to Charlotte and thought, "Hey, let's make our new lab look just like that!" It'll open in 2014. Meanwhile, Gastonia is seething.
Somewhere, Ric Flair Is Taking Notes
In July, a Gastonia man told police he had argued with a woman over groceries for two days, and she punched him in the face then proceeded to beat him with her prosthetic leg. At some point in the scuffle, she got out of her wheelchair, which resulted in her dialysis tube becoming unhooked. Onlookers had to pull the woman off the man.
Paul Silas: Facepalm Machine
Somebody posted a photo montage on the Internet of the former Bobcats coach burying his face in his hand during the team's seven-win season. This, you see, is what the Internet is for.
You Want a Detour? I Got Your Detour RIGHT HERE.
In July, meddling kids changed two electronic road signs, at Colony and Rea roads, to display racial slurs and a swear word. Zoinks!
Gentlemen, It's Been a Pleasure Dining With You Tonight
In April, the uptown restaurant Savannah Red and Epic Chophouse in Mooresville both re-created the last dinner served on the Titanic. Sir, let me refill your water to help you commemorate one of the world's worst maritime disasters.
We'll Remember Your Promise to Hunt Down the Governor, Former Sheriff Wayne Gay
It's not every day that, in the same ad, a former sheriff endorses a political candidate and threatens to "hunt him down" if he doesn't do right by North Carolina. But Wayne Gay, the former Wilson County sheriff, did just that for now-governor Pat McCrory, unintentionally providing a nice counterbalance to the ad in which one of McCrory's former schoolteachers promised to give him a "gold star."
Dog to Gov: I Don't Care What You Call Me, Just Keep that Crazy Sheriff from the Ad Away from Me
In another campaign ad, Pat McCrory appears along with his dog, Bo. Or Mo. Or maybe there are two dogs that look exactly alike but have similar names, and the director spliced footage to create the ad. Here is what we do know: At the beginning of the video, McCrory calls the dog Bo (not to be confused with President Obama's dog, also named Bo). At the end, he calls the dog Mo. Whoa.
Think of the Most Banal, Insensitive Thing You Could Write From Death Row
After being convicted of murder and sentenced to death, Danny Hembree wrote a letter from prison to The Gaston Gazette, saying, among other things: "Is the public aware that I am a gentleman of leisure, watching color TV in the A/C, reading, taking naps at will, eating three well-balanced meals a day?" The letter enraged the family of his victim, Heather Catterton. Hembree also claimed it would be a long time before he was put to death, and Gaston County's district attorney reluctantly agreed.
It's Fun Until Your Friends See You Riding One
In July, Charlotte-Mecklenburg Police said the theft of scooters and mopeds had doubled, making Charlotte criminals either gas-conscious or just kinda dorky.
Insert Slippery Banana Peel Joke Here
In late 2011, to much local acclaim, Chiquita said it was moving its headquarters from Cincinnati to Charlotte. By August 2012, the company had agreed to tax incentives, packed up, started moving, put its logo on a building…then announced that it would be laying off 310 employees, including fifteen in Charlotte, and that CEO Fernando Aguirre would be leaving.