2012 Spring Arts Preview
Our Spring Arts Preview may induce the best kind of déjà vu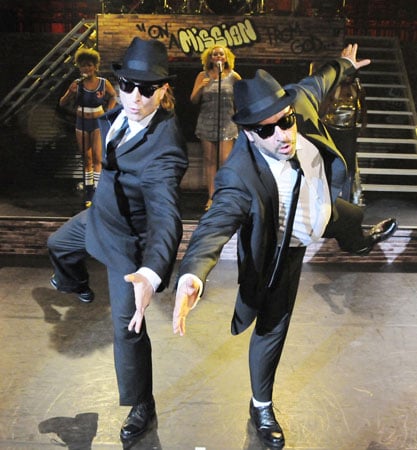 Maybe it's because the present and the future scare us. Maybe there really are no new ideas. Or maybe, as some old playwright once penned, past really is prologue. Whatever the reason, the spring arts season in Charlotte is full of revivals, old-timers, updates, remakes, and new stuff inspired by old stuff.
Don't take that to mean that local stages and screens don't deserve your attention for the next few months. On the contrary, this spate of looking back to look forward has energized the scene. Here are our top picks:

Music
The memory of the great, gloved Michael Jackson will be resurrected when the Charlotte Symphony performs The Music of Michael Jackson on March 10. James Delisco has the impossible job of emulating the King of Pop in both voice and dance moves while the orchestra backs him. Conductor Brent Havens says Delisco doesn't necessarily try to mimic the singular Jackson. "It's not a total replica of Jackson … but a celebration of [his] music."
Arlo Guthrie is a talented singer-songwriter, but he can't escape the memory of his famous folk-singer father, Woody. The heir to the king of the "folk boom" plays an intimate concert at McGlohon Theatre on February 18. Arlo is best known for his epic folk songs "Alice's Restaurant Massacree" and "City of New Orleans." Like his dad, he's written protest songs, but his distinctive nasal twang is all his own.
The Blues Brothers were themselves a tribute to bands of an earlier era. (The 1960s soul duo Sam & Dave was particular inspiration.) John Belushi and Dan Aykroyd formed the group for a 1978 Saturday Night Live skit that proved so popular they took the show on the road. Now there's a tribute band to the tribute band. The sound is horn-heavy, gin-soaked soul you can imagine being played in a smoky dive. But The Original Tribute to the Blues Brothers will be in the sparkling, modern Knight Theater on February 11 and 12.
If you haven't heard the gruff-voiced Texas folkie Eric Taylor, you've probably heard one of his tunes. They've been recorded by fellow Texans Lyle Lovett and Nanci Griffith (Taylor's ex-wife), who both appear on his most recent CD, Live at the Red Shack. Griffith has called Taylor "the William Faulkner of songwriting in our time." The master storyteller will be at the Evening Muse on March 29.
Theater
The Most Fabulous Story Ever Told is an irreverent retelling of the Bible, but with Adam and Steve and Jane and Mabel as the main characters. This story starts in the Garden of Eden and takes us all the way to present-day New York. "It's not just a homosexual look at religion," says director and QCTC cofounder Glenn T. Griffin, "but a play to make us all think about our own beliefs and our own relationship with God." Playwright Paul Rudnick also wrote I Hate Hamlet and utterly fabulous movie reviews for Premiere magazine under the pseudonym Libby Gelman-Waxner. The show is playing at Duke Energy Theater in Spirit Square February 2-18.
For generations, women have traded gossip at the beauty parlor (Steel Magnolias), and men have done the same at the barbershop (Barbershop, The Andy Griffith Show). Actor's Theatre takes that quintessential gathering spot and updates it in Cuttin' Up (February 15-March 3). Playwright Charles Randolph-Wright, a native of York, South Carolina, says the action takes place in the present day, but the setting is timeless. "It's the ultimate gathering place for the community. Everyone eventually has to get their hair cut, so out of necessity, the shop brings people together. In many ways, [it's] like a church, but you can say things you would not say in church."
Cheerleading evokes memories for nearly every woman. You either were a high school cheerleader, you didn't make the team, or you never dreamed of trying out. Bring It On, the 2000 movie that became a Broadway hit—and popularized the concept of "jazz hands"—comes to Blumenthal's Belk Theater as part of the Broadway Lights series in April.
Theatre Charlotte's source material for Around the World in 80 Days (March 15-April 1) may be old—Jules Verne published the original tale in 1873—but the play is relatively new. It debuted at the Utah Shakespeare Festival in 2001. More reincarnation than revival, it is, "plain and simple, a very funny play," says Ron Law, Theatre Charlotte's executive director. Adapted by playwright and actor Mark Brown in a contemporary style, this version has five actors playing thirty-nine characters. "It moves like the wind," Law says.
Kids
Perhaps Stephen King has written something more twisted in modern times, but the tales of Edgar Allan Poe endure because he was the original master of the macabre. Children's Theatre brings the eeriness to the stage in a scary twofer, The Tell-Tale Heart and The Cask of Amontillado (March 9-24). Poe is not for the youngest tykes, but older kids may enjoy getting creeped out by the story of the murderer driven mad by the incessant pounding of his victim's heart.
Everyone knows the tale of the sleeping princess brought back to life with a kiss. Jean-Pierre Bonnefoux choreographs N.C. Dance Theatre's production of Sleeping Beauty (March 8-18). This will be the first time N.C. Dance Theatre has staged the classic fairy tale set against Tchaikovsky's magical score.
Opera and Dance
Opera Carolina's Madama Butterfly isn't so much life after death. It's just death. But what a glorious death it is! Soprano Yunah Lee makes her Opera Carolina debut in a role she knows well. She's performed Butterfly with the Dallas Opera, New York City Opera, and Opera Ireland, among others.
Film
The Bechtler Museum of Modern Art's monthly Architecture + Film series features a cocktail reception, prefilm discussion, and a flick. Sometimes the films are classics, and sometimes they're recent documentaries. But the topic is always architecture. My Architect: A Son's Journey (March 17) is one of the best of the bunch. Celebrated architect Louis Kahn died broke in Penn Station in 1974. His illegitimate son, filmmaker Nathaniel Kahn, investigates his father's rise to fame and fall from grace.
The alcoholic who's full of regrets is a theme we've seen before. What sets the Danish melodrama Applause apart from other films of that genre is its remarkable lead actress, Paprika Steen. She's won widespread praise for her portrayal of a booze-addled actress who gave up custody of her sons but then changes her mind. Charlotte Film Society screens it at Theatre Charlotte on March 10, and the library's Sam Shapiro will lead a postfilm discussion.
And More!
Look for return engagements of Spamalot (February 17-19) and Jersey Boys (February 22-March 11); a Frank Sinatra–themed musical, Come Fly Away (May 1-6); and a direct-from-Broadway Beatles tribute (April 16).