2013 Cracked Crowns
Our 10th annual list of the best of the worst awards goes in all directions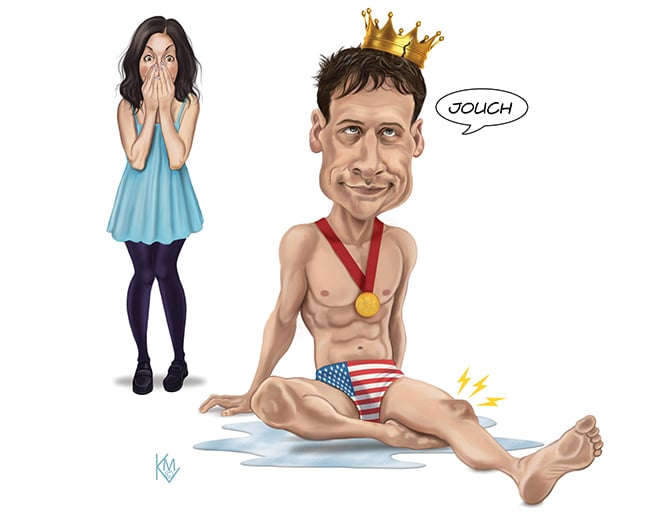 Do Not Expect Ryan Lochte To Catch You, Girl
Whatever you do, do not run headlong at Olympian Ryan Lochte, hoping he will catch you. When the newly minted Charlottean caught a female fan in Florida during (what is now my favorite piece of PR Speak) an "unexpected fan encounter" in November, they both fell to the ground. Lochte hit his knee on a curb and tore his MCL. The girl was unhurt.
The five-time gold medalist moved to Charlotte earlier in the fall to train for the next Olympics with David Marsh and his SwimMAC team, probably peeing in our pools and saying Jeah™ a lot. Now he needs to trademark a new term: Jouch.
Meh-lection Day
You know how boring it is to fill out a bracket for March Madness and pick all the favorites to win, and then they all do? That's what happened in November. As expected, Democrats won all four at-large seats on City Council. As expected, Republicans won the two seats vacated by the only two Republicans previously on the council. The school and community college bond issues passed. Longtime councilman and CEO of E-Z Parking Patrick Cannon is now our mayor. He won pretty much every precinct that everyone predicted he'd win. Do we all get free parking now? We don't? Yawn.
Something's Going On With The Airport, We Think
Stay with me here. I am going to explain something to you about the airport. Jerry Orr? Heard of him? He ran the airport for a long time. Well, then he got upset about his bosses, we think, and some people in Raleigh decided to take control of the airport away from the city and give it to a commission, which doesn't actually have any power except to rack up legal bills it can't pay. All of which has the net effect of … nothing. It's not causing airfares to go up. It's not making it hard to park. Your flight in from Newark is still going to be late.
But it's an important story, probably, and as soon as I can figure out why you should care, I'll explain it to you. Something about the future of US Airways and the hub or whatever. There's still a Cinnabon in almost every concourse. Call me when they take that away.
Naked Women Walking Down Providence Road
Look, if I walked naked down Providence Road, the headline would probably be something along the lines of "Naked Sleazebag Pervert Tackled by Police Along Child-Friendly Thoroughfare." But when two naked women took two kids for a walk down Providence in May? OH, MY VICTORIAN SENSE OF DECORUM IS MAKING ME BLUSH.
As for why they were naked? "She was talking, saying Jesus told her to do this and that the baby was Jesus," a police officer told NBC Charlotte. Jesus.
Share The Road, But Not Providence Road
Perhaps the website banbicyclesonprovidence.com was a little too direct. A guy named Eric Cable created it because he was tired of riding behind a guy commuting on two wheels up Providence Road during rush hour. The internet reacted as the internet reacts to most things, with measured calm and reasoned logic.
Just kidding. The internet crucified the guy. Cable suddenly had a change of heart—Oh, I didn't want to ban ALL bicycles on Providence Road, just some. And only during rush hour. At one point, a mock site popped up, copying Cable's tirade word for word, replacing the word bike with bear. These bears are a menace. They must be stopped.
So what did Cable do with his newfound notoriety? He ran for an at-large seat on Charlotte City Council as a Libertarian. He finished last.
Charlotte Loses Its Gayest Coffee House
In April, Caribou Coffee closed most of its stores in Charlotte, including what may have been its most overtly gay-friendly location, which was on East Boulevard in Dilworth. Gay running clubs met there. It sponsored Pride Charlotte. Wednesdays were, as one patron told me, "Toooootally gay." The Scorpio and Hartigan's are still around, but the cappuccino just isn't as good.
Bruton Bein' Bruton
Oh, THIS guy again. In May, Bruton Smith started talking about moving the October NASCAR race from his track in Charlotte to his track in Las Vegas. It was a done deal, one TV station reported. No, it's not, said Bruton. But I bet it'll happen. I am Bruton Smith. Destroyer of worlds. Mover of races.
We can only assume that he wants something, like some new stoplights on Bruton Smith Boulevard or some more tax incentives from Cabarrus County. In October, an appeals court ruled that Cabarrus County didn't have to give Smith $80 million because, wait for it, the county had never actually approved the incentives.
Awkward Bro Hugs Between Mayors
After my first date with my now-wife, I gave her the most awkward hug ever. I decided to go in for a kiss, then thought that might be too much and pulled back into a hug, veering my head off to the side and giving her a nice firm pat on the back. It's a wonder I'm married today.
I really felt bad about it until I saw then-Mayor Anthony Foxx hug former-mayor-turned-governor Pat McCrory at a Charlotte Chamber meeting in March. Before the meeting, there were reports of tension between them. So McCrory called Foxx over, and the two men hugged in front of the cameras. Foxx's face alternated between the comedy and drama masks, and I took the resulting video footage and made a GIF that makes the rounds every so often on BuzzFeed. You're welcome, America. And more important, I'm off the hook.
Oh, North Carolina
So let's see. In 2013, lawmakers in Raleigh made it harder to vote (preventing fraud), harder to get an abortion (making the procedure safer), harder on teachers (tax reform), and harder on Charlotte (that airport thing from earlier). The state is getting more Republican; the city of Charlotte is getting more Democratic. The surveyors who are redrawing the North Carolina-South Carolina state line might want to swing it north of Charlotte, just to see what happens.
I Saw A Movie Crew In Charlotte! I CAN'T BELIEVE IT
Do we really have to freak out every single time a movie crew shows up here? It's getting a little exhausting, and I really didn't want to go see Bad Grandpa.
Charlotte is not Extreme
We had quite a winning streak going there, what with the DNC and all. But back in July, ESPN chose Austin over Charlotte as the site of the X Games starting in 2014. So we're good enough for Obama and a bunch of conventioneers with lanyards but not good enough for some bros on BMX bikes? How dare yo—actually, that sounds about right.
Your Toes
Pat McCrory is steppin' on them. The governor, lookin' for a folksy colloquialism to explain why his approval numbers are so low, used the phrase "steppin' on toes" in interviews more than a dozen times in 2013 alone. His message is clear: If you want to live in North Carolina, buy boots.
Something About Karma And The Penguin
The new, less-popular owners of the once-legendary restaurant in Plaza Midwood filed for bankruptcy in November, forcing the neighborhood to decide which fancy term to use to describe the situation: "schadenfreude" or "catharsis." Can we just go with "sad"? It has fewer letters.
The County Commission Is A Dish Best Served Cold
Local politics, with the occasional exception of County Commissioner Bill James, are usually as polite as your genteel grandmother. But when the commission decided to get rid of County Manager Harry Jones in May, it basically went down like this:
You're fired, said then-chairwoman Pat Cotham.
Can I say something? asked Jones.
No.
Can I get my stuff out of my office?
No.
OK then! Jones had been county manager for 13 years, although he'd made some controversial moves in the last few. He's now a consultant, and Cotham lost her post as chairwoman in December. Heavy is the head that deals with the county commission.
Zoinks! Eastland Mall Is Gone!
There is nothing spookier than an abandoned mall. I really wish they hadn't torn the place down. I was really counting on living out my weird Scooby-Doo fantasy there.
Things Your Brita Would Be Powerless to Stop
Do you know where your drinking water comes from? I mean, really, do you? Well, friend, I'll tell ya, it comes from Mountain Island Lake, which happens to have a now-closed, coal-fired power plant on one of its shores, not to mention a big coal ash pond next to it. Duke Energy says everything's cool, but the Catawba Riverkeeper wants the coal ash cleaned up. It's never a good feeling to know you've been drinking from a cup that's had a lit cigarette dangling over it for years.
Andy Dulin's Twitter Feed
You want to know when Andy Dulin is going out on a date with his wife? Want to know when he's spending a long weekend up at Sugar Mountain? Care to learn alternative spellings to common words? Do you like superfluous hashtags? Then, fella, Andy Dulin's Twitter feed (@adulin) is the feed for you. The outgoing city councilman is sort of like Chuck Grassley, Val Kilmer, and Jose Canseco all rolled into one, if that one also happened to tweet a lot about wandering around in District 6, looking for a wayward sidewalk. We'll miss you, Dulin. #Keep #Tweeting #Alot.
Charlotte's Dessert Delivery Service Lasted Less Than A Year
If you want to prove that it is possible to shut Pandora's Box again, then you'll appreciate the fact that Plaza Midwood's Desserts Delivered closed over the summer. A piece of cake, delivered straight to your door? You're playing the most dangerous game.
How to Get Fired From Your Job as a Segway Tour Guide in Charlotte
It was a combination of three things, according to the tour guide's posts on Reddit: "I hooked up with a girl in the office and got locked in. It doesn't unlock from the inside so I found this out with my boss letting me and her out in the morning. The second thing I took 7 Cirque Du Soleil performers out for a free tour in exchange for front row tickets. Literally white collar crime lol. And then I left 4 segways unattended outside the office on the sidewalk in Uptown. I had it coming."
There was one response: "You went out like a boss man."