2014 BOB Awards: Arts & Culture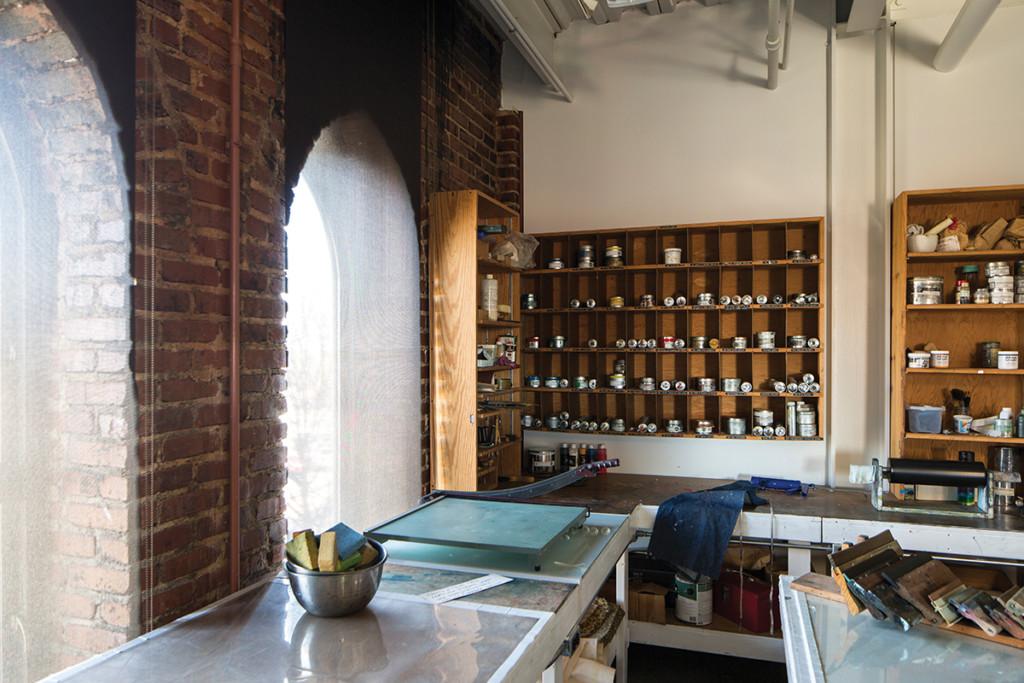 Arts Building Still Standing
McColl Center for Visual Art
721 N. Tryon St., 704-332-5535, mccollcenter.org
It was a church, once among the most active houses of worship in the city. But to appreciate its transformation, you have to look at what's happened since its construction 88 years ago. Dissolution of church membership in the 1950s, abandonment in the 1980s, and then a fire that gutted it—it's still standing, albeit with major renovations, providing studio space for local and visiting artists.
---
Community Reach
Charlotte Symphony Orchestra
charlottesymphony.org
Tom Burge, a Juilliard School-trained trombonist for the Charlotte Symphony Orchestra, has multiple concerts most weeks, but he still finds time to mentor music students at Northwest School of the Arts. Burge is one small part of this huge ensemble with broad community reach. From a performance of Jewish music from the Holocaust to Ansel Adams photography synced with the compositions of Aaron Copland and Duke Ellington, the symphony exposes our city to history, other cultures, and dozens of musical genres. Two youth orchestras, lessons for kids at Winterfield Elementary, a used-instrument drive, performances in nursing homes, and Pops in the Park are just a few of the diverse ways the symphony reaches every person in Charlotte.
---
Hidden Art
Dan Nance
dannance.com
Standing on the corner of Fifth and Tryon streets uptown, it's hard to imagine a time before all the suits and skyscrapers. Dan Nance imagines it. Then he paints. His Liberty Walk paintings, found as you follow along with the tour's mobile app, portray local battle scenes from the Revolutionary War.
---
Twitter Feed
@ASCCharlotte
The Arts & Science Council tweets about major theatrical productions and big-name touring acts; but sometimes, it's a quick snapshot of public art that makes you wonder what else you're missing around the city.
---
Place To Get Discovered
Find Your Muse at The Evening Muse
3227 N. Davidson St., 704-376-3737, eveningmuse.com
Take a deep breath; it won't be that bad. You're in one of the most intimate venues in town—a brick, compact building in NoDa. This is the only weekly open-mic night with a rotating featured artist, so people are actually paying to watch you showcase your talent. And some of the acts go on to appear on Plaza Midwood Community Radio, as segments of this open mic are recorded. So, are you next?
---
Local Playwright
Kami Shalom
"Playwright" is just one of Shalom's many titles. She wrote and performs in the one-woman show Call Me Madam, which tells the story of the nation's first female self-made millionaire, Madam C.J. Walker. After years of research, she debuted the play in 2013. And as a teacher involved in local programs and arts outlets like the Blumenthal Performing Arts Center and ArtsTeach, Shalom shares her storytelling abilities in many ways.
---
LOGAN CYRUS
The milestone has been an integral part of the city's music scene for nearly 50 years.
Historic Live Music Venue
The Milestone Club
3400 Tuckaseegee Rd., 704-398-0472, themilestoneclub.com
Decades-old stickers and posters adorn the walls of the Milestone, but it's not the 45-year-old venue's building that keeps it young. Sure, the hip hub for touring acts and burgeoning local talent has a rich history, but its relevance comes with shows that welcome young adults on a near-daily basis.
---
Suburban Theatre Company
Davidson Community Players
209 Delburg St, Ste. 132, 704-892-7953, davidsoncommunityplayers.com
Constance Welsh established the Davidson Players in 1965 and then created a separate venue to expose kids to theater in Children's Drama Workshop. Today, the group is a catch-all, attracting actors and showgoers of any age, with year-round schedules for both its youth and main-stage programs. The dual focus is rare among nonprofessional companies. While adults can take part in and enjoy the Broadway-centric show 42nd Street, kids can be transported to a new world with productions like Seussical Jr.
---
LOGAN CYRUS
Blayr Nias cracks us up onstage and online.
Comedian
Blayr Nias
blayrnias.com, @GummyBlayr
Nias is bipolar and enjoys a good pun. And we know these things about this local comedian because of her popular and often-hilarious Twitter account, which consistently makes note of these facts. We also know that she is one of the area's hardest-working acts, as she regularly pops up around the country with new gigs.
---
Culture for Kids
ImaginOn
300 E. 7th St., 704-416-4100, imaginon.org
A small girl pushes the E sound out with her lower lip in the first-floor library. Upstairs, teens talk about dinosaurs in "the Loft," while peers shoot and edit a video in Studio i, a multimedia lab that gives anyone the power to be a director. Others nervously await auditions outside one of two theaters, where the Children's Theatre of Charlotte runs several productions a year.
---
LOGAN CYRUS
Berry Newkirk as Prior Walter and Kindra Clyne Steenerson as The Angel in Carolina Actors Studio Theatre's Angels in America production
Theatre Company
Carolina Actors Studio Theatre
2424 N. Davidson St., 704-455-8542, nccast.com
From Sizwe Bansi Is Dead, a tribute to the late Nelson Mandela, to the once-controversial and ever-relevant Angels in America, CAST aims to reflect more than just one culture or background. The company often runs two productions at the same time, driven by several volunteers and tight casts made up of professional performers.
---
LOGAN CYRUS
Deniro Farrar is shaking up Charlotte's hip-hop scene.
Performer
Deniro Farrar
denirofarrar.com
Charlotte's never had its own face of hip-hop, but last year the self-proclaimed "Leader of Cult Rap" changed that. With a Spin magazine feature, high-profile gigs, and, in true Deniro fashion, a consistent flow of new material—this is not the kind of artist who waits for the crown to be handed to him.
---
Stripped-Down Band
The Loudermilks
Facebook.com/TheLoudermilks
The Loudermilks take a seamless route to each song, layering acoustic tunes with warm, electric tones. It makes a song like "Quite Honestly" something to behold: stripped-down but pulsing with sincerity.
---
Band You've Never Heard Of
Appalucia
appalucia.bandcamp.com
Appalucia may be new to you, but the band's ancestors have been here for centuries. Members claim direct genealogy to German settlers in the Appalachian Mountains and an 1800s militia that was neither Union nor Confederate. The band itself has been active for a few years, slowly building a following as a rollicking acoustic act you might stumble upon at Snug Harbor.
---
Museum Mainstay Exhibit
Carolinas Aviation Museum: Miracle On the Hudson
4672 1st Flight Dr., 704-359-8442, carolinasaviation.org
Outside the city, the "Miracle on the Hudson" is associated with the Hudson River in New York City. But Charlotteans know better. We had friends, family members, and coworkers who climbed out of the waterlogged vessel when it fell from the sky. Now we can claim that plane as a permanent exhibit at this museum of aviation history.
---
Place To Discover New Music
Tosco Music Party
toscomusicparty.org
Maybe you've never heard the new folk trio out of Chapel Hill or the dulcimer player from Appalachia. Maybe you'll marvel over a double-necked guitar solo or a 13-year-old classical pianist. Whatever you're seeking, this incredible, quarterly variety show will make you grateful to have John Tosco curating your musical adventure.
---
Best Filmmaker
Jared Hogan
hoganjared.tumblr.com
"[What] is going on in this video?" read one YouTube comment on the video for John Mark McMillan's Love At the End. Sure, it's strange, featuring dark shots and jarring movements. But it's moving. And Charlottean Jared Hogan created it. He is a master of evoking emotion—and humanity—within a few minutes of footage in his short films.
---
LOGAN CYRUS
Ballet students practice at NC Dance Theatre, which opened in 1970.
Dance Troupe
North Carolina Dance Theatre
ncdance.org
The oldest professional ballet troupe in North Carolina doesn't stay still. That would defeat the purpose, after all. Directed by former New York City luminaries Jean-Pierre Bonnefoux and Patricia McBride, the group takes its productions across the country and, lucky us, provides regular seasons locally that mix contemporary with classic works.
---
Wildcard
Music & Museum: Living Room Concerts
bechtler.org
Sure it may seem a little strange to see a live music concert in a stranger's living room, but this Bechtler Museum of Modern Art series showcases captivating musical selections, food, and an inside-look at some of the city's finest homes.