2014 BOB Awards: Dining & Beer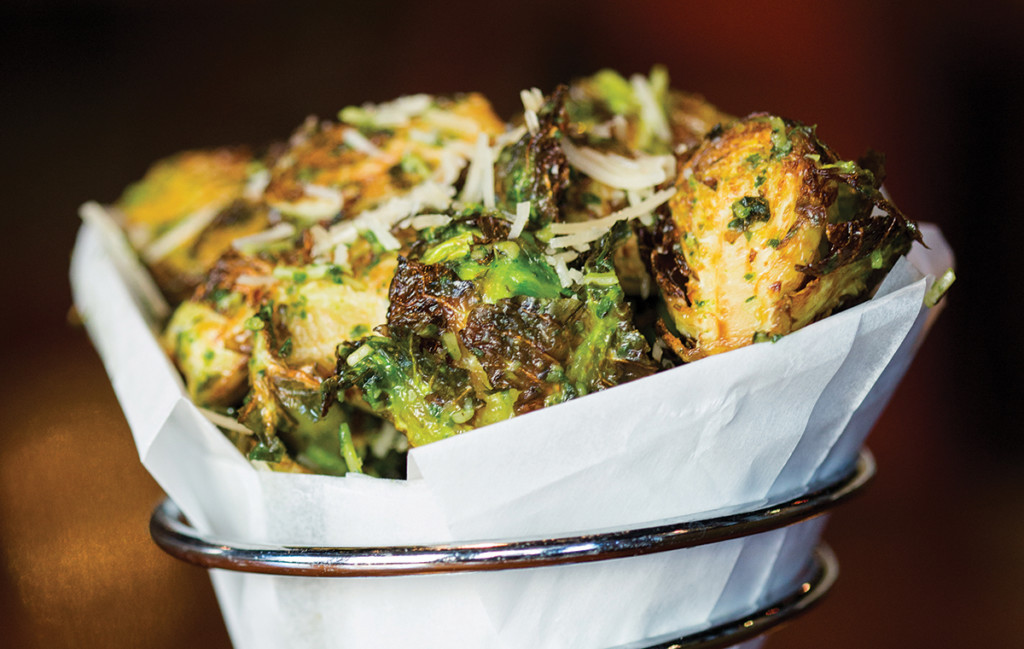 Brussels Sprouts
Crêpe Cellar
3116 N. Davidson St., 704-910-6543
The humble Brussels sprout has been boiled, charred, steamed, roasted, and grilled—and still some people aren't able to bite through their childhood distaste for the vegetable. But Crêpe Cellar gives us the Blasted Brussels Sprouts appetizer. Roasted, charred, and tossed with tangy, herby pesto, these veggies are more than trendy; they're so good even Brussels critics can't deny them.
---
New Restaurant
Stagioni
715 Providence Rd., 704-372-8110
Elegant but not showy, Stagioni proves that classic Italian cooking can still stand out in a scene full of newer, flashier styles. Owner Bruce Moffett, who also successfully propelled Good Food on Montford and Barrington's to the forefront of Charlotte's dining scene, turned the kitchen over to chef Larry Schreiber. And Stagioni, which means "seasons" in Italian, has been packed ever since.
---
Food Art
Baku
4515 Sharon Rd., 704-817-7173
Baku in SouthPark serves beautiful plates of sushi, fancy drinks, and pots of rustic kamamashi rice. But the real art is in the presentation of the desserts. Order the truffles, for instance, and you'll garner glances and jealous glares from other diners. A glass bowl made of sugar, rolled and stacked balls of chocolate, and a giant ice presentation put this food art over the top.
---
Chicken and Dumplings
Dish
1220 Thomas Ave., 704-344-0343
In the South, comfort food takes many forms, but few dishes remind us of home more than a big bowl of chicken and dumplings—and nobody does it better than Dish. A substantial biscuit alongside a bowl of creamy chicken will take you back to your grandma's kitchen. An extra dose of black pepper adds a kick that helped this dish once earn a mention on Food Network's Diners, Drive-Ins, and Dives.
---
Bar Food
Jack Beagle's
3213 N. Davidson St., 704-334-5140
You could order a cup or bowl of one of the five varieties of mac and cheese. Or the Buried Treasure Fries, a pile of waffle fries and toppings. Or the grilled, smoked, or deep-fried dogs. This cozy pub in the heart of NoDa follows the age-old rule: Bar food is supposed to taste great and not be good for you.
---
Reason to Cross the Border
The Yolk Cafe
1204 Mt. Gallant Rd., #1, Rock Hill, 803-792-4449
In a nondescript corner of an aging strip mall in Rock Hill, husband and wife Greg and Subrina Collier give Charlotteans a reason to drive 30 miles south for breakfast. The Yolk serves breakfast classics, including the creamiest hambone grits you've ever tasted and incredible specials every weekend. Imagine it: banana-bread French toast with Earl Grey whipped cream, toasted hazelnuts, and brûléed citrus.
---
Place to Eat Next to a Celebrity
BLT Steak
110 N. College St., 704-972-4380
With a prime location—off the lobby of the Ritz-Carlton and next to Time Warner Cable Arena—BLT Steak is gaining a reputation as the place for celebrities passing through. From November through January, the list of people who ate here included former Bobcats owner Bob Johnson; comedian Chris Tucker; high-flying NBA dunk champion Blake Griffin; Bobcats assistant coach Patrick Ewing; Bobcats players Kemba Walker, Ben Gordon, and Gerald Henderson; ex-NBA player Sleepy Floyd; and Eagles band members Joe Walsh and Glenn Frey.
---
Croissant
Sunflour Baking Company
2001 E. 7th St., 704-900-5268
Owner Debbie Bartok spent months researching the process and even took trips to Paris to perfect the art of a flaky croissant. Her daughter assisted, and together they created croissants that are made of layers of butter and dough, each one the result of tireless folding (called lamination) and pristine craft. The final product is crisp on the outside, airy and feathery on the inside.
---
Use of a Rooftop
Cloister Honey
cloisterhoney.com, 704-517-6190
When Joanne Young gave her husband, Randall York, a beehive for Christmas in 2007, she unknowingly laid the foundation for Cloister Honey. The couple has hives scattered throughout Charlotte, including their own backyard. But there's nothing like the view from the one atop the 18th floor of the Ritz-Carlton, where 100,000 honeybees reside in two hives, overlooking uptown. The Ritz uses the honey (70 pounds produced annually) for its spa scrubs and the honey-pecan ice cream served at Bar Cocoa.
---
Long-Standing Restaurant
Barrington's
7822 Fairview Rd., 704-364-5755
Fourteen years ago, Bruce Moffett walked into a restaurant called the Metropolitan Café looking for work as a chef. The owner, Fran Scibelli, gave him a better offer—the chance to own the place. Moffett bought it, changed the name to Barrington's, and took off. Today, Moffett owns three restaurants in Charlotte, but the intimate 45-seat Barrington's still draws a loyal crowd with its seasonal American cuisine, cozy ambiance, and discerning wine list.
---
Cornbread
Mert's Heart & Soul
214 N. College St., 704-342-4222
It's circular, muffin-like. Most places, they bring you a little square cake of yellow sound tile and call that "cornbread." This is lighter, sweeter, more cake than bread. Mert's puts Duke's mayonnaise in the mix, which doesn't sound great in theory, but in consumption, oh goodness, pass
the butter, and could we get some
more, please?
---
Gelato
Bella Fresco
8200 Providence Rd., 980-949-6131
When it comes to desserts, gelato is in a league of its own, and Bella Fresco in The Arboretum is ahead of everybody else. Chocolate, coconut, bubblegum, cannoli, mascarpone, watermelon, stracciatella, and pistachio are just some of the flavors you'll find here, and they're all made in-house.
---
Fresh Catch
Deep Sea Seafood Market
10020 Monroe Rd., #180, 704-849-0029
The menu will come to you if you ask for it. It will dangle there in your email, promising new things each day from 11 a.m. to 2 p.m.: blackened snapper ($9.99), mahi-mahi banh mi ($8.99), or alligator sausage po-boy ($6.99). Something will hook you. And then you'll go, reeled in by the fresh fish market that also does lunch.
---
Buffalo Chicken Sandwich
Fran's Filling Station
2410 Park Rd., 704-372-2009
A full day before you've even thought about eating it, the chicken breast rests in buttermilk, soaking and softening. The sauce is mostly Frank's RedHot, but Fran adds her own twist, a little secret she won't reveal. When you order, the tender breast with that special sauce is dropped on a pretzel roll, topped with strips of bacon, and slathered in blue cheese mayonnaise.
---
Restaurant in the Around Towns
Fork! in Cornelius
20517 N. Main St., Cornelius, 704-655-7465
Chef Tim Groody quietly opened Fork! in Cornelius in the summer of 2013 inside a historic home on the cusp of Cornelius and Davidson. Groody is a culinary veteran responsible for helping launch the farm-to-table movement in Charlotte about 15 years ago. He continues to use that approach at Fork!, where he serves weekly specials that hinge on what he finds at the market.
---
Wild Hummus
Pinky's Westside Grill
1600 W. Morehead St., 704-332-0402
At the place with the famous hamburgers, the waitress starts with the inevitable question: "You want any appetizers?" She stands over you, her eyes darting to the other tables she's serving in the busy restaurant. So you blurt out, impulsively, "hummus." And then it comes, filling a big basket, covered in olives and artichokes and sliced onions and diced tomatoes on a bed of lettuce. And before you even finish it, that waitress is back again with the big burger, and now your table is full of food, and the next time she returns, she'll ask another inevitable question: "Do you want a box?"
---
Non-Taco Latin Dish
Enchiladas Verde at Three Amigos
2917 Central Ave., 704-536-1851
Mexican food doesn't have to be greasy or fried or insanely spicy. It can be shredded chicken in soft tortillas, topped with fresh lettuce, tomatoes, and avocados. It can be covered in tangy, sweet green sauce, made from puréed tomatillos. It can be the meal you dream about whenever someone says "taco" because you know how much better Mexican food should be.
---
Sandwich Deal
Banh Mi at Le's Sandwiches & Café
4520 N. Tryon St., 704-921-7498
There are potholes in the parking lot, and the dark entrance to Asia Corner Mall is less-than-welcoming, but the bahn mi is worth the trek. This Vietnamese cousin of a traditional French sandwich includes your choice of meat (pork, chicken … sardines!) topped with pickled carrot, radish, cilantro, and jalapeño. Tucked inside a crunchy-on-the-outside, soft-on-the-inside baguette, it's an addictive combination of sweet and spicy, made fresh for less than five bucks.
---
Dish With Tentacles
BBQ Octopus at Customshop
1601 Elizabeth Ave., 704-333-3396
Forget the rubbery purple stuff they serve in sushi restaurants. This octopus has a tender texture complemented by a hint of smokiness. Savor it in small bites by dipping the white flesh in the tangy lemon jam served beside it. The small appetizer feels hearty, especially when paired with fingerling potatoes, because the earthy flavor is unlike anything else you've tasted.
---
Peanut butter, blackberry jam, and goat cheese on brioche is just one of the reasons Orrman's is the best place for a grilled cheese in Charlotte.
Grilled Cheese
Orrman's Cheese Shop
224 E. 7th St., 980-226-3025 (at 7th Street Public Market)
The first and only cut-to-order cheesemonger in Charlotte does grilled cheese better than anyone. Regardless of which option you choose (although the Gouda with preserved walnuts and confit shallots is a breakout favorite), you'll be served this classic sandwich on crispy, buttery grilled bread, with gooey cheese that ends up everywhere.
---
Neet's Sweets caters events all around the state.
WILDCARD: Unexpected Food Find
Neet's Sweets
2903-C Central Ave.,
980-272-8427
Antonia "Neet" Childs doesn't have her own brick-and-mortar location, but if you wander into Second Helping Charlotte on Central Avenue, you will find a case filled with classic sweets such as coconut cream pie, peanut butter pie, and red velvet cake. These are Neet's Sweets, and they are some of the most comforting confections in the city. More than that, though, Childs uses some of the proceeds from her business to help survivors of human trafficking, of which she herself was a victim.
---
Tots
Bad Daddy's
Burger Bar
1626 East Blvd., 704-714-4888
The key to a good tot is the combination of an audible crunch on the exterior and excellent potato-y insides. Bad Daddy's Burger Bar nails it, and the restaurant serves plenty of them alongside its custom burgers. The tot comes out golden, crunchy, and steamy in the middle, and it's served with a side of Bad Daddy's sauce, a spicy barbecue mayo.
---
THE BEER
NoDa Brewing Company helped change people's perceptions of canned beer last YEAR, selling more than 100,000 cans in two months
Local Beer
Hop, Drop 'n Roll (NoDa Brewing Company)
2229 N. Davidson St., 704-900-6851
This winter, the city went crazy again over the release of the Bell's Hopslam, one of the most sought-after IPAs in the country. Most places here sold out within hours of tapping it. Well, here's something you should try. Take a glass of Hop, Drop 'n Roll and put it next to a glass of Hopslam. Drink both. Then walk away surprised that the better beer has been in your backyard this whole time.
---
For the Dark-Beer Lover
Mexicali Stout (Birdsong Brewing Company)
2315 N. Davidson St., 704-332-1810
Mexicali starts out with hints of coffee, chocolate, and cinnamon, and then it hits you with a jolt of spice. In what might be Birdsong head brewer Conor Robinson's greatest creation, the Mexicali has grown from a small pilot batch into a seasonal beer that makes Charlotteans look forward to fall and winter.
---
New Local Beer
Bourbon Barrel-Aged Up All Night (Triple C Brewing Company)
2900 Griffith St., 704-372-3212
OK, it's not technically "new." But Triple C head brewer Scott Kimball took this solid porter—which is infused with roasted coffee from Magnolia Coffee Company—and this year aged it in bourbon barrels, producing a taste that will linger until next year's release.
---
Seasonal
Mecktoberfest (The Olde Mecklenburg Brewery)
215 Southside Dr., 704-525-5644
With a taste as crisp as a beautiful fall afternoon, this Märzen also brings along a smooth finish. There's a reason Mecktoberfest won the silver medal at the 2012 Great American Beer Festival. Related: Is it August yet?
---
THE BEER PLACES
Local Brewery
NoDa Brewing Company
2229 N. Davidson St., 704-900-6851
NoDa opened in 2011, and it didn't take long for this brewery to live up to its slogan: "The beer on everyone's lips." After just one year, NoDa Brewing brought home a silver medal at the Great American Beer Festival for its famed Coco Loco. Then, in 2013, NoDa increased its beer production by an amazing 242 percent. And when NoDa released Hop, Drop 'n Roll and Jam Session in cans last year, more than 100,000 cans were sold in just two months. From the top-notch beer to playing a big role in the community (with the ever-popular NoDa Run Club), owners Todd and Suzie Ford have created the blueprint for how to be
a successful local brewery.
---
Beer Bar
Duckworth's Grill & Taphouse
Multiple locations, duckworths.com
The original Duckworth's in Mooresville began in 2005 with 19 taps. That eventually increased to 46, and Duckworth's added a location on Park Road with 60 taps. That was later followed by a Ballantyne Duckworth's, which has 80 taps. And last year, Duckworth's opened its fourth location in Huntersville. It has 145. That makes 331 taps of quality craft beer spread across the Charlotte region. What's more? In early 2014, owner Rob Duckworth announced that his beloved tap house would expand again, this time with its biggest venture yet (including a bottom-floor beer cellar likely with at least 100 taps), in the uptown space most recently occupied by Fox and Hound.
---
Beer Bar You Don't Know About
Twenty-Two
1500 Central Ave., 704-334-0122
Underneath the popular Soul Gastrolounge in Plaza Midwood is an art gallery. Inside the art gallery is a bar, and it's one of the best secrets in town. Twenty-Two has a chalkboard that often includes a few rare beers among the 15 taps. And the specials include $1 pints on WTF Wednesday that in recent months have included exceptional beers such as Lagunitas IPA and NoDa's Jam Session.
---
Local Bottle Shop
Good Bottle Co.
125 Remount Rd., 704-527-1003
Everything in the South End bottle shop is neatly categorized, from style to a special section of North Carolina beers. Owner Chris Hunt was one of the first people in Charlotte to capitalize on the recent growler-fill law, and the 12 taps range from rare seasonals to local offerings. Bonus points for Good Bottle's monthly beers and breakfast events.
---
Small Batch Program
NoDa Brewing Company
2229 N. Davidson St., 704-900-6851
A new beer every week and a fun video about each one: It was an ambitious goal for a small brewery, but NoDa pulls it off with its NoDable Series, released every Tuesday. Some of these small batches have even made it to the long-term taps, including Midnight Madness, NoDajito, and Woody & Wilcox IPA.