2014 BOB Awards: Diversions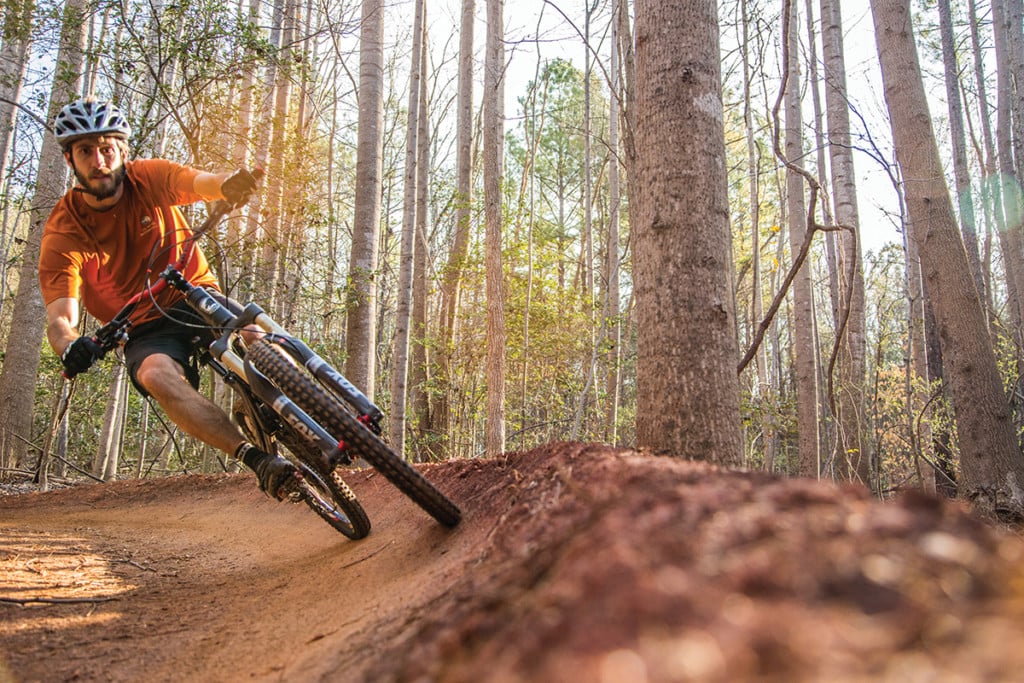 Regional Attraction
U.S. National Whitewater Center
5000 Whitewater Center Pkwy., usnwc.org, 704-391-3900
Seems ironic: getting back to nature in a place where the featured attraction is a river created with concrete. But the U.S. National Whitewater Center has continued to draw people in, thanks not only to the rapids, rock climbing, and riding trails but to the food, bands, and beer. It's perfect for the aspiring outdoorsman who doesn't want to get away from it all.
---
Lake Escape
Kiss Anchor Island Yacht Party Series
kissanchorisland.com, 704-451-7433
The next best thing to owning a big boat and dock somewhere is this yacht party series that takes place on Lake Norman each Saturday from Memorial Day to Labor Day. Kiss 95.1 FM charters The Ragin' Mistress and takes guests out from 10 a.m. to 2 p.m., for four hours of music, drinks, cookout-style food, dancing, games, and swimming. And it costs only $10.
---
Way to Show Team Spirit
Bang the "Keep Pounding" Drum
Bank of America Stadium
Charlotte sports fans know the story: In January 2004, former linebacker Sam Mills stood in front of the Carolina Panthers before a playoff game against the Dallas Cowboys and said, "When I found out I had cancer, there were two things I could do—quit or keep pounding. I'm a fighter. I kept pounding." The Panthers won the game. Mills died a year later. But the words live on. And in the season of many slogans for the Panthers as they marched toward the NFC South Division title last year, "Keep Pounding" was the most meaningful. Sometimes before games, Panthers' staff will bring the famous bass drum to the stadium entrance and invite fans to pound away.
---
Place to See the Stars at Night
Fisher Farm Park
21215 Shearer Rd., Davidson, charlotteastronomers.org
About 25 miles north of Charlotte's glowing downtown, Fisher Farm Park is where the astronomers go when they want to see the stars. The Charlotte Amateur Astronomers Club holds two star parties every year, one in the fall and one in the spring, and the public is invited. "The stars are as good [at Fisher Farm Park] as they'll get that close to a large metropolis," says Jim Gaiser, president of the club. "It has a good westerly view over undeveloped land, so the sky glow [from the city] is minimized."
---
By the time BB&T Ballpark opened in April, more than 4,000 season ticket packages had been sold.
New Place to Root for the Home Team
BB&T Ballpark
324 S. Mint St., 980-207-0079
Ten thousand people. A view of the skyline. A new logo for the home team. No more of the-Charlotte-team-that-plays-in-South-Carolina jokes. The old ball game looks new and fancy inside the new home of the Charlotte Knights.
---
Social Group/Club
Good Eats and Meets
meetup.com/geamclt
With nearly 5,000 members, this Meetup group brings together people from around Charlotte to dinner parties and cocktail, beer, and wine tastings and to watch big games. The group typically has more than 30 events a month on its calendar.
---
Charlotte Thing to Do While Not Going Out in Charlotte
Watch Homeland
Showtime, Sundays at 9 p.m.
It's easy to feel like part of the "in" crowd when you're living in a city that's been immortalized on the small screen by one of the best shows on television. (Never mind that Charlotte masquerades as Washington, D.C., on Showtime's Homeland.) But spending an hour picking out city landmarks such as Healthy Home Market and Ed's Tavern—when you're not distracted by riveting performances from Claire Danes and Mandy Patinkin—is so Charlotte. And also fun.
---
The Light Rail has been running south out of Uptown since opening in 2007. Last year, the city broke ground on an extension that will run north.
$2 Ride
LYNX Blue Line
Routes and schedules at ridetransit.org, 704-336-7433
If you start driving in your car at Interstate 485 and try to race the blue line north and into town, it will beat you. If you start at Tyvola Road, it will beat you. If you start at East/West Boulevard, it will beat you. And if you were just on the train, you wouldn't have had to worry about all that traffic and those stoplights. Can't beat that.
---
Adult Leagues
SportsLink
sportslinkus.com, 704-499-9160
Some want to stay active and fit. Others want to rekindle their glory days playing high school or college sports. SportsLink has leagues for football, soccer, softball, kickball, volleyball, and more. It also organizes some of the best sports-related social events, including happy-hour outings to Charlotte Checkers games; the annual Pedal Quest, a scavenger hunt on bikes (May 10 this year); and an annual Field Day (June 14 this year).
---
Place to Picnic
The VanLandingham Estate
2010 The Plaza, vanlandinghamestate.com,
704-334-8909
Picnics are a great way to spend time with someone special. They're also a lot of work to prepare for—unless you let this historic inn take care of it for you. VanLandingham offers catered picnics on its pristine grounds. Just make reservations and select the food and wine of your choice. When you arrive, a wicker basket will be filled with everything you need.
---
Geek Event
HeroesCon
Charlotte Convention Center, heroesonline.com/heroescon (June 20-22 this year)
Shelton Drum's comic shop in Elizabeth, Heroes Aren't Hard to Find, has filled the city's nerdy niche for 34 years. In 1982, Drum took his small-scale convention, Charlotte Mini-Con, and transformed it into HeroesCon, a city institution that now brings thousands of fans from across the country. Every year, high-profile comic creators, retailers, fanboys, and cape-clad cosplayers pack the Charlotte Convention Center.
---
WILDCARD: View of the City From 5,000 Feet
Skydive Carolina
1903 King Air Dr., Chester, S.C., skydivecarolina.com, 803-581-5867
OK, so you'll jump out of an airplane from 13,000 feet in the air, and every blood cell you have will move in overdrive, and you'll free-fall at 120 miles per hour, and if you're doing it solo you should probably think about pulling a cord at some point. But on a clear day, after the parachute pops open and you take a deep breath, look to the north: That little thing in the distance you'll see is Charlotte, and you'll still be about 4,000 feet higher in the air than the Bank of America building. Enjoy the view./p>
---
OVERALL DIVERSIONS: THE PARKS
Mecklenburg County Park and Recreation Department
charmeck.org/mecklenburg/county/parkandrec
Mecklenburg County Park and Recreation Department oversees about 210 parks and community facilities in the county, including nature preserves, greenways, dog parks, "spraygrounds," and even a wedding chapel.
Romare Bearden Park opened on Labor Day weekend last year.
Best New Park
A serene escape in the middle of the urban hustle, Romare Bearden Park opened in uptown last fall and, along with the new Knights baseball stadium, is helping change the look and feel of Third Ward.
Best Park for Spotting Wildlife
You'd expect to see wildlife at one of more than 20 nature preserves around town (Reedy Creek, McDowell, and Latta Plantation are worth a visit), but a walk or jog along McAlpine Creek Greenway uncovers blue herons, barred owls, rattling kingfishers, and deer, too—you just have to be open to spotting them.
Best Park for Cooling Off
Don't love nature? The parks are still for you. Cool off during summer months at one of the park system's five "spraygrounds," free parks with spraying water features great for splashing around when temperatures soar.
Best park to hold a wedding on a budget
St. Mary's Chapel on East Third Street calls itself Charlotte's most popular ceremony venue. The tiny chapel, designated a National Historic Landmark in 1975, seats a maximum of 100, and Mecklenburg County residents can rent it for $500.