2014 BOB Awards: Kids & Family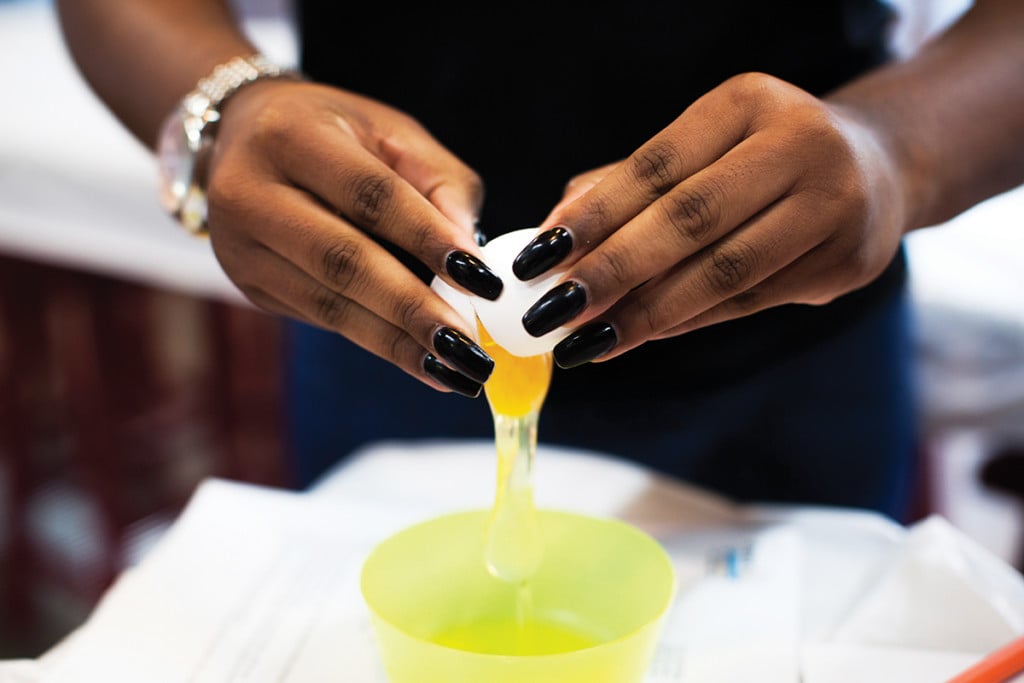 Way to Encourage Your Kid's Top Chef Ambitions
Flour Power Kids Cooking Studios
8438 Park Rd., 704-759-4337
Is your kid the next Wolfgang Puck? This south Charlotte studio offers cooking classes tailored to kids of all ages, from preschoolers to teenagers. From sifting and measuring to kneading and dicing, your child will learn how to create cakes, cookies, tacos, wontons, quiches, and more. With all that training, you might have a little helper in your own kitchen soon.
---
Baby & Kids' Clothing Store
Shower Me With Love
532 Governor Morrison St., 704-302-1555
This SouthPark store is packed with odds and ends for babies and kids, but it's also neatly organized, making things easy to find. Shower Me With Love has a large selection of clothing lines for your child, including Lucky Brand tees, Ella Moss mini maxi dresses, Hartstrings coordinating tops and skirts, and cult favorite Tea Collection.
---
Pumpkin Patch
Hall Family Farm
10713 Providence Rd. W., 704-562-4021
A strawberry-picking field in the spring and a pumpkin patch in the fall, this family-owned and -operated farm in south Charlotte is worth the drive. Families swarm to the unassuming location off Johnston Road, not just for the large selection of gourds and jack-o'-lantern-worthy pumpkins but for the experience of climbing aboard antique tractors, eating funnel cake, and winding through the corn maze.
---
Place for Kids' Haircuts
Pigtails & Crewcuts
310A S. Sharon Amity Rd., 704-366-9100
9935 Rea Rd., Ste. C, 704-541-3386
That first haircut can be frightening for a kid. But Pigtails & Crewcuts is like visiting haircut Disney World. Kids saddle up to fun salon stools in the shape of fire engines, cars, and airplanes so it feels less like a chore and more like a theme-park ride. And parents can take the picture of that first 'do without the tears.
---
Storytime
Free Kids Yoga at University City Regional Branch Library
301 E. W T Harris Blvd., 704-416-7200
This story time not only encourages your little one's love of books but also gets him moving. And stretching. And bending. Veteran yoga instructor Karey Tom, who founded Charlotte Kids Yoga, leads a class of a half-dozen or more tots as young as 18 months and as old as preschool. Tom takes the kids through simple yoga poses and songs (the Yogi Pokey) while also reading them books. A favorite has been yoga guru Baron Baptiste's My Daddy is a Pretzel.
---
Pamela Shook of Blue Moon Puppets is the personality behind "Fairy Beary."
Birthday Entertainer
Blue Moon Puppets
Bluemoonpuppets.com, 704-532-8408
There are balloon artists, clowns, and even birthday party musicians, but nothing keeps the little ones entertained the way Blue Moon Puppets does. This puppet show has lovable characters and adorable story lines that add flavor and fun to conventional birthday celebrations.
---
Toy Store
Toys & Co.
242 S. Sharon Amity Rd., 704-365-7890
4217 Park Rd., 704-527-1921
Shelves stocked with bathtub finger-painting kits, telescopes, talking globes, Legos space stations—it's a fantasyland in here. Unlike in big box stores, sales team members give customers one-on-one time, steering them to the best toys for their little ones.
---
Kids' Museum
Discovery Place Kids
105 Gilead Rd., Huntersville, 704-372-6261
Opened in 2010, this museum now stands as one of the best places in the region to take your kids to keep them engaged and inspired. Discovery Place Kids accommodates children as young as infants and as old as tweens. From the grocery store stocked with organic food to the full-sized fire truck—not to mention arts and crafts areas, a water table, and puppet show areas—there's seemingly no end to the ways to expand your child's mind.
---
Park for Kids
Stallings Municipal Park
340 Stallings Rd., Stallings, 704-821-8557
Few parks cater to kids of all ages like Stallings Park. It was renovated last spring to cheers from moms and dads across the region, and now it includes three playground areas (one of which is fenced in for the wee ones), tennis courts, picnic areas, and a walking trail. And there's the oversized splash pad that, when it opens each May, is packed full of kids (and parents) cooling off.
---
Place for Kids to Make Masterpieces
Small Hands Big Art
8025 Ardrey Kell Rd., #103, 704-246-8271
Kids as young as 2 can finger-paint, glitter up, and mush together faux ice cream. Staff members with extensive art backgrounds lead each class through themed arts and crafts projects that often result in work so colorful and fun, you'll want to frame it as soon as you get home.
---
WILD CARD: Place for a Nickelodeon-like Birthday Party
Atomz Lab
Atomzlab.com, 704-651-8989
A complete departure from the usual Chuck-E-Cheese's affair, inviting Atomz Lab to your home for a birthday party doesn't leave the kids bouncing off the walls—but they do have fun and learn a thing or two about science. They'll concoct green slime, alien goo, rockets made from recycled bottles, lip glosses, body scrubs, and more, and they'll also walk away with an understanding of the basics of chemistry.