2014 BOB Awards: Shopping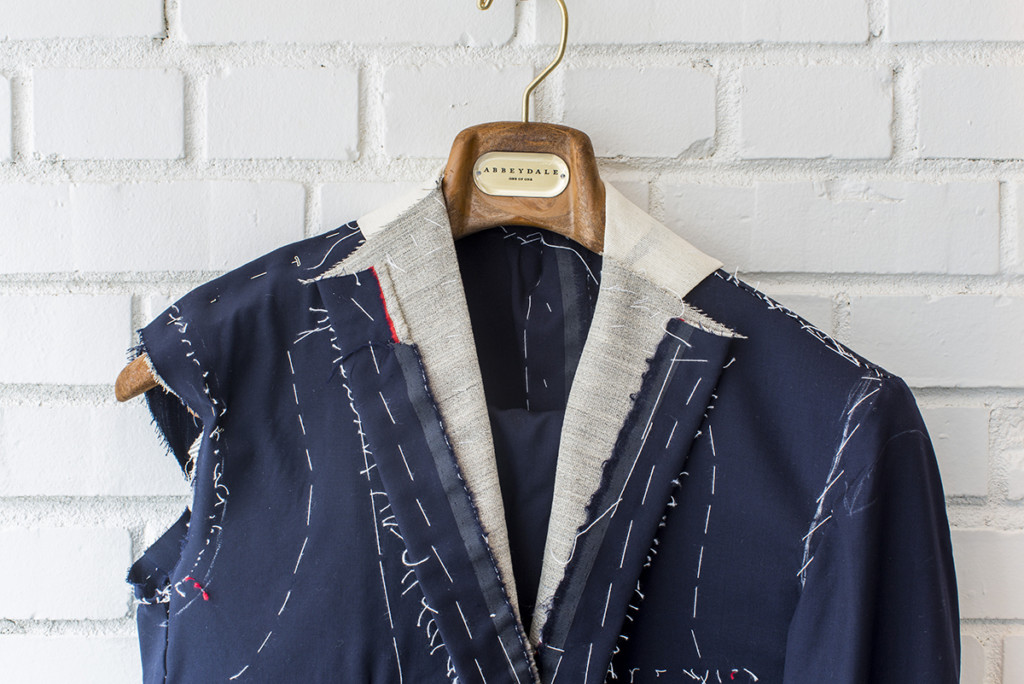 Place to Buy a Suit
Abbeydale
116 W. 4th St., 704-737-4274
With a knack for tailoring and a penchant for European fabrics, David Watkins' offbeat updates on traditional menswear make his shop a go-to for NBA stars and corporate execs. His favorite: an unlined lapis suit ideal for Southern summers, aptly dubbed the Naples Blue. "Fit over everything," he says. His pristine separates and unfussy shop prove the point.
---
LOGAN CYRUS
A former factory now hosts bargain shoppers at The Potato Sack.
Pop-Up Flea Market
The Potato Sack
2001 W. Morehead St., 704-576-0463, eastcoastjunkgypsy.blogspot.com
This "warehouse flea market" is open for three days every other month or so in an old potato chip factory (check the website for the schedule). Arrive early, because by 10 a.m., you'll be dodging bargain hunters as you navigate rooms crammed with furniture, rugs, lamps, designer drapes, and paintings. Whether you fancy French antiques, industrial chic, or vintage pull-down maps covered with chalkboard paint, there's something calling your name.
---
Kitsch
Common Market
1515 S. Tryon St., 704-332-7783
There's nothing silly about the selection of beers and vegan snacks at Common Market, but nearly everything else in this South End deli/convenience store is a testament to the tongue-in-cheek. Try the bacon-flavored toothpaste, or the plastic mustaches. Need a bicycle bell patterned after the Liberty Bell? They've got it, along with candy you haven't seen since childhood—from Mary Janes to Necco Wafers and "It's a Girl!" pink-bubblegum cigars.
---
Indie Book Store
Park Road Books
4139 Park Rd., 704-525-9239
In an era when big-chain bookstores struggle to survive, the independent book retailer in Park Road Shopping Center is steadfast, thanks to the friendly bookworms behind the counter and an equally friendly canine greeter named Yola. You'll find hundreds of titles here and some of the best customer service in town.
---
Fancy Chocolate
The Secret Chocolatier
2935 Providence Rd., 11318 N. Community House Rd., 704-323-8178
There's chocolate, and then there's chocolate laced with basil, lavender, or serrano peppers and guajillo chilies. It's these unexpected—and often locally sourced—add-ins that make the Secret Chocolatier a standout among a growing contingent of city chocolatiers. You must try the truffles, but the bonbons (pumpkin spice white chocolate! strawberry balsamic!), caramels, barks, and chocolate "enrobed" brownies will also make you swoon.
---
Find North Carolina-grown produce at the Charlotte Regional Farmers' Market.
Farmers' Market
Charlotte Regional Farmers' Market
1801 Yorkmont Rd., 704-357-1269
This market provides the area's most diverse and comprehensive selection of North Carolina-produced fare, including fresh fruits and vegetables, eggs, pork, grass-fed beef, wine, goat cheese, baked goods, cut flowers, and crafts. Full disclosure: Not all products sold here are local, so be sure to ask. While you're at it, you can chat with the farmer who grew that Silver Queen corn and grab some cheese and garlic biscuits from Monroe's A Lit'l Taste of Heaven.
---
Gift Shop
Paper Skyscraper
330 East Blvd., 704-333-7130
From gorgeous coffee-table books to funky earrings, decorative sake sets, and chic barware, the store's eclectic inventory is guaranteed not to end up in the regifting closet. Need a soy candle? How about a local artist's rendering of NoDa? Make it a package deal with wry gift cards, inventive wrapping paper, and other festive ephemera.
---
Handcrafted Furniture
Josh Utsey
joshutsey.com
Utsey's stunning tables—rough-hewn slabs of cherry, walnut, and other North Carolina hardwoods atop shiny acrylic or welded steel bases—invite you to celebrate the beauty of the natural world and man-made materials. These and his other statement pieces—Utsey makes chairs and lighting too—are equally at home in the dining or conference room.
---
Classic Grocery Store
Reid's Fine Foods
2823 Selwyn Ave., 704-377-1312
Perusing the cheeses, fresh meats, produce, and packaged snacks in this tidy grocery on Selwyn Avenue, you find yourself expecting June Cleaver to walk in the door to buy tonight's dinner provisions. The welcoming neighborhood feel and the many hard-to-find food items it stocks, such as Jeni's Splendid Ice Cream and Nye's Cream Sandwiches, have kept customers coming back for years.
---
Way to Spend a Day Shopping
Plaza Midwood
Shopping in the Plaza Midwood commercial district feels like passing time in a small, artsy town. Wander through vintage furniture stores, score a bargain at the Junior League's JLC WearHouse or the Buffalo Exchange consignment shop, grab a loaf of Rosemary Sea Salt at Dukes Bread, and pick up eco-friendly soap or baby wares at Ecolicious. The neighborhood is also home to some classic eateries, yoga studios, and a Dairy Queen.
---
Block & Grinder sells all-natural, grassfed, grain-finished steak.
New Butcher
Block & Grinder
2935 Providence Rd., 704-364-2100
The folks at this butcher and farm-to-table restaurant in Cotswold are intent on expanding Charlotte's palate for meat. They sell flavorful, all-natural, beef—from burgers ground daily in house to hand-cut prime steaks—and pork and poultry by the pound. Block & Grinder also prides itself on its rotating selection of exotic meats, so you can occasionally purchase wild boar or kangaroo burgers with your chorizo and short ribs.
---
Consignment Store
J.T. Posh
2400 Park Rd., Ste. 2-A, 704-375-1334
Wind your way through a maze of color-coded racks stocked with J. Crew cashmere and Tory Burch tunics to a bay of French flats and the latest trends in stilettos. Then circle back to the center checkout and peruse a case of swanky accessories, like cabled classics from David Yurman and supple leather Balenciaga satchels.
---
Leather Goods
ColsenKeane Leather
1318 Central Ave., Ste A-9, 704-750-9887
Scott Hofert stumbled into his business out of necessity. With no protective case available for his new iPad, he used scrap hide to stitch a simple sleeve. Four years later, he sells an impressive collection of leather goods, from utilitarian belts to men's satchels.
---
Saint & Libertine snake cuff heels from Sloan.
Women's Shoes
Sloan
1419 East Blvd., Ste. G, 704-376-1275
Upstairs at this veteran boutique, above the clothes and accessories, you'll find a collection of dainty stilettos and snakeskin pumps from elusive labels such as Elizabeth and James and Alexander McQueen, mixed with boho Frye boots and Superga sneakers. Rather than overwhelm you with choices, Sloan has cultivated a collection to please any shoe personality.
---
Home Décor Shop
B.D. Jeffries
720 Governor Morrison St., Ste. E. 110, 704-364-4004
Wandering through B.D. Jeffries is like getting lost in a well-traveled friend's mansion. Exotic decorative pieces and alpaca throws complement minimalist furnishings, with each alcove made to mimic a different dwelling space. From a sleek bar topped with crystal decanters to an antique dresser littered with crocodile notepads and embossed stationery, this shop is designed to please the most discerning eye.
---
Chaesong Yu greets patrons at Tadlock's Shoe Repair.
Classic Shoe Repair
Tadlock's Shoe Repair
631½ S. Sharon Amity Rd., 704-366-5021
A woman in hot-pink workout clothes plops a pair of worn-out boots on the countertop. "Okay, you pick up Saturday. Phone number?" asks Chaesong Yu, a South Korean native and co-owner of this shoe, luggage, and handbag repair shop in Providence Village Shopping Center. With no website, and an address straight out of Harry Potter, the little shoe shop at 631 1/2 South Sharon Amity Road can be hard to find, but the no-frills business, now on its fifth owner since 1938, is a sure bet for fast and friendly service.
---
Twitter for Shopping
The Cheeky Bean (@Thecheekybean)
720 Governor Morrison St., Ste. 160, 704-543-8773
With a steady stream of merchandise updates, date-night tips, and references to Mean Girls and Saved by the Bell, the stylish ladies at The Cheeky Bean keep you entertained and eager for retail therapy.