2015 Cracked Crown Awards
Each year, we give out awards for true stories you can't possibly make up. We had some all-timers in Charlotte in 2015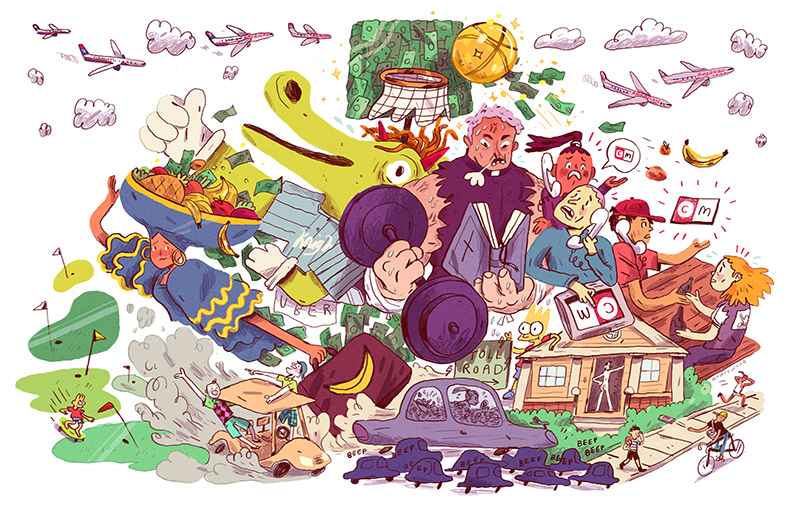 BREAKING AND HOMERING
We've all wondered who is behind those cold, beady, dead mascot eyes at a sporting event. But what if it's not even the person who is supposed to be there? Enter Joe Gillespie, who in September stumbled into the Charlotte Knights' mascot dressing room (yes, that's a thing), and decided to be Homer the Dragon for a night. Before his arrest a few days later, he terrorized Charlotte with his dance moves, took a ride in a rickshaw, talked to cops, and took an Uber home in the costume.
The next week, Gillespie talked to Creative Loafing's Ryan Pitkin about that night, and within hours, the interview became one of the most widely shared stories of the year from a Charlotte publication. "The female officer who arrested me said she thought it was a fake call when she was dispatched until she stepped on the porch and looked in the window and there was Homer's head sitting on the couch," Gillespie said. "They were out there taking pictures with it. They said they shouldn't be laughing, but it was hard not to."
Gillespie was eventually charged with possession of stolen property and marijuana possession, but he claimed he was no thief.
"Professionals steal," Gillespie said in the interview, "amateurs borrow. I'm just an amateur."
***
THE 19TH HOLE
5.1 miles. That's the distance two golf fans drove in a stolen golf cart from the Wells Fargo Championship at Quail Hollow Country Club to Selwyn Avenue Pub back in May. The guys may or may not have been drinking already, but when they got to the bar, they got out and ordered shots after reportedly high-fiving—because that's what you do after you steal a golf cart from a tournament, drive it a few miles, and end up at the Charlotte bar most likely to be frequented by two dudes who stole a golf cart with the express goal of driving it to a bar.
***
HELLO, IS IT ME YOU'RE NAKED FOR?
We've all had a bad neighbor at some point. One with an extremely loud dog, or who mows his or her lawn at an ungodly hour. But that's nothing compared to the Cardinal Glen residents who live near a guy who has been stripping down to his birthday suit and standing naked in his doorway for more than a decade. Residents have complained to the police for years, but after local television stations were alerted to the matter in March, the naked man went national. Think about that the next time you get upset at the guy next door you're convinced is stealing your newspaper.
***
PUTTIN' SHAME ON THE RITZ
From the "Are you freaking kidding me?" department comes the Ritz-Carlton's boneheaded decision to tack a 15 percent CIAA service charge onto the bills of people coming to the uptown Charlotte hotel for the CIAA tournament in late February. Allegations that this was a racially motivated "black tax" led to an investigation by the state attorney general. The Ritz eventually gave refunds to customers and donated $75,000 to the CIAA scholarship fund.
***
I'M CHIQUITA BANANA AND I'VE COME TO SAY, WE ARE LEAVING CHARLOTTE BUT THANKS FOR THE PAYDAY
When Chiquita was lured to Charlotte in 2011 with $23 million in city and state incentives for moving its headquarters from Cincinnati, there were promises of jobs and lots of potassium. But nothing banana gold can stay. After the produce brand was bought by two Brazilian companies in January, rumors of an exit from Charlotte were quickly proven true, with 262 employees losing their jobs. So much for that 13-year lease in the NASCAR Plaza building.
***
77 TAKES ITS TOLL
Nobody likes driving on I-77 during rush hour. And nobody likes paying tolls. Soon, you'll be able to do both at the same dang time! The toll road debates came to a hilt in August, when despite protests, a plan moved forward to add two paid express lanes between Brookshire Freeway and Cornelius that would scale in price depending on the severity of congestion throughout the day. Hoping for "the best bad idea possible," State Rep. Charles Jeter introduced an alternate solution: levy a property tax on the four towns along the route to cover the $100 million fee that it would take to officially cancel the $648 million toll project. That will likely never happen. Guess we'll need the next best bad idea.
***
DO THE BARTMAN
A funny thing happened late this spring: Bart Simpson started showing up everywhere. Not the real Bart Simpson, mind you, but artwork of The Simpsons character in Plaza Midwood and NoDa at Reggae Central, Cabo Fish Taco, and on the side of the building that houses Salon 1226 and Pint Central. While some residents and business owners expressed disdain for the street art (city code calls for up to a $100 fine if graffiti isn't removed), others enjoyed it. As Charlotte resident Rush Masten told wcnc.com in May, "I like Bart. Maybe Bart should stay."
***
MUCH ADO ABOUT COMMON MARKET
Surely by now you've heard something about the Common Market in South End. "It's closing, for sure." "It's already closed!" "I heard all the Food Truck Friday trucks and the owners of Common Market were going to start a commune in Gastonia." Chances are, most of what you've heard is untrue. Yes, there are still plans submitted for a development between South Tryon, West Park, and Camden; and yes, Food Truck Friday will move to two locations; and yes, the Common Market will likely also move. But none of that has happened yet. That hasn't stopped just about every publication in Charlotte from writing about it as often as possible.
***
U.S. AIRWAYS GOES THE WAY OF THE DODO BIRD
October 17 was the end of an era, as the final U.S. Airways flight landed in Philadelphia. The merger between U.S. Airways and American Airlines hit home in Charlotte, which has been a major U.S. Airways hub since it merged with Piedmont Airlines in 1989. The process played out over a couple of years—complete with questions about airline miles and new credit cards and gate changes and regional carriers. There's some nostalgia for the once-great airline and its role in shaping the region's economy, although delays, bag fees, and rising costs in recent years have some people saying good riddance. Meanwhile, the airport talk isn't showing signs of slowing down any time soon; during this year's mayoral debates, Charlotte Douglas was almost as popular a topic as the streetcar
***
HE HAS BIG ARMS AND HAS BIG FAITH
Some churches build a community through potluck dinners and festivals. Elevation opted to go with a music video. As part of Pastor Appreciation Month in October (man, they've got a month for everything), congregation members honored Steven Furtick with a three-minute video talking about how Furtick "always preaches down the place" with his "big arms" and "big faith." The video caught fire on Twitter, and was later taken off YouTube.
Martin Rickman is a senior writer at UPROXX. Although he had no idea what he was getting into when he recently bought his first house in Charlotte, he loves the city all the same. He likes it when people say hello, and rickman.martin@gmail.com is his email address.