2017 In Review: Public Life
It was a strange, unresolved kind of year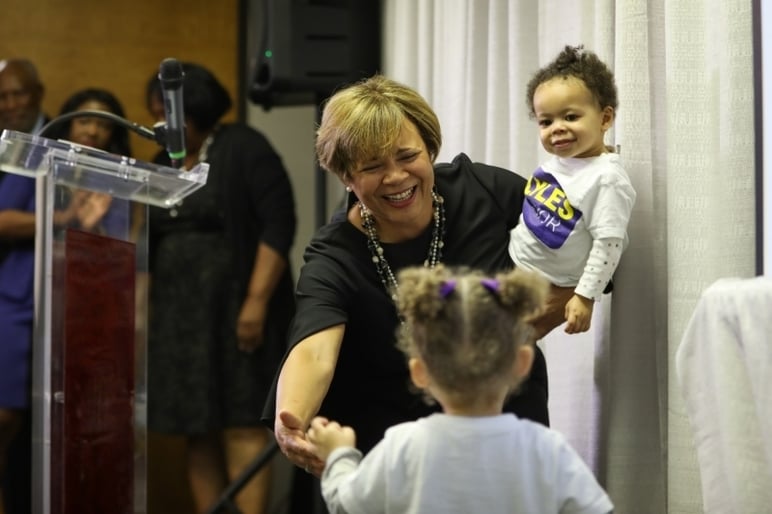 It was a weird, chaotic year in Charlotte's public life. All the issues seemed in transit, halfway between realization and resolution. Two events dominated 2016: House Bill 2 and the Keith Lamont Scott shooting. In 2017, House Bill 2 was repealed and replaced, in a way that didn't make anyone very happy; and Charlotte's institutions began to wrestle with the implications of the Scott shooting and its aftermath, although at a pace so gradual you could be forgiven for thinking Charlotte had sunk back to its default, committees assembled, reports published, increments observed.
But then came the city elections in November, and no one could ignore the hunger for change. The City Council retained a 9-2 Democratic majority, but its makeup changed radically: Of the 11 council members who took their oaths in December, six were under 40 and had never won public office before. (One, Dimple Ajmera, had served on the council after a January appointment to fill a vacancy.) The most celebrated was 34-year-old Braxton Winston, who in a little more than a year had gone from protesting the Scott shooting to an at-large council seat. And there was a new mayor, too—Vi Lyles, the first black woman to ever hold the position. They, and everyone else in the city, have to grapple with the hard questions on income disparity, affordable housing, policing, economic development, and the pressure on cities to adapt to a federal administration with no love for the Democratic-leaning citizens who live there.
Here, in roughly chronological order, were the most important issues and events in Charlotte from 2017. We may have more clarity on the answers a year from now—or a brand-new set of questions.
Soccer: For much of the year, the city and Mecklenburg County entertained the idea of spending tens of millions—nearly $90 million at first estimate—in public money to renovate Memorial Stadium to accommodate an expansion Major League Soccer franchise. The bid came from Marcus Smith of Speedway Motorsports and had the support of such civic groups as Charlotte Center City Partners, whose president, Michael Smith, exaggerated its benefits with a bit of hyperbole that hung over the proceedings for months: Landing an MLS team, he said, "is nothing short of the the defining accomplishment of our generation." There were offers, counteroffers, and long discussions until the fall, when officials who supported the idea failed to find an alternate stadium site. Nashville ended up with the expansion team. In December, the county approved $32 million in renovations to aging Memorial Stadium, with the understanding that tenants—including the Charlotte Independence, the minor league soccer club—might help pay for them.
ICE raids: In early February, just a few weeks after President Trump's inauguration, U.S. Immigration and Customs Enforcement agents arrested nearly 700 "individuals who pose a threat to public safety, border security or the integrity of our nation's immigration system," according to the agency. That number included 190 people in Georgia and the Carolinas and an undetermined number in Charlotte, home to a growing Latino community that reacted to the arrests with panic and protests. Latino and other activists gathered at Marshall Park and in the council chamber at the Government Center to demand that city and county officials, who have no control over federal immigration enforcement, protect them from arrest and deportation. The raids ebbed, shoring up suspicions that the February arrests amounted to a warning shot from a new administration that had made illegal immigration a centerpiece of its campaign.
HB2 repeal: In March, a little more than a year after the legislature passed the notorious House Bill 2—a state law that invalidated a Charlotte ordinance protecting LGBT people from discrimination—the General Assembly repealed it and adopted House Bill 142. The new law established the legislature as the sole authority to regulate access to bathrooms, showers, and changing facilities; and instituted a moratorium on any new local ordinances on regulating public accommodations or private employment practices until December 1, 2020. Governor Roy Cooper, under pressure from the NCAA's threat to withhold championship events from North Carolina for five years, had long argued for a so-called "clean repeal" of HB2. His office's compromise infuriated LGBT activists who had voted for Cooper on that promise, and conservative groups who supported HB2 were livid at legislators who backed down on the original law. But the replacement did end major boycotts from the National Basketball Association, which had moved its 2017 All-Star Game from Charlotte to New Orleans because of HB2, and the NCAA, which reinstated championship events in North Carolina.
Leading on Opportunity: Also in March, the Charlotte-Mecklenburg Opportunity Task Force presented a long-awaited report on the needs of Charlotte's poor and potential solutions to the problem. The group convened after a 2014 Harvard study that ranked Charlotte last among 50 large American cities in economic mobility—the ability of a child to rise from poverty to affluence in his or her lifetime. The report was admirably honest about the overall problem; "The cumulative effects of systemic racial and economic discrimination, as well as the resegregation of public schools, have largely maintained and, in some cases, exacerbated a sharply segregated housing market," the report said in one of its most candid moments. The Task Force's findings helped fuel a handful of initiatives, such as a $21 million city allocation for five affordable housing projects and a county plan to expand early childhood education. But the Task Force largely glossed over how the city might address school resegregation, and by year's end had yet to hire a full-time executive director, one of its stated priorities.
City elections: The big question heading into 2017: How much would the turmoil over HB2 and, especially, the city's largely fumbled response to the post-Keith Scott unrest affect city elections? A lot, as it turned out. Incumbent Mayor Jennifer Roberts, rightly criticized for her lack of leadership after the Scott shooting, lost in the Democratic primary to Mayor Pro Tem Vi Lyles. Republican council member Kenny Smith, with a well-funded and organized campaign, was expected to pose a significant challenge for Lyles in the general election. But Lyles coasted to victory. The City Council is younger than it's been in recent memory, perhaps ever. "It's just really the—not anger, but disappointment over the reaction from the old City Council from how they handled the Keith Scott situation. I think a lot of this stems from that," Andrew Fede, a 33-year-old community activist, said on Election Night. "That was the only thing. If they had handled that correctly … these kids wouldn't have had a leg to stand on."
Charlotte homicides: For most of 2017, Charlotte's homicide rate threatened to surpass a 22-year high, and it still might. As of mid-December, the total for the year stood at 85—the highest total in 12 years, and not far behind the 89 reported in 1995. (The all-time high is 129 in 1993, at the height of the crack cocaine epidemic.) The specific cause of the spike eluded Charlotte-Mecklenburg police. Chief Kerr Putney noted a rise in murders that seem to have escalated from a simple argument; but why arguments led to more murders in 2017 than in previous years, he couldn't say. Toward the end of the year, City Council members asked City Manager Marcus Jones to assemble potential members of a new Homicide Task Force, a group the city convened after the 2005 homicide spike.