2017: The Year in Charlotte Craft Beer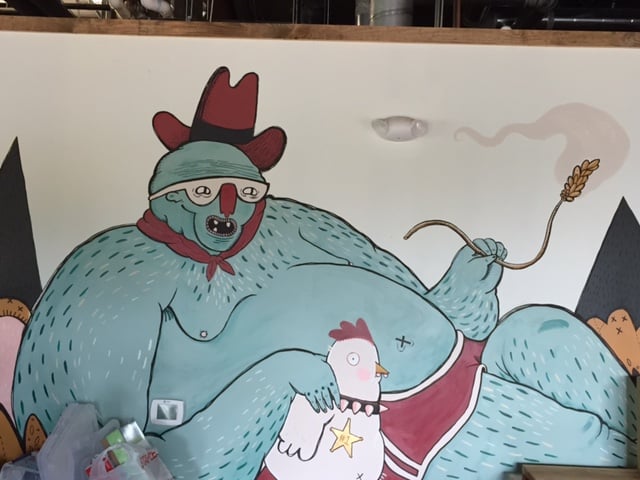 New openings. More accolades. And even some backdoor politics. Yes, it was another big and interesting year for craft beer in the Queen City.
But among the hundreds of things that went on, what once again was missing was any sign of slowdown to the boom. With even more development and happenings slated for 2018, I expect that trend to continue. So no, we haven't hit "peak" brewery/craft beer yet – not even close.
Here's a look at many of the top stories that dominated the local craft beer headlines in Charlotte this past year, along with a few superlatives and a small look at what's in store ahead:
JANUARY
–County shuts down dogs in breweries: Yes, this law was always in place. Dogs were never technically supposed to be inside breweries due to a health inspection state regulation. In the past though, some inspectors turned a bit of a blind eye to this or breweries silently paid a small fine as it was a "no harm, no foul" situation.
Then, in a matter of weeks, a Facebook post from one complaining person turned viral, some TV stations and a news-gathering outlet picked up on the story and all of a sudden every local brewery and craft bar began receiving sudden health inspection checks. Now, you'll see a sign posted at almost every brewery stating dogs must remain outside. Sorry, four-legged friends. This is why we can't have nice things.
FEBRUARY
— Heist Cataclysm III causes craze: The most anticipated beer of 2017 (and arguably ever) in Charlotte didn't disappoint, as Heist's Cataclysm III saw people literally camp out overnight to get their hands on one of the bottles. This year, Heist head brewer Eric Mitchell added a coffee variant, which only increased the excitement among those who gathered at the recently-opened Canteen this past winter. Like many of Heist's beers, Cataclysm has won rave reviews throughout the national beer community, thanks to Mitchell's deft blending and barrel-aging. What that all means is expect an even larger crowd and demand for Cataclysm IV, whenever that may be.
MARCH
–Triple C gains event space with Barrel Room: Just across the street from its current taproom, Triple C owner Chris Harker leased a former janitorial storage building and turned it into a spectacular 10,000 square-foot space used for both barrel-aging, private events and special releases, most recently the brewery's Up All Night release. Featuring a full bar and kitchen and outside patio, the reception has been positive, with numerous weddings booked for this year and beyond. And the climate-controlled brewhouse gives head brewer Scott Kimball additional opportunities to further his already-solid barrel program, along with introducing new sours to the mix.
–Brawley's Black & Blue scores another knockout: How do you make one of the top beer festivals in the Southeast even better? Expand the space. This was the first year Brawley's Black & Blue used the Visulite Theatre's outside area, which allowed for even more room to an already intimate event (each year only around 300 tickets are sold). Once again, the more than 30 breweries that were invited brought some incredibly rare kegs, much to the delight of those who were lucky enough to score a ticket (this past year's event sold out in a record minute and 45 seconds).
APRIL
–Craft Freedom fizzles: This was supposed to be the year. After numerous failed attempts to get the barrel cap raised, a grassroots organization had been formed two years ago in Craft Freedom. Olde Mecklenburg and NoDa Brewing Co. were at the forefront of Craft Freedom, as they were two breweries either already at or nearing the cap. And seemingly all the correct steps had been taken, including hiring lobbyists to stay on top of things in Raleigh. A bill was introduced in March with a number of stronger sponsors than in years past, with House Bill 500 looking to raise the barrels a brewery can brew in a year before losing self-distribution rights from 25,000 to 200,000.
And then in an overnight flash, everything that Craft Freedom had worked for was nearly gone. In what was referred to by many as "backdoor deals," a late-night meeting by the House ABC Committee had stripped HB 500 of a ton of its original language, including everything that referred to the barrel cap. The watered-down bill ended up passing through, while Craft Freedom was left wondering what happened.
The next step was to file a lawsuit against the state of North Carolina, arguing that the current distribution laws "violate multiple provisions of the North Carolina Constitution." The lawsuit was filed in the Wake County Superior Court in May but has seen little movement, with not even a date being assigned to it yet. It is also unknown how this all affects Olde Mecklenburg's planned second location in Cornelius. Originally OMB was going to build a taproom and production facility for onsite brewing, but with no movement on the barrel cap being raised likely means either a further delay in construction or just a brahaus/biergarten ending up being built.

MAY
–Wicked Weed sells to AB InBev; Charlotte bottle shops react: In a short amount of time, Wicked Weed Brewing out of Asheville became one of the top breweries in the Southeast and arguably nation, thanks to their unique sours and dialed-in IPAs. The beer was a go-to for many at Charlotte bottle shops and craft bars, and if you were traveling north for a beercation, WW's pub and Funkatorium were must-visits.
But in early 2017, many craft beer fans were disheartened at the news that Wicked Weed was purchased by Anheuser-Busch, or AB InBev. It was another move from Big Beer in trying to gain a stronghold on the craft beer movement. Locally, Brawley's Beverage and Salud Beer Shop made immediate moves to rid their shelves of Wicked Weed beers, citing AB InBev's past dealings and practices that seek out to damage smaller craft breweries. You can still find WW beers at a few shops and almost every grocery store but the damage lingered throughout the year and will likely continue to do so (Want proof? Check out comments on Wicked Weed's Instagram page to this day).
–Unknown names new head brewer: With so much going on at the brewery (see below in October), Unknown owner Brad Shell decided to shed one of the many hats he was wearing and turn over head brewing operations to Chris Wertman. Formerly the cellarman and assistant brewery, Wertman quickly caught Shell's eye with his contributions to Bright Ass Tank Top Gose and Stupid Flanders, among others. Wertman is a brewer who keeps copious notes on index cards and finds pleasure in his research of beers, so it will be interesting to see what he has on tap in 2018 with a full year under his belt as Unknown's head brewer.
–Bold Missy opens: Charlotte's first all-female owned brewery took up shop in NoDa this summer, as Bold Missy has put an emphasis on celebrating famous women with its beers – including Rocket Ride IPA (named after Sally Ride), Solo Flight (named after Amelia Earhart) and Git Yer Gun, a golden ale named after Annie Oakley. Six months in, Bold Missy made a change to its head brewer, bringing in Carli Smith, who was a brewer previously at Rock Bottom in California.
–Catawba moves into new Charlotte space: With locations already in Asheville (two actually) and Morganton, Catawba Brewing chose Charlotte for its next brewery spot. The 10,000 square-foot facility that opened this past spring is located in the Belmont district and the brewery made a splash by introducing CLT IPA as an official welcome to the city. More than 50 beers populate the taproom, from Catawba flagships to one-offs and small batches.
–NoDa's sour program debuts: When NoDa closed its original taproom location before opening its larger facility in North End, not everything was shut down. The original spot is now being used for the brewery's barrel-aging program and sour facility. The latter made its debut Memorial Day weekend with the Boba Brett Sour Project, featuring a pale sour ale and saison. NoDa continued to roll out sours throughout the year and will release its first sour bottle this February, Boba Brett Blackberry.
JUNE
–Salud Cerveceria opens: Call it the perfect trifecta. First there was Salud Beer Shop, followed by Fūd at Salud. And this past summer saw the opening of Salud Cerveceria. Located upstairs from the bottle shop, Cerveceria is a distinctive brewery that features a coffee shop, live music stage and art gallery. The beer comes from the mind of skilled head brewer Adam Glover, who had previous stops at Appalachian Mountain Brewery, Natty Greene's and Fonta Flora. Glover's unique beers so far have included a one percent IPA, passionfruit saison and a Brett imperial stout aged on whiskey spirals with chocolate and coffee. Salud Cerveceria has also done several collaborations already, including the excellent Tropical Ponche, a Berliner Weisse brewed with tropical fruit puree done with Resident Culture.
–Charlotte's 50 best craft beers: Some idiot beer writer thought it'd be a cool idea to rank the top 50 craft beers in Charlotte and figured everyone would agree. In all seriousness, lists can be fun and subjective and as stated in the article, this was done with many thoughts/weigh-ins from major players in the craft beer community. As expected, many of you disagreed and made it known (oh, did you) your rankings or possible omissions. To me, it's great that we have this many top beers worth arguing about. What will the list look like in 2018? Stay tuned …
–Sycamore puts a fresh spin on its cans: It's clear there is no slowdown at Sycamore Brewing. In just three years, the South End brewery has already expanded its current facility to add a bigger outdoor space, won several GABF medals (see below in October) become the top Food Truck Friday destination and made a huge investment in a production facility in North End to keep up with demand. The biggest addition at the new facility is evident in the name: The Sycamore Brewing Cannery.
As part of a bigger can rollout, first Sycamore debuted can redesigns for four of its flagship beers, including the award-winning Sun Grown lager. Later in the year, the brewery debuted the first of what will be many small batch can releases with one of its NE IPAs, Patrick Hazy, which was later followed by Naughty Bear winter ale and Christmas Cookie, which was so popular that Sycamore ended up rolling out a second batch of cans (which sold out about as quick as the first). Look for the canning (and high demand for them) to continue into this year.
JULY
–Craft breweries and bars rejoice over "brunch bill": One of the state's more antiquated laws finally got a refreshing makeover this past summer as N.C. legislature was changed to allow alcohol sales on Sundays beginning at 10 a.m. rather than noon from establishments with proper permits. Each city had to pass its own ordinance, and Charlotte's moved through with a breeze. Immediately, several breweries and craft bars took advantage of the new law, dubbed the "brunch bill" and you no longer have to look ridiculous pacing around a grocery store on football Sundays waiting for the clock to strike high noon. It doesn't happen often, but chalk this one up to the state legislature finally coming to its senses and giving a small boost to many local economies.
–Hyde Brewing/The Suffolk Punch latest addition to South End: Is it a brewery? Restaurant? Coffee shop? The answer is all of the above. The Suffolk Punch is the drinking/dining arm of the establishment, featuring a wide-ranging eclectic menu along with craft cocktails and 40 beers on tap. Several of those beers are from Hyde, the production brewery housed in the same building. And yes, there's a coffee counter too, headed up by Lindsey Pitman of Trade and Lore Coffee. It's a lot for one space, but its adjacency to the light rail and space in booming South End has created a huge draw since opening.
AUGUST
–Artisanal Brewing Ventures enters LoSo: Breweries have been popping up left and right in Charlotte over the past few years. But those have been homegrown or, in Catawba's case of finding a Charlotte location, stateside. In the fall, it was announced that Artisanal Brewing Ventures would open a facility in LoSo this spring. This organization is a merge of Northeast breweries Southern Tier out of New York and Victory out of Pennsylvania.
The 28,000 square foot facility will be used to brew both brands' national beers as well as exclusive beers for local patrons. The site will also have an outdoor beer garden, private event space and fermentation cellar. ABV is the latest addition to the LoSo district that already includes Olde Mecklenburg and Sugar Creek Brewing, as well as other craft-focused bars and distilleries.
SEPTEMBER
–Resident Culture opens to great fanfare: Plaza Midwood got its second brewery this fall when Resident Culture threw open its doors over Labor Day weekend. Owner Phillip McLamb turned the Central Avenue facility that formerly housed a printing company and warehouse logistics business into a brewery complete with a 2,500-square-foot taproom, outside beer garden and Charlotte's first coolship – a large, open-air tank used for spontaneous fermentation.
It didn't take long for Resident Culture to make its mark in the Charlotte beer scene, thanks to head brewer Chris Tropeano's fantastic IPAs and pilsners. The brewery has already released four different cans as well, which had people lining up early on weekend mornings. This brewery raised the bar for others opening in Charlotte and then some, and I'm excited to see what Resident Culture has in store for 2018.
–Olde Meck golden once again at European Beer Star: Olde Mecklenburg travelled across the pond for the second time in three years and proved victorious in Europe's top beer competition, European Beer Star. This time it was for OMB's Fat Boy Baltic Porter, which won gold in the Baltic Porter category. In 2015, Olde Meck's Mecktoberfest brought home the gold in the Marzen category. The two medals are a true testament to OMB's beers; anytime a German-style brewery in the U.S. can stand toe-to-toe with the foreign breweries that perfect those styles says a lot and should be celebrated.
Later in the month, OMB was back in the news with the announcement that it would have a location at Charlotte Douglas International Airport in the expanded Concourse E. This is the first brewery to set up shop at one of the East Coast's busiest airports.
–Charlotte Oktoberfest returns: Following having to sit out a year due to contractual venue issues, the Queen City's largest craft beer festival came back at a new location. This year's Charlotte Oktoberfest was held at Symphony Park at SouthPark, and many seemed to enjoy the new spacious digs. More than 75 breweries took part at the 2017 event, and as always the festival was able to raise money for local charities. Here's hoping 2018 Charlotte Oktoberfest enjoys similar success, perhaps back at the same location.
OCTOBER
–Sycamore, Olde Mecklenburg brings home hardware from GABF: Charlotte was well represented at the 2017 Great American Beer Festival, as Sycamore Brewing and Olde Mecklenburg Brewery both won bronze medals. Sycamore captured two bronzes for its Sun Grown Fresh Craft Lager (which also won bronze in 2015 when it was called Southern Girl Lager), while Olde Mecklenburg's medal was for its Hornet's Nest Hefeweizen. This is the third straight year that at least two Charlotte-area breweries have won GABF medals, further cementing the Queen City's stature as one of the top craft cities in the Southeast.
— Unknown mixes things up with microdistillery plans: Unknown Brewing was already in the midst of a massive expansion last year complete with private event space and rooftop bar when the brewery then added plans for a microdistillery called the Wood & Grain Project. Owner Brad Shell stressed the main focus at Unknown will still be on beer, but expect small batches of bourbon, gin and rum. Having a small distillery on site will certainly also help for Unknown's barrel-aging program; look for the Wood & Grain Project to open in spring 2018.
NOVEMBER
–Legion announces second location in untapped SouthPark area: Breaking away from the NoDa and South End brewery clusters, Legion Brewing will open its second location in SouthPark this fall. Legion's original spot is in Plaza Midwood, and quickly gained a following thanks to head brewer Alexa Long's fantastic beers, most notably the popular Juicy Jay. Long will oversee brewing at both locations, which is good news.
Legion's new facility will include an outdoor beer garden, several private event spaces and an expanded menu. The SouthPark area has seemed prime for a brewery given its rapid growth and population, so all expectations are that Legion should thrive in its newest community.
–Wooden Robot travels to Juice Island for its first can: Wooden Robot put out several successful sour beers in bottles before canning its first beer, to equal fanfare. Juice Island IPA carried the same great profile as the brewery's other popular IPAs, and it didn't take long for the 4-packs to sell out. While no further announcements have been made, I suspect this won't be the last can you'll see come out of Wooden Robot.
DECEMBER
–Birdsong gets solar powered: Sustainability and being environmentally conscious has always been at the forefront for Birdsong Brewing. The brewery took a major step to both at the end of the year with the installation of 220 solar panels on top of its facility, which should cut its power bill in half. Birdsong wants to further educate the community with its "green" investments, whether it's through its greenway cleanups or the fact it uses the lowest amount of water per barrel for like-sized breweries. Coming off its sixth anniversary, Birdsong will also roll out a new canned hop series throughout 2018.
–No bartenders? No problem at Hoppin': Just before the year ended saw the opening of Hoppin', Charlotte's first self-serve beer bar (Whole Foods in SouthPark has had a self-serve wine bar for some time now). The idea is simple: You get a wristband that's linked to your debit or credit card, and then you wave said wristband among the 50 beer and 12 wine taps across the walls. A green light comes on and pours your choice selection. So far, the attendance has been massive, adding to the South End popularity boom.
–Salud's SourFest tantalizes once again: Bringing in the likes of Cantillon and Drie Fonteinen to join an already-stellar lineup was the true icing on the cake for Salud Beer Shop's annual sour festival, Release the Funk. Sour beer/wild ale lovers enjoyed an embarrassment of riches throughout the day, whether it was at the always-popular Fonta Flora table or trying out the highly-hyped-but-justifiably-so Barrel Culture for the first time. Jason Glunt and team should be applauded for one-upping themselves every year; if you've never been to this festival, you're truly missing out on one of the best ever.
–NoDa's Monstro returns, back in bottles: The always-anticipated Russian Imperial Stout from NoDa has made waves with each release. First was the demand onslaught for its debut three years ago on Halloween weekend, which was followed by the brewery putting Monstro in cans last year. This go-round, NoDa returned the barrel-aged stout into bottles and largely walked back production to just 500 bottles. It took but several hours for the bottles to sell out at the brewery but I'm told there just may be special kegs remaining that will be released by NoDa for special occasions.
Ten outstanding beers in 2017 (in no particular order):
–Triple C's barrel-aged Up All Night (rum barrels with vanilla beans)
–Heist's Cataclysm III
–Wooden Robot's Réserve de Cerises
–Resident Culture's Rick Danko IPA
–Birdsong's MexiCali Stout
–Olde Mecklenburg's Captain Jack Pilsner
–NoDa's Sticky When Wet IPA
–Legion's Pink Cow "Milkshake" Double IPA
–Sycamore's Christmas Cookie Ale
–The Dreamchaser's Yard Breather IPA
Bonus that couldn't be left out: Lenny Boy's Breakfast in Heaven
Let this die in 2017:
–Asking if Charlotte has hit "peak" brewery
–Dilly Dilly
–Money-grab "local" beer festivals (that are mostly dominated by national brands)
–Referring to craft beer drinkers as "beer snobs"
–Worrying about dogs and babies/children at breweries
Five things I'm looking forward to in 2018:
–The opening of Divine Barrel Brewing
–Heist's newest venture, Heist Brewing and Barrel Arts (complete with a butcher shop!)
–Legion's second location in SouthPark
–The introduction of "outside local" breweries coming to Charlotte in Fat Head's and Artisanal Brewing Ventures
–New beers from breweries (vague, I know, but each year brings so many wonderful surprises)
As always, it's truly a privilege to be able to cover this wonderful craft beer scene and converse with the many brewers and people involved. Their knowledge is wide-ranging, extremely educational and a gift to this city. Getting to know everyone and their stories is why I'm so passionate about supporting local. It's not just a saying; local craft beer has created so many opportunities within Charlotte – and to this writer at least, putting money back into the local economy rather than unnecessarily supplying Big Beer seems like a good thing to do for the scene's continued growth.
I hope everyone has an incredible 2018 and I look forward to continuing to provide the best coverage I can. Thanks for reading and you can always drop me a line at mattmckenzie8@gmail.com.