2019 BOB Awards: Eat
The Best of Food and Dining in Charlotte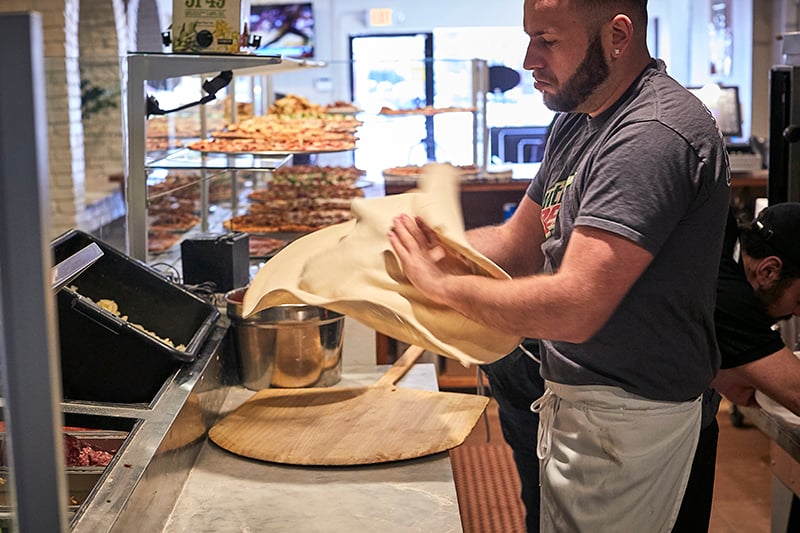 NEW PIZZA JOINT
Sal's Pizza Factory
There's a purity to the New York slices at this east Charlotte joint. The thick cheese, the gorgeously spiced, generously sized toppings—this is that classic style of pizza that fuels nostalgia and harkens back to a time when you didn't know what calories or gluten were. Relive that glory here. 3723 Monroe Rd.
---
ICE CREAM
Two Scoops Creamery
In its first three years, Two Scoops has already started a small ice cream empire with locations in Plaza Midwood, South End, and Mooresville. The chain is owned by three best friends, including Marques Johnson, the man behind rotating ice cream flavors, from a classic strawberry (made from fresh strawberries) to matcha green tea or s'mores. Various locations.
---
SPIN ON AVOCADO TOAST
Roots Cafe
If you enjoy this hipster standby (it's okay—so do we), but you're tired of the typical mashed avocado on five-grain bread, this punched up version of avocado toast will be your new jam. At Roots, they top a thick slice of gluten-free toast with caramelized onion spread and mashed avocado, then dress it up with braised beets, butternut squash, and micro greens. It also comes with a side of two eggs over easy. 2135 Southend Dr., Ste. 109; 980-260-3111.
---
SECRET GARDEN PATIO
Dilworth Tasting Room
On a warm summer night, savor a glass of chardonnay on Dilworth Tasting Room's outdoor patio, a peaceful courtyard with a koi fish pond. Grab a table under the trees and relish the little white lights when the sun goes down. 300 E. Tremont Ave., 704-595-3337.
---
SWEET TOOTH FIX
Sweet Spot Studio
Get schooled in the art of pastry techniques and satisfy your sweet tooth at the same time with owner and pastry chef Jossie Lukacik's hands-on baking classes. It doesn't matter if you're an expert baker or an amateur in the kitchen—just show up to have fun. It's great for a girls' night out, a date night … or any night you're craving chocolate. 4412 Monroe Rd., Ste. D; 301-979-0121.
---
BREWERY FOOD
Brewer's at 4001 Yancey​
This lower South End brewery has more than wings and fried food. Chef Drew Ward adds some Southern flair to his menu with sharable dishes like the fries topped with jalapeño gravy and bacon crumbles. Ninety percent of the menu items incorporate beer into the recipe—the pretzel and his pizza crusts are made with Victory Helles beer dough. 4001-A Yancey Rd., 704-452-4001.
---
DINNER PARTY SOLUTION
Copain Gatherings
Guests don't have to know that the salted honey pie you served isn't your own recipe. And neither are the seared salmon, wild mushroom tart, or extra-long grissini. That'll be our secret. Impress at your next dinner party with help from Copain Gatherings, and order online.
---
BURGER
Brooks' Sandwich House
It's a tough call, given strong challenges from The Diamond in Plaza Midwood, Pinky's Westside Grill in FreeMoreWest, and the newly established Billy Jack's Shack in NoDa, with its aptly named "Napkin Burgers." But a burger is a working-class meal, and our homing device still points us to Brooks' humble red hut and the heft of those rough-hewn burgers with homemade chili. Eat 'em there, using the unvarnished wood shelf in the gravel parking lot as a makeshift table. 2710 N. Brevard St., 704-375-7808.
---
ONION RINGS
Providence Road Sundries
When you've been in business for 86 years, you learn a few things. Lucky for us, Providence Road Sundries has perfected the art of the onion ring. Thick, crispy, and almost a meal in themselves, these hearty disks are made fresh from Vidalia onions. 1522 Providence Rd., 704-366-4467.
---
NIGHT OUT FIT FOR ROYALTY
Sophia's Lounge
If the ornate armchairs or the velvet sofas on which you could pose like a French girl don't make you feel like royalty, the custom-designed chandeliers and regal artwork should do it. The cocktails here, rightfully, are fit for a queen. 127 N. Tryon St., Ste. D; 980-260-3227.
---
RESTAURANT BATHROOM
La Belle Helene
Between the impeccably crisp white tile, unique vestibules, and the only-legible-in-mirrors writing on the walls, the bathrooms here exude elegance, glamour, and sophistication, three words one doesn't often ascribe to bathrooms. You'll feel you've entered your own personal Gatsby-themed party. 300 S. Tryon St., 704-969-2550.
---
BRUNCH WITH A VIEW
Hello, Sailor
It's waterfront dining served with Calabash shrimp, catfish, and hushpuppies, and an innovative cocktail from the team that brought you Kindred. It's a meal that feels like an instant vacation; commemorate as such with a strip of photos from the on-site photo booth. 20210 Henderson Rd., Cornelius; 704-997-5365.
---
OPEN KITCHEN LAYOUT
Bardo​
Dinner and a show—the gold standard of first dates. Chef Michael Noll's show is a little different, though. Admire Noll's culinary expertise (peep those knife skills) with a view into its open kitchen right off the main dining area, and then taste the expert dishes you just watched him make. 1508 S. Mint St., Ste. B; 980-585-2433.
---
UPSCALE SEAFOOD
Fin & Fino
The careful attention this uptown restaurant, at the base of the Mint Museum, gives to its diners—from warm service to inspired cocktails to sustainably-sourced fish—sets it apart from other restaurants in the city. And it successfully delivers an experience that is sophisticated without being stuffy. 135 Levine Avenue of the Arts, Ste. 100; 704-800-5680.
---
INDIAN FOOD
Passage to India
Aromatic curry and warm spices take you from Charlotte to India, and back again, all in minutes—from lamb samosas to chilli paneer to vegan masala dosa, all served with warm naan and basmati rice. You can grab it to go, but you'd be smart to dine in and sample the buffet. 9510 University City Blvd., Ste. 101; 704-549-1886.
---
PUPUSAS
El Pulgarcito De America
What's a pupusa? It's a Salvadoran specialty, a thick tortilla that's stuffed, then grilled, with refried beans, cheese, and chicharrón. Pupusas are served warm with a side of cabbage slaw and salsa—it's a little taste of Central America in Charlotte. (The name "El Pulgarcito," which means "little thumb," refers to El Salvador's status as the smallest country in Central America.) 4816 Central Ave., 704-563-6500.
---
GRILLED CHEESE SANDWICH
The Workman's Friend
The Workman's Friend is intimate, warm, and cozy—just the kind of atmosphere that begs for a grilled cheese on sourdough, served alongside a tomato basil bisque. (Note to self: best enjoyed while sitting beside the crackling fireplace.) 1531 Central Ave., 980-224-8234.
---
TREND
Out-of-Town Newcomer
In a city full of transplants, it's only appropriate to welcome transplant restaurants into the scene. and we saw many "out-of-town" additions to the dining scene this year. Here's the highlight reel: Orlando-based Hawkers brought Asian street food to South End, and it's been said their roti canai is like "curry crack." Barcelona Wine Bar, which has locations in Philadelphia, Boston, Atlanta, and other cities, focuses on Spanish- and Mediterranean-inspired tapas and offers a charcuterie board that guests can customize with meats and cheeses from different countries and regions in Europe. Atlanta favorite Tex-Mex restaurant Superica delivers uncomplicated (and delicious) nachos, tacos, and enchiladas. Having already succeeded in Tampa and Atlanta, tapas-style Bulla Gastrobar offers Spanish tapas and sangria three ways in SouthPark. Inside SouthPark Mall is the Maryland-based Gusto Farm to Street, where guests can customize their salads or flatbread pizzas down to the greens, grains, sauce, and crust. The popular breakfast and brunch restaurant First Watch, based in University Park, Florida, opened its first Charlotte-area location in Matthews. And Holler & Dash brought creative biscuit combinations to a fast-casual setting in South End.
Other honorable mentions: Knoxville-based Tandur Indian Kitchen, the fast casual Indian restaurant in SouthPark; Austin-based Eddie V's Prime Seafood uptown; Ohio-based Jeni's Splendid Ice Creams in South End's Design Center.
---
BURGEONING EMPIRES
Sabor and YAFO
It used to be that you couldn't turn a corner without seeing a Bojangles. The same is becoming true for Charlotte's fast-casual titans. While Sabor's Latin street food makes it a hit for any neighborhood (especially on Taco Tuesday), FS Food Group's YAFO Kitchen dominates Mediterranean fare. Sabor is now at 12 locations and counting. YAFO, a relative newcomer, is at three but spreading quickly. Locations vary.
---
VOTERS CHOICE
Restaurant
Bardo
---
Sports Bar or Pub
Dunwellz Custom Kitchen and Pour House
---
Tacos
Sabor Latin Street Grill
---
Sushi
O-Ku
---
Pizza
Inizio Napoletana
---
Burger
Bad Daddy's Burger Bar
---
Place for an Anniversary
5Church
---
Family-Friendly Restaurant
City BBQ
---
Place to Take Visitors
Haberdish
---
Brunch
Cafe Monte
---
Bagel
Poppy's Bagels & More
---
Ice Cream
Jeni's Splendid Ice Creams
---
Food Truck
Papi Queso
---
Steakhouse
Beef 'N Bottle Steakhouse
---
Sandwich Shop
Common Market
---
Vegan Food
(Luna's) Living Kitchen
---
Dessert
Amelie's French Bakery & Cafe
---
Fried Chicken
Price's Chicken Coop
---
Coffee Shop
Not Just Coffee
---
Doughnut
Duck Donuts
---
CBD-Infused Food or Drink
Max & Lola Bodega
---
Barbecue
Midwood Smokehouse
---
Seafood
Sea Level NC
---
Smoothie/Juice Bar
Clean Juice