2019 BOB Awards: Live
The Best of Health and Wellness, Kids and Family in Charlotte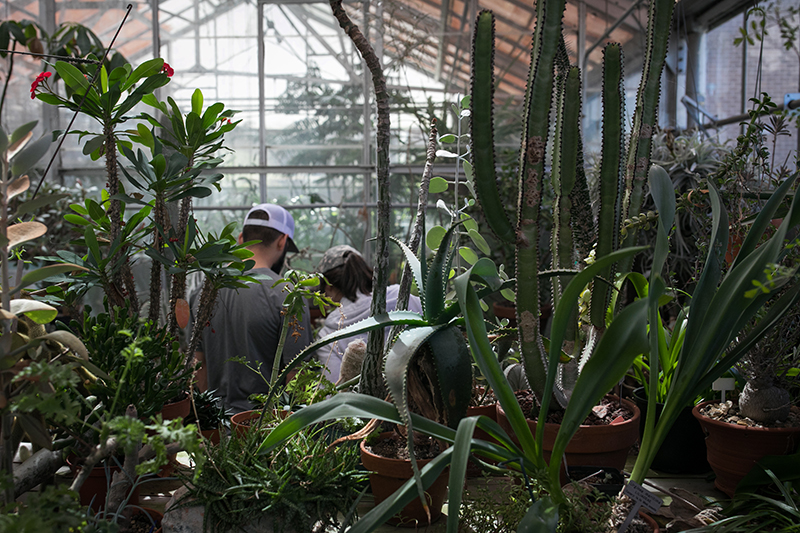 WONDERLAND OF PLANTS
Botanical Gardens at UNC Charlotte
Established in 1966 on a brand-new campus—and by delightfully named biology professor Dr. Herbert Hechenbleikner—the Botanical Gardens at UNC Charlotte include an all-native garden rich in rhododendrons, a year-round outdoor garden, and an extensive greenhouse. 9090 Craver Rd., 704-687-0721.
---
WAY TO FAKE A SUMMER GLOW
Botanical Tans SouthPark
When your complexion needs a boost, without exposing your skin to harmful UV rays, try this tanning solution. You can have your technician go as light or dark as you want, and you'll never leave looking splotchy or orange. A full body tan takes less than 20 minutes and usually lasts between seven and 10 days. 6324 Fairview Rd., Ste. 160; 704-299-6612.
---
OFFICE AWAY FROM HOME
The People's Market
This neighborhood hub is great when you have a case of office fatigue or need to mix up the work-from-home routine, and it's got so much more than the average coffee shop. While the coffee selection is good, they've also got wine, beer, and smoothies, plus food from Pasta & Provisions, Two Scoops Creamery, Move That Dough, and more. Outlets for your laptop are everywhere, and it's quiet enough to get work done. 1315 East Blvd., 980-299-0703.
---
FAMILY OUTING
Wise Acres Organic Farm
Just outside city limits in Indian Trail, you can spend a day on a farm picking strawberries or pumpkins, depending on the season. Put in an order for your wood-fired pizza at Wise Pie while the kids explore the recycled tire playground or say hello to the goats, pigs, chickens, and rabbits on site. Stock up on seasonal produce and honey while you're there, too. 4701 Hartis Rd., Indian Trail; 704-628-6232.
---
UNSUSPECTING WORKOUT
Carolina Barre & Core
Don't be fooled by the small, controlled movements—a barre and core class targets muscles you never knew existed. At Carolina Barre & Core, the instructors take a gentle approach (no boot camp-style orders), but they'll push you to work a muscle group until you're shaking. Their motto: "If you're not shaking, your body's not changing." 4201-A Park Rd., 980-207-1046.
---
SPLASH PAD
Latta Park
Parents and kids have their choice of eight Mecklenburg County-run "spraygrounds" in parks around town. But there's something special about the one at Latta Park, a compact lilypad with a view of the skyline and surrounded by Dilworth's plentiful oaks. 601 E. Park Ave.
---
FAMILY-FRIENDLY RACE
ACC Fan 5K and Kids Mascot Run
As ACC fans kick off game day with a run and a beer, the little ones get to run alongside their favorite school mascots. Kids ages three to nine can do the fun run and stay after for a mascot meet-and-greet. The early December race finishes on South Tryon Street at Levine Avenue with a post-race party that includes food, drinks, and music in the street. Everyone gets a T-shirt, and all proceeds benefit United Way of Central Carolinas.
---
FASTEST RIDE TO THE ER
Scooters
Hmm. A scooter. These things look like fun. Let's see—download the app, scan QR code … oh, cool! And I'm off! Whee! Straight whippin' around that UPS truck! Later, suckers! This is awesome! Wait, what's that guy in the pickup doing? This thing have a horn? OH, SH- (collision noises).
---
PLACE IN THE CITY TO FORGET YOU'RE IN THE CITY
Reedy Creek Nature Preserve
It's 927 acres of mixed pine and hardwood forest with more than 10 miles of hiking trails, plus creeks, wildlife—keep an eye out for hawks, eagles, and even owls—a nature center, and the Robinson Rock House, the granite remains of an 18th-century homestead uncovered by UNC Charlotte students in the early 1980s. 2900 Rocky River Rd., 980-314-1119.
---
OUTDOOR DOGGO ENCLOSURE
Davie Dog Park
A shaded, expansive five acres attached to William R. Davie District Park in south Charlotte, this dog park slopes down to two generous fenced-in enclosures for ball-chasing and chilling at picnic tables. 4635 Pineville-Matthews Rd., 980-314-1003.
---
NEIGHBORHOOD FOR STROLLING
Plaza Midwood (north of Central)
Plaza Midwood is getting mighty crowded near the Central Avenue and The Plaza intersection, but it still has enough oak-lined avenues, ample sidewalks, and prettied-up homes north of the Central drag to enliven a post-dinner walk in spring or fall.
---
ROOFTOP TO SEE A FIREWORKS SHOW
Merchant & Trade
On spring and summer evenings, it's not unusual to have to wait in the first-floor line before a doorman allows you to travel up to the 19th floor. Once you're there, you'll know why: The views here are the best of the city's rooftop bars. When the Knights play on Friday evenings, grab a spot on the posh sofa and enjoy the fireworks. 303 S. Church St., 704-445-2550.
---
INSTAGRAMMABLE BACKDROP
Confetti Hearts Wall
If you haven't seen this mural up close, you've probably seen it in your Instagram feed. The 40-foot wall in South End's Design Center is the work of Evelyn Henson, and it's the colorful scene that's turning up in millions of happy family photos. 1930 Camden Rd.
---
MEN'S SALON
Caliber Men's Grooming
Any man who's been on the receiving end of haphazard clippers will appreciate the time that the stylists, many of whom worked at other upscale salons in the area before starting their own venture, spend getting to know his hair and how he likes it styled. 235 W. Tremont Ave., Ste. 102; 980-207-3342.
---
SUBURB
Waxhaw
Le Cochon D'Or, The Dreamchasers Brewery, and Emmet's Social Table are reason enough to consider living in Waxhaw. But with its access to excellent Union County schools and proximity to the city, this small town just 30 miles south of uptown is one to watch.
---
COOL-OFF DEAL
Double Oaks Family Aquatic Center and Cordelia Pool
It's hot out there. You don't have a YMCA or private pool membership. You still want some sun, though, and your kids need to drain their high from whatever high-fructose corn syrup-laden junk they've ingested. Repair to these Mecklenburg County public pools, both near uptown, and cool yourself and your children for $1 a head. Double Oaks, 2014 Statesville Ave., 704-334-0308; Cordelia, 2100 N. Davidson St., 704-336-2096.
---
NEIGHBORHOOD TO WATCH
Villa Heights
The time may come when this shaded residential neighborhood, wedged between Belmont and NoDa, is known as just the residential wing of NoDa. But it has its own color and history, along with cozy bungalows and easy access to Plaza Midwood and uptown, even as the McMansions begin to creep in.
VOTERS' CHOICE
Yoga Class
Be Yoga
---
Pilates Class
Hilliard Studio Method
---
Cardio Workout Class
Burn Bootcamp
---
---
Barbershop
Charlotte Barber & Beard
---
Women's Hair Salon
Sean Rocco Salon
---
Manicure/Pedicure
Aloha Nails
---
Specialty Beauty Service
Amazing Lash Studio
---
Med Spa
Satin Med Spa
---
Spa for a Massage
Ballantyne Hotel
---
Plastic Surgery Practice
Charlotte Plastic Surgery
---
Facial Plastic Surgeon
Dr. Kulbersh of Carolina Facial Plastics
---
Pet Boarding/Daycare
Dogs All Day
---
Best Company to Work for
Wastequip LLC
---
Hotel
The Ritz-Carlton, Charlotte
---
Financial Advisor/Wealth Management Firm
Ellen Linares, HF Financial
---
Wedding Venue
The Duke Mansion
---
Ad Agency or PR Firm
well-run media + marketing
---
Tax Preparation
Fisher, P.A.
---
Caterer
Best Impressions Caterers
---
Tattoo Parlor
Made to Last Tattoo
---
Bakery
Suarez Bakery