2019 BOB Awards: Play
The Best of Beer, Wine, Cocktails, Nightlife, and Going Out in Charlotte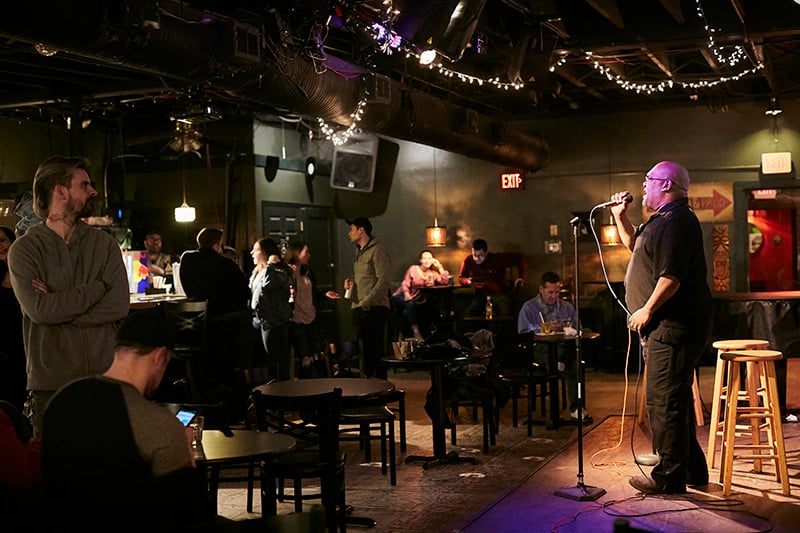 SWISS ARMY KNIFE BAR
Petra's
This month alone, the Plaza Midwood venue's calendar includes a Latin boogie dance party, piano bar karaoke, poetry slam, game (video and board) night, crafting class, stand-up comedy, and a handful of concerts of various genres. Petra's is a little bit of everything, and there's something for everyone. 1919 Commonwealth Ave., 704-332-6608.
---
CRAFT BEVERAGE THAT'S NOT BEER
Unknown's Craft Ginger Ale
This non-alcoholic beverage isn't a ginger beer, but it's also not the sugary Canada Dry soda you're used to. South End's Unknown Brewing Co. branched out from beer for this craft ginger ale, which incorporates the brightness of ginger root without an overwhelming spicy burn. It's like drinking a Moscow mule sans vodka. 1327 S. Mint St., 980-237-2628.
---
NEIGHBORHOOD PUB
Sir Edmond Halley's
"What's going down, Normie?"
"My butt cheeks on that bar stool."
Sir Ed's, like Cheers, is a cozy downstairs bar full of regulars who don't care what you're wearing, only that your glass is full. (And they're always glad you came.) It's not new or trendy, but it's a classic we couldn't live without. 4151 Park Rd., Ste. A; 704-525-7775.
---
TREND
Unexpected Ingredients in Cocktails
CBD oil is having a moment, so it was only a matter of time before it turned up on cocktail menus. At Haberdish, mixologist Colleen Hughes uses the plant-derived elixir in her Apothecary cocktail for a fresh and avant-garde flavor that we love.
Other ingredients like turmeric, rose, tarragon, and beets are a few more unexpected flavors we're seeing in cocktails this year. Expect an uptick in gut-friendly, fermented, and probiotic-rich ingredients in cocktails like the Plum Tuckered at Angeline's, which mixes Wild Turkey 101, Grand Marnier, and a plum shrub that lead bartender Henry Schmulling makes in-house, giving it a tangy, vinegar-infused flavor.
At O-Ku, bar manager Larisa Yanicak has crafted a drink called Basil. Beets. Battlestar Galactica., which has Carolina Basil Rum, beet juice, ginger liqueur, and egg white. Also be sure to try the Ain't Nobody Got Thyme For That, which has Lunazul Blanco Tequila, blood orange, thyme, rhubarb bitters, and Campari rinse. Cheers to that.
---
WINE BAR IN A GROCERY STORE
Harris Teeter Wine Bar (Myers Park)
This grocery store's upstairs wine bar has garnered such a following that manager Travis Kirkland runs a Facebook group to alert drinkers of upcoming specials and events. Harris Teeters have begun adding bars to more locations, but this one has a balcony that overlooks the tree-lined web of Queens Road(s) and offers half-priced glasses of wine (filled to the brim) on Wednesdays and Fridays. Ding, ding, we have a winner. 1015 Providence Rd.
---
LOCAL SPIRIT
Queen Charlotte's Reserve, Muddy River
Belmont's Muddy River Distillery is the state's oldest rum distillery, and Robbie and Caroline Delaney have spent the last eight years refining their craft. Their reserve rum, labeled for Charlotte's royal namesake, was aged for a year in virgin white oak barrels. Take it straight and enjoy each sip. 1500 River Dr., Ste. 100, Belmont; 704-860-8389.
---
BARTENDER TO TRUST
Jim Tonetti, The Crunkleton​
As one of the city's most reliable mixologists, crafting cocktails locally (Sophia's Lounge, 204 North, Upstream) for more than 20 years, Jim Tonetti is a notable addition behind the bar at The Crunkleton. Give him an idea of your drink preferences and let him do the rest. 1957 E. 7th St.
---
DRINK IN A STYROFOAM CUP
The Transfusion, Selwyn Pub
In Charlotte's increasingly competitive cocktail scene, there's something special about this $5 no-frills drink in a Styrofoam cup. Selwyn Avenue Pub's spin on the golf club staple is all about measurements: vodka, ginger ale, and just a splash of grape juice. 2801 Selwyn Ave., 704-333-3443.
---
HIDDEN ROOM
8.2.0's Secret Library
At a karaoke bar, sometimes you need to escape certain performances. 8.2.0 has your safe space: a dimly lit room with comfortable seating, books to choose from, and quiet. We can tell you it's awesome, but you have to find the secret passageway yourself. 820 Hamilton St., Ste. A3; 980-256-4646.
---
ARCADE BAR
Palmer St.
The best thing about this spot, tucked away on a dead-end street that straddles South End and uptown? The games, aside from pinball and a few others, are free to play. Grab that joystick and stay awhile. The bar is no-frills and reasonably priced, with a slew of local brews. 412 W. Palmer St., 980-309-0359.
---
BREWERY
Resident Culture
It was just a year ago that we were lauding Resident Culture as the best new brewery. The quick rise to best overall is thanks to head brewer Chris Tropeano's mastery of many styles. While Resident Culture's hazy IPAs are the talk of the town, it would be unwise to overlook the brewery's lagers, pilsners, and sours. Bonus points for the best label designs in the city, too. 2101 Central Ave., 704-333-1862.
---
NEW BREWERY
Divine Barrel
How do you make a splash into a crowded craft beer scene? Winning a silver medal at the Great American Beer Festival just seven months after opening is a nice start. This NoDa brewery offers a wide variety of styles, including the award-winning BIG Lubelski, a smoked Grätzer. You may find a completely different beer list between visits at Divine Barrel, but you will never be disappointed. 3701 N. Davidson St., Ste. 203; 980-237-1803.
---
YEAR-ROUND BEER
Copper, Olde Mecklenburg Brewery
The city's best beer is not—gasp—an IPA? Sorry, hopheads, but when it comes to freshness and consistency, there is no beating an OMB Copper. This beer outsells all other locals in the Queen City, and while the ingredients are simple—Bavarian hops, malt, water, and yeast—the taste profile is dynamic and reliable. 4150 Yancey Rd., 704-525-5644.
---
NEW POUR
Banana Keys, Salud Cerveceria​
With all the gimmicky beers these days, it would be easy to look at a stout brewed with bananas as such. It would also be wrong. Banana Keys, crafted by Salud Cerveceria head brewer, Dustin Di Lorenzo, also features coconut and vanilla, and tastes like a chocolate-covered banana. The response to this beer was so great that it became one of Salud Cerveceria's first can offerings in March. 3306-C N. Davidson St., 980-495-6612.
---
SUMMER BEER
NoDajito, NoDa Brewing
When it's hot outside, you want a beer that's light and refreshing. Meet NoDajito: a mojito-inspired spin on the traditional Belgian witbier that incorporates mint leaves and lime zest. It's a tasty beer made for pool and patio enjoyment. 2921 N. Tryon St., 704-900-6851.
---
SOURS
Wooden Robot
Head brewer Dan Wade has impressed many with his sours on a local level, and finally earned national attention this past year when Wooden Robot captured its first Great American Beer Festival gold for its Resérve Dorée de Pêche, a sour golden ale aged in French Oak chardonnay barrels and refermented on local peaches. 1440 S. Tryon St., Ste. 110; 980-819-7875.
---
DARK BEERS
Triple C
Until someone comes close to challenging head brewer Scott Kimball, this award stays in South End. This past winter brought back solid mainstays, Chocolate Covered Pretzel Stout and Cajun Stout, along with a mind-blowing Cacaoconut White Blaze. Triple C's best-known dark beer is Up All Night, and the draft-only version aged in Buffalo Trace barrels was a strong contender for top overall local beer this year. 2900 Griffith St., 704-372-3212.
---
REASON TO LEAVE CHARLOTTE FOR A BEER
King Canary
Not many things are worth the every-person-for-themselves derby better known as I-77 North, but this waterfront brewery, tucked a mile and a half off Exit 33, is a must-visit for craft beer drinkers. King Canary opened a year ago and word quickly spread thanks to its impressive IPAs, stouts, and other small batches. Spend a day at this two-story renovated house complete with a kids' area and you'll see why everyone's chirping. 562 Williamson Rd., Mooresville; 704-967-8472.
---
PLAYGROUND FOR ADULTS
Queen Park Social
How come the kids get to have all the fun? At Queen Park Social, grab a drink at the bar and head to the bowling alley. Once you tire of that, play a round of shuffleboard—or ping pong, skee ball, cornhole, or life-sized Jenga. On Friday and Saturday nights, game until the lights switch back on at 2 a.m. 4125 Yancey Rd., 980-819-5626.
VOTERS CHOICE
Local Brewery
The Olde Mecklenburg Brewery
---
Local Distillery
Southern Grace Distilleries
---
Bar with a View
Fahrenheit
---
Place for a Date night – Tie
Sophia's Lounge
---
Place for a Date Night – Tie
Dot Dot Dot
---
Margarita
Paco's Tacos and Tequila
---
Cocktail Menu
Dot Dot Dot
---
Game Night – Tie
Abari
---
Game Night – Tie
Queen Park Social