2019 BOB Awards: Shop
The Best of Style and Shopping in Charlotte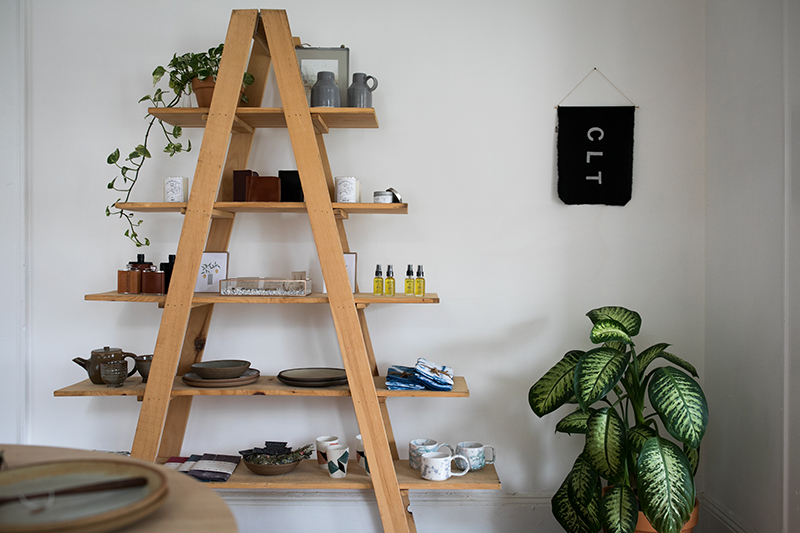 LOCAL GOODS
Covet Atelier
Rustic pottery, understated jewelry, and abstract art prints are among the finds—all handmade by artisans in the Carolinas—for sale here. Each piece has a story, and the staff knows the makers intimately enough to be able to share it with shoppers. 909 Central Ave., Ste. 1.
---
PLACE TO BUY THE THING YOU DIDN'T KNOW YOU NEEDED
Lincoln's Haberdashery
Ruth Bader Ginsberg prayer candle? Mimosa kit? White Kittendel™ wine for cats? The shopping area in Lincoln's Haberdashery is small, but it's full of little somethings you didn't know you needed. like a Tupac air freshener. 1300 South Blvd., Ste. S; 704-910-4660.
---
WINDOW DISPLAYS
Capitol
In an age of influencers and "shop the screenshot!" captions, the classic elegance of Capitol's window displays is a welcome relief. Stylist Scott Newkirk's creations add an artistic touch, and a bit of big city creativity, to SouthPark. 4010 Sharon Rd., 704-366-0388.
---
PLACE TO GET YOUR MOJO BACK
Curio, Craft, & Conjure
Looking for love? A new job? More money? Pull up a stool at Curio, Craft, & Conjure's candle bar and let owners Gina Spriggs and Gianna Spriggs-MacDonald work their magic, creating a custom-carved candle that'll help ease your woes and set your intentions. Whether you believe in magic or not, the NoDa shop is accessible (and fun) for all, with tarot readings, metaphysical books, and crystals. 3204-C N. Davidson St., 980-207-0405.
---
GIFTS FOR TRAVELERS
The Map Shop
Your friend has traveled from Indonesia to Chile and collected trinkets as he went, so what can you get him for a gift? Dilworth's Map Shop has options: a scratch-off world map, a wooden cut-out of the United States with circular slots for beer caps, a picture book of national parks, passport wallets, and more. 1500 E. Morehead St., 704-332-5557.
---
SHOPPING EXPERIENCE
Bartique
A husband's vision for a bar and a wife's dream of a fashion boutique collide in this NoDa spot. Find bohemian-chic clothing in the front and a bar pouring local drafts and mixed drinks in the back. Since opening, it's become a compromise for plenty of other couples. 3100 N. Davidson St., Ste. 103; 704-910-4750.
---
PLACE TO TREAT YOUR PETS
Canine Café
Barbara Burg began to bake natural treats for her allergy-prone pupper in 1995, opened a pet treat bakery in Pineville two years later, then opened Canine Café in South End in 2004. The dog boutique has a DIY bathing station and carries natural dog food brands; supplies like toys, beds, and bowls; and all-natural treats, including her popular (PUPular?) "Pawty Cakes." 125 Remount Rd., Ste. A; 704-335-2123.
---
MEN'S STORE
Tabor
The buyers at this Myers Park shop have relationships with brands that you won't find at other local stores. But their true gift is their ability to push shoppers outside of their comfort zones without compromising their personal style. The trick is to trust them. 421 Providence Rd., 980-207-4860.
---
COMIC BOOKS
Heroes Aren't Hard To Find
It's been around since 1980, when a 26-year-old comics obsessive named Shelton Drum opened it in a storefront near Central and Pecan avenues in Plaza Midwood. Now in a new location, it's one of the last—and finest—independently owned comics shops in the country, and Drum is still around to enjoy it. 417 Pecan Ave., 704-375-7462.
---
PLACE TO BUY A USED BOOK AND VEGAN BACON GREASE
Book Buyers
Filled with used books, this Plaza Midwood shop also has a surprisingly well-stocked health food store inside with items ranging from vegetarian dog food to bamboo straws and, yes, vegan bacon grease, whatever that is. Plus, there are cats roaming the aisles. 1306 The Plaza, 704-344-8611.
---
HOSTESS GIFTS
Storey Home
Sure, guests can shop designer Shelby Blackburn's curated selection of beautiful furniture and furnishings, but her Dilworth showroom is also the place to grab a gift—think linen cocktail napkins embroidered with cheeky expressions—for your next housewarming party or book club get-together. 1235 East Blvd., Ste. A; 704-496-9902.
---
VACATION DRESSES
Boem
No suitcase is properly packed for a summer getaway without a relaxed sundress. Boem has racks of eclectic patterns and bold colors to choose from. Plus, there's a wide range of prices, so save some money on the dress to spend on piña coladas later. 3920 Sharon Rd., Ste. B150; 704-817-7009.
---
BIKE SHOP
Uptown Cycles
Whether you need a proper bike fitting or just want to know the pros and cons of each rear light, the staff members at this homey bike shop know their stuff and are willing to share. Plus, they have a CompuTrainer studio that customizes workouts for your skill level. 1432 W. Morehead St., 704-632-7440.
---
SHOPPING FOR A GOOD CAUSE
Fashion & Compassion
Shopping here is guilt-free because proceeds go toward creating local and international empowerment communities that teach women to make jewelry and other crafts for supplemental income. Artisans create their goods from as far away as Ethiopia and Ecuador, and from as close as Charlotte. 1717 Cleveland Ave., 866-278-6894.
---
HANDCRAFTED JEWELRY
Emily Claire Designs
In a world where on-demand, mass-produced fashion rules, Claire Jacobs is all about craftsmanship and longevity. As owner of Emily Claire Designs, she creates original sterling silver and 18-karat gold jewelry in her studio at Dilworth Artisan Station. Her earrings, bracelets, rings, and necklaces start with a sketch before she hammers the silver out at her jeweler's bench. 118 E. Kingston Ave.
---
HARDWARE STORE
Blackhawk Hardware
If the free popcorn doesn't get you in the door, the ridiculously friendly staff will. They'll direct you to whatever you need for your remodel or gardening project, and you can even pick up some place mats or a hostess gift while you're there. 4225 Park Rd., 704-525-2682.
---
BOOKSTORE WORTH THE DRIVE
Main Street Books
Forget about Park Road Books for just a minute (we know, we love it, too), and pay Main Street Books a visit. The independent bookstore is bright, flushed with natural light, and next door to Summit Coffee for caffeination as needed. If you don't want to make the drive north to Davidson, subscribe to The Matchbox, its monthly book subscription service. 126 S. Main St., Davidson; 704-892-6841.
---
SHOPPING STREET
Selwyn Avenue
On sunny days, ditch the mall and stroll down Selwyn Avenue. Choose from a selection of cheese at Reid's Fine Foods; browse the clothes racks at KK Bloom Boutique, Monkee's of Charlotte, or The Sporting Gent; ask for wine recommendations at Petit Philippe; get fitted for a suit from Bruce Julian Clothier; and find a new shade of lipstick at Woo Skincare + Cosmetics. 2800-2900 Selwyn Ave.
VOTERS' CHOICE
Women's Boutique
Luna
---
Men's Clothing Store
Taylor Richards & Conger
---
Custom Suits
Bruce Julian Clothier
---
Store for Charlotte Apparel
704 Shop
---
Store for Gifts
Paper Skyscraper
---
Fine Jewelry
Diamonds Direct
---
Pet Supplies
Four Dogs Pet Supplies
---
Grocery Store
Harris Teeter
---
Home Furnishings + Accessories
BLACKLION
---
Craft Beer Bottle Shop
Brawley's Beverage
Residential Remodeling
Andrew Roby
---
Home Builder
John Wieland
---
Interior Design
Charlotte Lucas Interior Design
---
Home Organization Service
Stript Home Organizing
---
Landscaping
Arborscapes Inc.
---
Kitchen + Bath Resources
South End Kitchens Design Studio
---
Realtor
Sarah Rutkowski – RE/MAX
---
Home Audio, Video + Theater
Home Theater Concepts
---
Custom Window Treatments
Designer's Window, Inc.