2020 BOB Awards: Eat
The Best of Food and Dining in Charlotte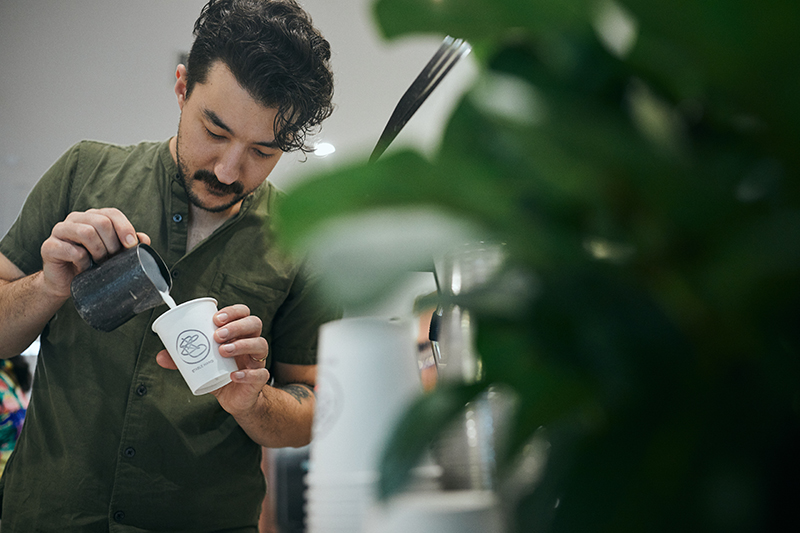 DESSERTS
The Batch House
Cristina Rojas-Agurcia, a.k.a. The Batchmaker, switched from a home-based operation to a brick-and-mortar shop connected to LaCa Projects last fall. Now, The Batch House regularly sells out her toothsome treats. The Snickers Cheesecake and Dirty Oreo Truffles are both notables, but we recommend starting with her take on an Oatmeal Creme Pie. Little Debbie who? 1429 Bryant St., thebatchmaker.com
---
NEW PIZZA
Room & Board's Detroit-Style Pan Pizza
It may not have the cachet of New York or Chicago styles, but Detroit does have its own distinctive approach to pizza: rectangular slices, a thick and crisp crust, and sauce on top of the cheese. Room & Board's owners were smart to fill that quadrilateral hole in Charlotte's pizzascape. More good news: A less common style of 'za means there aren't as many gatekeepers afoot with their NYC comparisons. 3228 N. Davidson St. rbnoda.com
---
CHEESECAKE FACTORY-OWNED RESTAURANT YOU'RE NOT ASHAMED TO SAY IS PHENOMENAL
North Italia
If you're a highbrow foodie who avoids chains in favor of independent restaurants, you might be surprised to know that the RailYard's newest Italian eatery is owned by The Cheesecake Factory. But we dare you to find something less than stellar on this menu. The meatballs and marinara are too delicious for their own good, and the white truffle garlic bread with three cheeses is a skillet of culinary rapture. If loving this chain is wrong, we don't want to be right. 1414 S. Tryon St., Ste. 140, northitalia.com
---
BURGER
Ace No. 3's The Ace
The toasted bun, the evenly seasoned, grilled meat, and oh my, that comeback sauce—the hype behind Ace No. 3's flagship burger is deserved. 1001 Belmont Ave., aceno3.com
---
SUNDAY FUNDAY WITH A SIDE OF PROFANITY
Moosehead Grill
Come to this Montford Drive mainstay for Bee Stings Wings and a pint of Allagash White—and don't be offended when owner Chris Neilsen greets his regulars with some colorful words from behind the bar. Neilsen's from Maine, and his decor is about as subtle as a baseball bat to the head. The walls are jammed with moose heads, bumper stickers, decals, and maps from his home state, and his stories are even better. 1807 Montford Dr., mooseheadgrillcharlotte.com
---
TREND
Italian Food
The openings of Cicchetti, forchetta, Capishe's SouthPark location, Sensi, Osteria LuCa, Volo, North Italia, and Indaco in the last year indicate Charlotte's robust appetite for Italian. Enjoy carbonara like you'd eat it in Rome or order meatballs and breadsticks at a counter. Sip a glass of Chianti at a Venetian-style wine bar or take a gelato to go. Any diner can find an experience at any price, and there's even more to come: Look for Orto, a new Italian concept from Paul Verica, this spring, and Little Mama's, the kid-sister concept to Frank Scibelli's Mama Ricotta's, later this year.
---
ALTERNATIVE TO AVOCADO TOAST
Ricotta and Jam Toast at Eight + Sand Kitchen
We can all agree that avocado is still the trendiest toast topper, but if you're looking for an alternative to this millennial favorite, try the ricotta and jam toast at Eight + Sand. The thick-cut sourdough toast, slathered in house-made ricotta and jam and topped with lemon zest, is worth braving the weekend brunch line. 135 New Bern St., eightandsandkitchen.com
---
HOMEMADE STORE-BOUGHT DINNER
Pasta & Provisions' 16-Layer Lasagna
When a friend has a baby or a new neighbor moves in down the street, the 16-layer lasagna from Pasta & Provisions is the easiest way to say, "I've got your dinner covered tonight." A large order feeds nine to 12 people, and it's flash frozen so they can pop it in the oven whenever they're ready. It's not homemade, but it certainly tastes like it. Multiple locations, pastaprovisions.com
---
NEW BRUNCH SPOT
Easy Like Sunday
The fried chicken and cornmeal pancakes are worth standing in line for, but if you'd rather skip the weekend rush, go in the evening (they stay open until 8 p.m. Tuesday through Saturday) and have a boozy brunch after dark. Order an old fashioned with maple syrup and feast on shrimp and grits and ricotta-stuffed French toast. With its mismatched upholstered chairs, hanging plants, and vines crawling up the bar, you'll feel like you've stepped into an English garden. 1600 E. Woodlawn Rd., Ste. 100, easylikesundayclt.com
---
ROMANTIC RESTAURANT
McNinch House
The upscale restaurant in Fourth Ward has a longstanding reputation for its five-course tasting menu and award-winning wine pairings, but it's also the most popular place for marriage proposals in Charlotte. Maybe it's the antique silver and fine china on each table, or it's the edible flowers that adorn your poached pear salad. Whatever the reason, this restored Victorian-era house sees someone on bended knee 40 to 50 times a year. 511 N. Church St., mcninchhouserestaurant.com
---
CHARCUTERIE BOARD
Babe & Butcher
Lindsay Anvik and Rob Henricks have capitalized on the charcuterie craze with boards that look more like edible works of art. Order breakfast boards with mini-croissants and mini-scones, dessert boards with meringues and chocolates, or 30-foot grazing tables for a holiday party. Everything is carefully sourced (locally and internationally) and even more carefully crafted into a gorgeous custom design. babeandbutcher.com
---
REBRAND
Stable Hand
The South End space formerly split between Good Bottle Co. and Hex Coffee is now the neighborhood spot Stable Hand. Anchored by Dakotah Aiyanna's murals that run throughout the shop—and repeat the phrase "Don't be a stranger"—Stable Hand brightens the space with a new vibe and approach: The coffees come from the BOB Award-winning Hex brand, accompanied by hyper-curated beer and food selections (with three types of tasty porridge on the latter menu). 125 Remount Rd., stablehandclt.com
---
CLASSIC STEAKHOUSE
Beef 'N Bottle
What a steakhouse ought to be: low ceilings, dim lights, dark wood, Naugahyde, thick slabs of tender beef, and the look and vibe of a place where meat and deals are cut. 4538 South Blvd., beefandbottle.net
---
VEGETARIAN MEATLOAF
Dish
Vegetarian meatloaf might sound like an oxymoron, and, mostly, it is. But the competition for who makes the best loaf of "meat" in Charlotte is surprisingly stiff. We give a slight edge to Dish for its Cajun-seasoned veggie loaf, which comes in three forms: sliders, sandwich, and regular loaf. Crafted from lentils, the spicy loaf comes with mashed potatoes and gravy and another side. Go with the vegan slaw or collard greens to complete the improper Southern meal. 1220 Thomas Ave., eatatdish.com (Ed.: The meat meatloaf is also wonderful.)
---
LATE-NIGHT DINING SCENE
The Diamond Restaurant
Open until 4 a.m. on Friday night/Saturday morning and Saturday night/Sunday morning, this cozy brick comfort-food eatery in Plaza Midwood draws colorful characters after midnight. Great burgers, too. 1901 Commonwealth Ave., diamondcharlotte.com
---
CHILI
Lupie's Cafe
Lupie's doesn't mess around. Texas is the hottest, Southern style the mildest, Cincinnati all Skyline and cinnamon-infused, vegetarian the veggiest. All come with pintos, cheese, onions, and cornbread. Get it in a cup, bowl, atop spaghetti, or with mac and cheese. When the weather is cold and the sky overcast, you want nothing else. (Lupie's also serves burgers, sandwiches, "nanner pudding," and other delicacies we can discuss in another list.) 2718 Monroe Rd., lupiescafe.net
---
CHICKEN SANDWICH
Bossy Beulah's
Step up to the counter of this 1,200-square-foot former gas station and order the sandwich named for owner Jim Noble's Great Aunt Beulah. You'll get the Noble family's buttermilk fried chicken on a toasted potato bun with house-made pickles and Duke's mayo. You can have your sammie bunless or add Swiss cheese, but that's it. This menu's as straightforward as they come, because there's no need to reinvent a classic. 2200 Freedom Dr., bossybeulahs.com
---
USE OF A SALTINE CRACKER
Chef Chris Coleman's Marinated East Coast Shrimp
Order this plate off the "Bites" menu at The Goodyear House, and you'll wonder why someone didn't think of this sooner. Top a saltine cracker with a dollop of mignonette butter and a marinated shrimp, and you have a bite-sized flavor bomb. For that, chef Coleman, we thank you. 3032 N. Davidson St., thegoodyearhouse.com
---
VOTERS' CHOICE
FOOD
Chef
Jamie Lynch
5Church
(Runner-Up)
Drew Ward
Brewers at 4001 Yancey
---
Place for a Date Night
5Church
(Runner-Up)
Dot Dot Dot
---
Girls Night Out
Sophia's Lounge
(Runner-Up)
Foxcroft Wine Co.
---
Family-Friendly Restaurant
Eddie's Place
(Runner-Up)
Pizza Peel
---
Brunch
Cafe Monte French Bakery and Bistro
(Runner-Up)
littleSpoon Eatery
---
Bagel
Poppy's Bagels
(Runner-Up)
Poppyseeds Bagels
---
Bakery
The Batch House
(Runner-Up)
Amélie's French Bakery & Café
---
Deli/Market
Rhino Market & Deli
(Runner-Up)
Common Market
---
Food Truck
Papi Queso
(Runner-Up)
The Dumpling Lady
---
Smoothie/Juice Bar
Clean Juice
(Runner-Up)
Green Brothers Juice
---
(Runner-Up)
Sweet Lew's
---
Burgers
Bad Daddy's Burger Bar
(Runner-Up)
Bang Bang Burger
---
Chinese
Baoding Restaurant
(Runner-Up)
Taipei Express
---
French
Cafe Monte French Bakery and Bistro
(Runner-Up)
La Belle Helene
---
Fried Chicken
Price's Chicken Coop
(Runner-Up)
Haberdish
---
Greek
Little Village Grill
(Runner-Up)
Yafo Kitchen
---
Indian
Copper
(Runner-Up)
Maharani
---
Irish Pub
Ri Ra
(Runner-Up)
Workman's Friend
---
Italian
Mama Ricotta's
(Runner-Up)
Portofino's
---
Japanese
O-Ku
(Runner-Up)
Futo Buta
---
Latin
Sabor Latin Street Grill
(Runner-Up)
Pio Pio
---
Mexican
Three Amigos
(Runner-Up)
Pacos Tacos & Tequila
---
Pizza
Inizio
(Runner-Up)
House of Pizza
---
Sushi
O-Ku
(Runner-Up)
New Zealand Cafe
---
Seafood
Sea Level
(Runner-Up)
Fin & Fino
---
Spanish
Barcelona Wine Bar
(Tie)
Bulla Gastrobar
(Tie)
Miro Spanish Grill
---
Steakhouse
Beef 'N Bottle
(Runner-Up)
Oak Steakhouse
---
Thai
Thai Taste
(Runner-Up)
Deejai Noodle Bar
---
Vegetarian/Vegan
Fern, Flavors from the Garden
(Runner-Up)
Luna's Living Kitchen
---
Vietnamese
Lang Van
(Runner-Up)
Vietnam Grille
---
New Restaurant (less than a year old)
Peppervine
(Runner-Up)
Kiki Bistronome
SWEETS & COFFEE
Coffee Shop
Not Just Coffee
(Runner-Up)
Central Coffee
---
Donut
Your Mom's Donuts
(Runner-Up)
Pepperbox Doughnuts
---
Cookie
Batch House
(Runner-Up)
Swirl Bakery
---
Cupcake
Swirl Bakery
(Runner-Up)
Gigi's Bakery of Charlotte
---
Custom Cake
Celestial Cakery
(Runner-Up)
Suarez Bakery
---
Dessert Menu
Crave Dessert Bar
(Runner-Up)
300 East
---
Ice Cream
Jeni's Splendid Ice Creams
(Runner-Up)
Two Scoops Creamery
---
Frozen Yogurt
Sweet Frog
(Runner-Up)
Menchie's
---
Chocolate Shop
The Secret Chocolatier
(Runner-Up)
Twenty Degrees Chocolates
---
Unique Treat
Batch House's S'mores Brownies
(Runner-Up)
Popcorn Heaven