2020 BOB Awards: Live
The Best of Health and Wellness, Kids and Family in Charlotte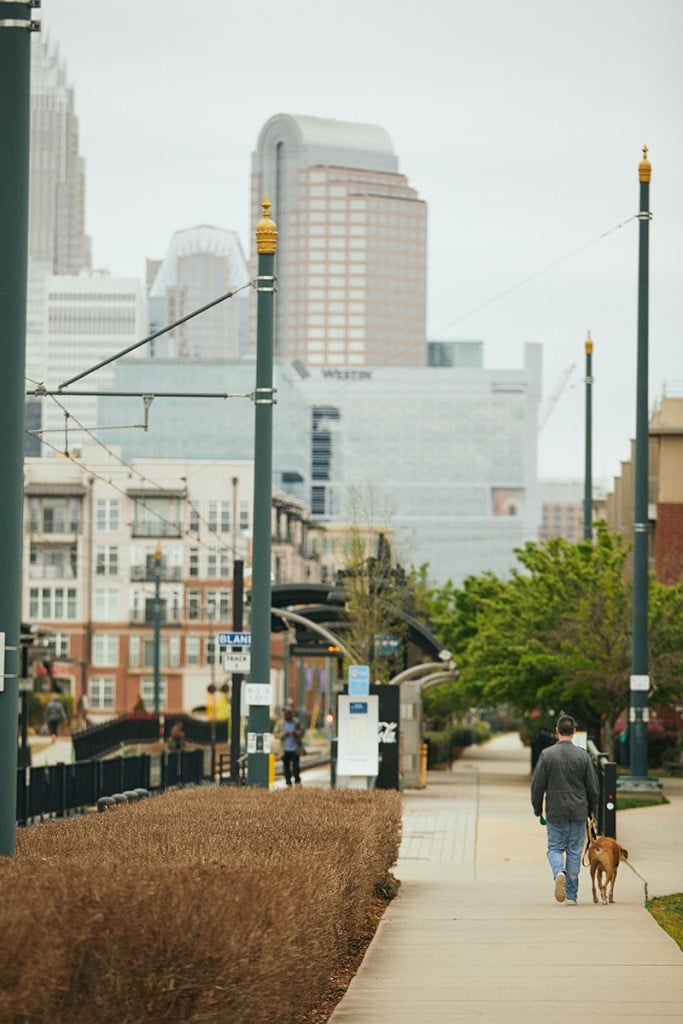 PLACE TO SWEAT AND SEE PUBLIC ART
The Charlotte Rail Trail
Take a jog with your pup or put your tyke in a stroller and get your sweat on as you explore this 3.5-mile trail along the Blue Line in South End. Skip over a magic carpet mural, traipse through a forest of 100 colorful steel poles, or leave a message on the Rail Trail chalkboard. You'll wonder how that workout went by so fast. charlotterailtrail.org
---
PLACE TO SWEAT OFF FIVE POUNDS IN 45 MINUTES
Kur Health Spa
Lie down in a unit that looks like a tanning bed and let the infrared heat hit your body from all sides. Your core temperature rises gradually, so after about 45 minutes, sweat will run down your body. It's a nice alternative to hot yoga, and you'll get a similar calorie burn as you rest and relax. Once you rehydrate, any weight you lost will come back, of course. But a little detox never hurt anyone. 3928 Park Rd., kurhealthspa.com.
---
PLACE TO GET HIGH FIVES
Burn Boot Camp
For this writer, the HIIT-esque 45-minute workout here burns up to 700 calories. You'll run, jump, squat, and bench press, but instead of firing orders, trainers high-five you for finishing a set of burpees and applaud you for completing a plank. You'll feel the burn—and you might crawl out the door when you're done— but don't worry. There's a high five for that, too. Multiple locations, burnbootcamp.com
---
MEN'S GROOMING
Caliber Men's Grooming
When it's time to get dapper, Caliber is a one-stop shop: haircuts, beard sculpts and trims, custom clothing, and facial treatments are on the menu. Want to go even more Mad Men? Get a straight razor shave and a shoeshine. 235 W. Tremont Ave., Ste. 102, calibermensgrooming.com.
---
MOTIVATION TO KEEP RUNNING
Run for Your Life's Six Pack Series
It's tough to lace up your running shoes and hit the pavement first thing in the morning, but when you've already registered for that race, it's harder to back out. Run For Your Life's Six Pack series lets you register for six Charlotte road races at a discounted price, so you're already committed before you begin. Races include the Yiasou Greek Festival 5K and the Novant Health Lake Norman 15K, and each one offers live entertainment, snacks, drinks, and a T-shirt. runforyourlife.com
---
PLACE TO SPLASH WITH THE FAMILY
Ray's Splash Planet
Ray's is the largest water park in Charlotte, with a three-story slide, a small, lazy river, tumble buckets, interactive water stations, lap lanes, and more. The county-run haven for water lovers thankfully doesn't depend on warm weather. 215 N. Sycamore St., mecknc.gov/parkandrec
---
TREND
Meal Prep Services
Do you know what you're making for dinner tonight? Neither do we. Fortunately, meal prep services tap into the indecision. Local businesses like Nourish Charlotte, Fit Kitchen Meal Prep, Clean Eatz, The Blossoming Kitchen, and The Green Bunny save you trips to the supermarket and take the guesswork out of eating clean. Some allow you to order a weekly meal plan online, pick it up yourself, or have it delivered. Others offer plant-based, vegan, gluten-free, or Whole30-approved options. Many offer subscription services, too. It can be pricier than shopping and cooking for yourself, but it's cheaper—and healthier—than eating out when you're short on time.
---
HAIR RESCUE
Kerastase Conditioning Treatment at the Denise Antonacci Salon
When your damaged, straw-like strands need some first aid, get yourself to the Denise Antonacci Salon for a Kerastase conditioning treatment. Sit in a massage chair and relax with a glass of pink champagne and a chocolate-covered strawberry as your stylist applies the magic potion. Splurge on a blowout afterward, and you'll have soft, bouncy tresses (sort of) like Kate Middleton's. 4810 Ashley Park Lane, antonaccisalon.com
---
LOOK CUTE WORKING OUT
Fit Atelier
In the age of athleisure, you can wear gym clothes all day—but your boyfriend's hoodie doesn't count. If your leggings are looking a bit tattered for yoga class or an afternoon of errands, stop by this Design Center fitness boutique. Find high-end sports bras, tank tops, and yoga pants from brands like Aviator Nation, Girlfriend Collective, and more. Once you find your perfect fit, a staffer can reserve a spot for you in one of the studio's group classes, which include HIIT and dance cardio. 1930 Camden Rd., Ste. 100, fitatelier.com
---
PODCAST
Date Night with Jake and Page
Now, for your running soundtrack: Each month, the husband-and-wife duo of Jake and Page Fehling (Page co-hosts FOX 46's Good Day Charlotte) talk with a guest (or often, a couple) about marriage, parenting, their professional lives, and more. The format feels fresh because of the range of industries and backgrounds, from prominent local restaurateurs to ex-Panthers players and other notables. Also: Page and Jake are genuinely funny and know how to talk on a mic, bringing a polish too rare in this form. jakeandpage.com
---
DANCE FITNESS CLASS
THE JAM: CLT
Get your groove on while getting a workout in—then grab a beer. THE JAM: CLT offers fitness classes like The Jam (60 minutes of hip-hop), The Mixtape (an actual mix of music genres), and The Beatbox (a combination conditioning and dance class) five days a week at area breweries. The routines are easy to pick up and just plain fun. Don't miss Bey Day every May when they pay homage to the queen. thejamclt.com
---
AIRBNB NEAR CHARLOTTE
Tiny House Gypsy Zen Retreat
Two blocks away from the Parkwood light rail station, this 208-square-foot, pet-friendly gem comes packed with everything you need for a short stay. This spot has a distinctively bohemian vibe (it's a tiny home, after all), and staying here gives you access to a "Zen room" at the larger (separate) house on the property. airbnb.com
---
BEST GREENWAY LESS TRAVELED
Torrence Creek Greenway in Huntersville
At this greenway, which runs for 2.36 miles off Gilead Road, travel a surprisingly varied landscape, from creekside woods to a nest of huge boulders at its eastern end to wetlands you traverse on a wooden boardwalk. It's mostly flat, too, a boon for the young, old, and out of shape. From Interstate 77, get off at exit 23 (Gilead Road), head west, and turn left onto Bradford Hill Lane for on-street parking. mecknc.gov/parkandrec
---
SMALL TOWN TO VISIT NEAR CHARLOTTE
Kings Mountain
This small city of almost 11,000 has the kind of charm Cracker Barrels have long attempted to imitate. Pastoral murals cover original buildings that still contain local businesses, and a drive-in restaurant and drive-in movie theater add to the nostalgic atmosphere. cityofkm.com
---
PARTY DECORATIONS
Confetti Castle
This event-styling business teaches us that all you need to make magic is a couple of dozen balloons of varying sizes and hues. The company creates party installations for events such as kids' parties, business openings, bridal showers, and tea parties. theconfetticastle.com
---
LOW-IMPACT SPORTS LEAGUE
Major League Bocce Charlotte
Staged at an elite sports venue, Town Brewing in Wesley Heights, Major League Bocce Charlotte organizers say it's "the most social of the social sports leagues in Charlotte." This is a great way to say it welcomes those of us who don't run unless we're being chased. charlotte.majorleaguebocce.com
---
FACIAL
The Hydrafacial at The Spa at Ballantyne
This facial is like a steam cleaning for your face. The esthetician moves a wand across your forehead, cheeks, nose, and chin that suctions off oil, dirt, and dead skin. It doesn't include a neck-and-shoulder massage like a traditional facial—and the lights remain on during the 50-minute treatment—but it's not uncomfortable at all. Plus, there's something oddly satisfying when you can see the gunk they pull off your face collect in a clear jar. 10000 Ballantyne Commons Pkwy., theballantynehotel.com
---
VOTERS' CHOICE
Yoga Studio
NoDa Yoga
(Runner-Up)
Charlotte Yoga
---
Pilates/Barre Studio
Hilliard Studio Method
(Runner-Up)
Pure Barre
---
Cardio Workout Class
West Kept Secret
(Runner-Up)
Burn Boot Camp
---
Boutique Gym
Functional Fit
(Runner-Up)
MADabolic
---
Barbershop
Shear Excellence
(Runner-Up)
The Cutting Lounge at The Salon Lofts Stonewall
---
Women's Hair Salon
Sean Rocco
(Runner-Up)
Denise Antonacci Salon
---
Manicure/Pedicure
Aloha Nails
(Runner-Up)
Mimosas Nail Bar
---
Lashes & Brows
Le Petite Spa
(Runner-Up)
Mimosas Nail Bar
---
Blowout
Drybar
(Runner-Up)
Blo Blow Dry Bar
---
Hair Removal/Wax
Le Petite Spa
(Runner-Up)
Satin Med Spa
---
Place to Get Your Makeup Done
Woo Skincare and Cosmetics
(Runner-Up)
Be Pretty – Lindsey Regan Thorne
---
Med Spa
Satin Med Spa
(Runner-Up)
Re Salon and Med Spa
---
Day Spa
The Spa At Ballantyne, Charlotte
(Runner-Up)
Toccare Day Spa
---
Plastic Surgery Practice
Charlotte Plastic Surgery
(Runner-Up)
Dilworth Plastic Surgery
---
Facial Plastic Surgeon
Carolina Facial Plastics
(Runner-Up)
Dilworth Plastic Surgery
---
Acupuncturist
Wendy Swanson
(Runner-Up)
Two Trees Acupuncture
---
Chiropractor
Carolina Sports Clinic
(Runner-Up)
Greenapple Sports & Wellness
---
Physical Therapist
Carolina Sports Clinic
(Runner-Up)
Ivy Rehab Physical Therapy