2020 BOB Awards: Shop
The Best of Style, Shopping, and Services in Charlotte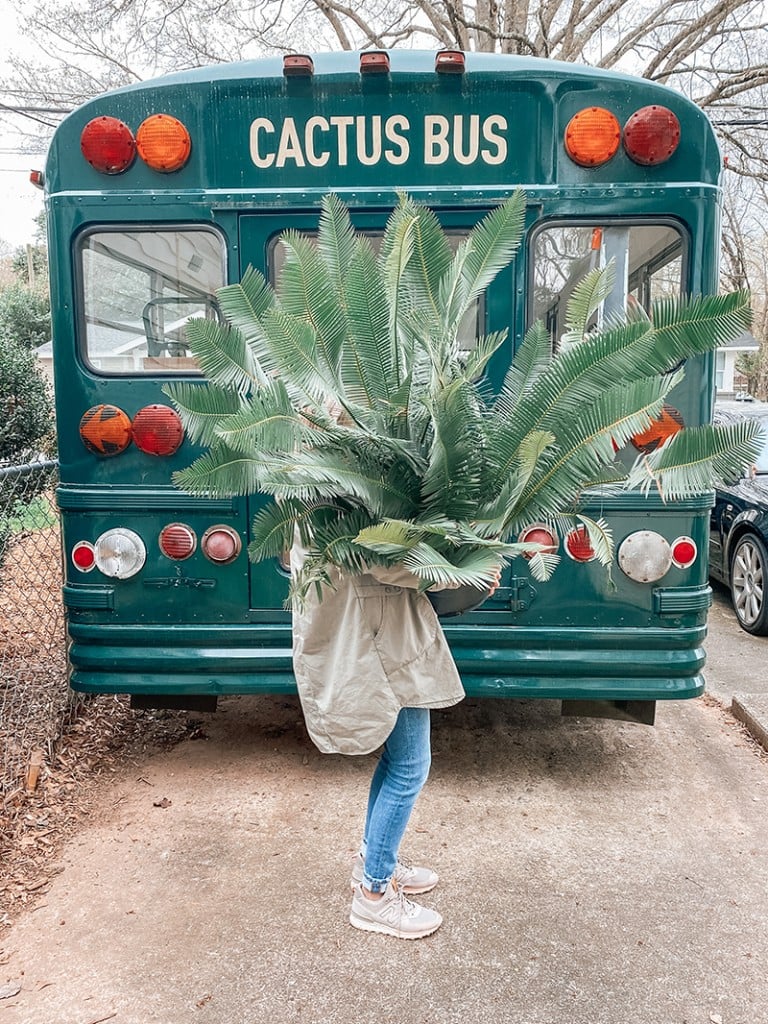 PLANT SHOP
The Cactus Club
The Cactus Club began as a mobile plant shop housed in a short, green bus, "Mason," that traveled to pop-up markets across the region. It built a reputation for both a wide array of cactus species and for the stunning pots that contain each one. This month, the owners plan to open a brick-and-mortar location at Centro RailYard in South End. itsthecactusclub.com
---
SPOT FOR DESIGN INSPIRATION
Society Social
Atherton Mill's cutest retail tenant will make you want to add pops of color to every room in your house. Browse sorbet-colored accent chairs, grasscloth dressers, herringbone throws, leopard print pillows, floral wallpaper, rattan mirrors, and more. It's like Palm Beach came to Charlotte and made a designer baby. 2000 South Blvd., Ste. 195, shopsocietysocial.com
---
EYE FOR TILE
Leland Decker at Best Tile Charlotte
When you've browsed row after row of tile and can't decide on a kitchen backsplash or fireplace surround, go talk to Leland. Tell him the age and style of your home, your price range, and how much wear and tear you expect. He'll tell you exactly what you want and nail it every time. 2311 S. Tryon St., besttile.com
---
SNEAKER MECCA
Social Status
With every major shoe release, hundreds line up outside of this Central Avenue locale that's become Charlotte's go-to for sneakerheads. The culture emerged in the 1980s with the emergence of the Air Jordan. The brand still dominates, and if you want to find the newest and rarest editions of the line locally, all feet are heading toward the same direction. 1519 Central Ave., socialstatuspgh.com
---
PLACE TO GET IT PERSONALIZED
Poppies at Birkdale Village
Poppies started more than 15 years ago as Kate Kazmer's home-based business. She now has a Lake Norman storefront and thousands of monograms traversing Charlotte, from jewelry and homewares to bookbags and purses. 16815 Cranlyn Rd., Huntersville, poppiesgifts.com
---
TREND
Sustainable Fashion
The world's most famous red carpet went green this year as sustainable fashion stole the spotlight at the Oscars. Celebrities wore gowns made of eco-friendly materials, and some even (gasp!) donned dresses from years past. In Charlotte, the sustainable trend has local fashionistas going green, too. Recover Brands, an apparel company headquartered in Charlotte, has a full line of clothing and accessories made from recycled plastic bottles and upcycled cotton. CLT Fashion Fund is a fledgling brand that repurposes denim. AK Wears Things is a local fashion blogger and stylist who shares thrift store finds and all things secondhand fashion. For gently used (and sometimes brand-new) designer clothing,
shoes, and accessories, head to consignment stores like J.T. Posh in Dilworth and Nouveaux in Plaza Midwood.
---
OUTDOOR SHOPPING CENTER
Waverly
At this walkable South Charlotte shopping destination, you can catch a cycling class, get a facial, or pick up your dry cleaning. Find a new romper at fab'rik or a pair of jeans at Scout & Molly's. Swing by Whole Foods to pick up something for dinner—or grab a table at Foxcroft Wine Co. and stay for a drink. Providence and Ardrey Kell roads, waverlyclt.com
---
SATURDAY MORNING MARKET
Morning Markets at Camp North End
The popular event is now every Saturday (9 a.m.-noon) through November at this adaptive reuse site just north of Fourth Ward near AvidXchange Music Factory. Get your caffeine fix at Hex Coffee and pick up a breakfast favorite from a food vendor, then take a yoga class and join the "Family Hour" activity. It's the best time to check out this artsy community hub that's nearly impossible to get to during rush hour. 1824 Statesville Ave., camp.nc
---
HOME ACCESSORIES
Cotswold Marketplace
Launched by a mother-daughter duo 10 years ago, Cotswold Marketplace is a collection of everything you need (and plenty of stuff you just want) to decorate your home. More than 60 merchants sell original art, lamps, bedding, furniture, and accessories in this winding, 8,000-square-foot space. On-hand designers will even help you custom order whatever you need to spruce up your place. 200 N. Sharon Amity Rd. cotswoldmarketplace.com
---
AFFORDABLE ORIGINAL ARTWORK
Art House Charlotte
When you have an empty wall to fill but you're not into mass-produced artwork—and you can't afford Christie's or Sotheby's prices—check out Judith Zehmke's home space (Art House Charlotte) in SouthPark. Make an appointment to drop by and browse rooms filled with abstracts, landscapes, florals, portraits, and more from mostly local artists. See what speaks to you, and if you don't trust your instincts, Judith can help you visualize your room and find a piece that works. arthousecharlotte.com
---
EDIBLE GIFT IN A BOX
Twenty Degrees Chocolates
If life is like a box of chocolates, then this is the box you want. Head to the boutique in South End's Design Center for handcrafted chocolates, caramels, and bonbons that are bite-sized bliss. Snag their bestseller—a sleeve of fleur de sel caramels—and bring it for the hostess at your next party. Or create a customized box of your favorite flavors to take home for yourself. 1930 Camden Rd., Ste. 135, 20degreeschocolates.com
---
PET SUPPLIES
Four Dogs Pet Supplies
If you and your pooch are disenchanted with big box pet supply stores, head to this colorful, energetic spot with a whole lot of NoDa quirk. Find holistic, organic food for your dogs, cats, and even chickens. Hang out and chat with the staff about your fur babies, or head into the Animal Gallery and peruse original animal-inspired works by local artists. Just don't expect a wealth of parking spaces. 2630 N. Davidson St., fourdogspetsupplies.com
---
PLACE TO HIDE AT OPTIMIST HALL
Mezeh Mediterranean Grill
Optimist Hall, with its trendy vendors and revitalized mill architecture, is very "seen or be seen." But what if you want to go alone, work on your next novel, and sit in peace? As of this writing, this was the answer: Head around the corner, near Archer Paper Goods, to the not-yet-opened Mezeh. You'll find wooden furniture, plants, and ambience—and no one will bother you. 1115 N Brevard St., optimisthall.com
---
WHERE TO GET AN EXOTIC PET
Cold Blooded & Bizarre
Golden retrievers, King Charles spaniels, bearded dragons: They all deserve love, but only one of these pet breeds is difficult to find in Charlotte. This Plaza Midwood shop gives a warm embrace to the cold-blooded reptiles and amphibians that can be owned in Mecklenburg County. The mission, owners say, is to educate and cultivate love for the animals often avoided. 3000 Central Ave., Ste. 8, coldbloodedandbizarre.com
---
BEST NATURAL BEAUTY PRODUCTS
Selenite Beauty
If you're all about a toxin-free lifestyle—or you just want to dial back the amount of chemicals you put in your body—this natural beauty store in South End has everything you never knew you needed. The shelves are lined with non-toxic makeup, skincare, and hair products, but you'll also find all-natural deodorant, CBD body balm, and other specialty items. Selenite Beauty will at least convince you to toss that expired lipstick or mascara you got at the drug store and treat yourself to a new product—or five. 1800 Camden Rd., Ste. 104, selenitebeauty.com
---
VOTERS' CHOICE
SHOPPING
Women's Boutique
The Pink Hanger
(Runner-Up)
Sloan Boutique
---
Men's Clothing Store
Taylor Richards Conger
(Runner-Up)
Jilson's Men's Consignment
---
Custom Suits
William Wilson
(Runner-Up)
Bruce Julian
---
Store for Charlotte Apparel
704 Shop
(Runner-Up)
Glory Days Apparel
---
Fine Jewelry
Diamonds Direct
(Runner-Up)
REEDS Jewelers
---
Local Jewelry Designer
Perry's Diamonds & Estate Jewelry
(Runner-Up)
Skatells Manufacturing Jewelers
---
Local Gift Shop
Paper Skyscraper
(Runner-Up)
Casual Elegance
---
Pet Supplies
Pet People
(Runner-Up)
Pet Supplies Plus
---
Craft Beer Bottle Shop
Brawley's Beverage
(Runner-Up)
Salud Cerveceria
---
Wine Store
Foxcroft Wine Co.
(Runner-Up)
Winestore
---
Home Furnishings + Decor
Traditions
(Runner-Up)
Isabella
---
Charlotte Shopping Destination/Area
SouthPark Mall
(Runner-Up)
Park Road Shopping Center
---
Auto Dealer
Hendrick Automotive Group
(Runner-Up)
Scott Clark Auto Group
---
Bridal Boutique
Hayden Olivia
(Runner-Up)
New York Bride & Groom
---
Charlotte-Made Products
704 Shop
(Runner-Up)
CLT Find
---
Independent Bookstore
Park Road Books
(Runner-Up)
Paper Skyscraper
---
Place to Shop for CBD
Charlotte CBD
(Runner-Up)
Blue Flowers CBD
SERVICES
Residential Remodeling
Andrew Roby
(Runner-Up)
Detailed Interiors
---
Home Builder
Jeff Chance Custom Homes
(Runner-Up)
Andrew Roby

---
Interior Design
Barrie Benson
(Runner-Up)
Bright House Interiors
---
Home Organization
Closets by Design
(Runner-Up)
CW Home
---
Landscaping
Pike Nurseries
(Runner-Up)
Arborscapes
---
Kitchen and Bathroom Resources
Ferguson
(Runner-Up)
Lowe's
---
Realtor
Sarah Rutkowski RE/MAX
(Runner-Up)
Sarah Rose RE/MAX
---
Plumbing Service
All Hours
(Runner-Up)
Julian's
---
Window Resources
Window Nation
(Runner-Up)
Karen Saks
---
Heating and Cooling
Parks Heating & Cooling
(Runner-Up)
ARCE Heating & Cooling
---
Housekeeping/Cleaning Service
Molly Maids
---
Staycation Hotel
The Ballantyne, A Luxury Collection Hotel
(Runner-Up)
The Ritz-Carlton, Charlotte
---
Financial Advisor/Wealth Management
Michael Phillips – Ameriprise
(Runner-Up)
Brown & Shane Wealth Management Group
---
Law Firm
Rech Law, P.C.
(Tie)
Law Offices of Lori Keeton
---
Assisted Living/Retirement Community
Brookdale Carriage Club
(Runner-Up)
Southminster
---
Tax Preparation
Scott Boyer CPA
(Runner-Up)
Fisher, P.A.
---
Tattoo Parlor
Made to Last
(Runner-Up)
Paris Tattoo
---
Auto Repair
Woodie's Auto Service
(Runner-Up)
CMD Automotive
---
Graphic Design/Web Design Firm
Well-Run Media+Marketing
(Runner-Up)
Made Outside
---
PR Firm
DK Communications
(Runner-Up)
Chernoff Newman
---
Ad Agency
Ashland Advertising
(Runner-Up)
Arthur Elliot Marketing Group
---
(Runner-Up)
Carolina DJ Professionals
---
Caterer
Waiter's Choice
(Runner-Up)
Plate Perfect
---
Photographer
Mark Borja
(Runner-Up)
Weslie Woodley
---
Event Rentals
Party Reflections
(Runner-Up)
CE Rentals
---
Party/Event Planner
Katrina Hutchins Events
(Runner-Up)
Scout and Grace
---
Videographer
Howard Photo + Film
(Runner-Up)
Indigo Photography and Video
---
Wedding/Special Event Venue
Alexander Homestead Weddings
(Runner-Up)
Duke Mansion
---
Florist
Blossom Shop
(Runner-Up)
Midwood Flower Shop
---
Dry Cleaners
Long's Dry Cleaning
(Runner-Up)
Elite Cleaners
---
Tailor/Alterations
Anna's Alterations
(Runner-Up)
South Park Cleaners and Alterations
---
Travel Agency
Mann Travel
(Runner-Up)
AAA
---
Public/Charter School
Waddell Learning Academy
(Runner-Up)
Union Day School
---
Private School
Charlotte Country Day School
(Tie)
Charlotte Christian School
(Tie)
Providence Day School
---
Summer Camp
YMCA Camp Thunderbird
(Runner-Up)
Camp Mindy – Levine Jewish Community Center
---
After School Care/Program
Harris YMCA
(Runner-Up)
ASEP at Charlotte Mecklenburg Schools
---
Pet Boarding/Daycare
NoDa Bark and Board
(Runner-Up)
Lucky Dog Bark and Brew
---
Veterinarian
Long Animal Hospital
(Runner-Up)
Dilworth Animal Hospital
---
Dog Trainer
Charlotte Dog Wizard
(Runner-Up)
The Dog Knowledge