2020 Charlottean of the Year: Kass Ottley
She's walked the walk as an activist since she was a child in New York City. She's talked the talk, too, even with the cops. But she and the people she leads in the streets are tired of talking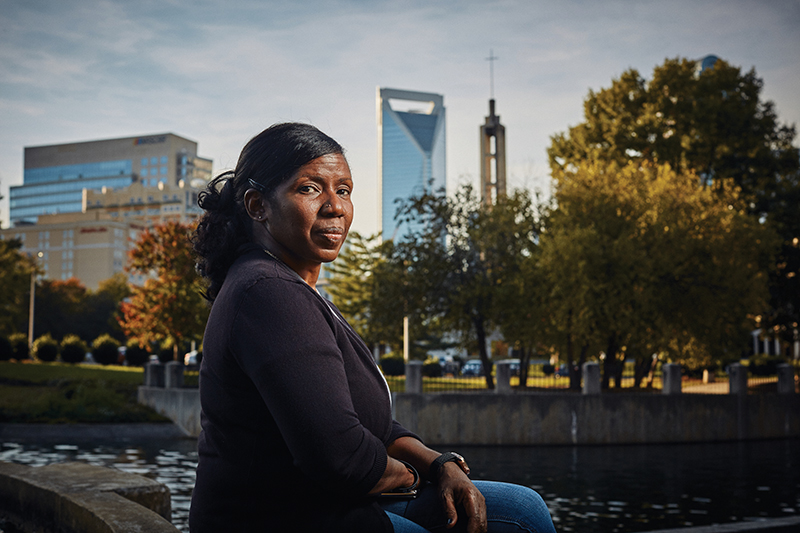 Kass Ottley was marching once again, this time on the evening of September 23, a few hours after the attorney general of Kentucky announced that he wouldn't charge any Louisville police officers in the shooting death of Breonna Taylor in March. Ottley walked about eight miles that night, leading a column of about 100 protesters through uptown despite a nagging case of plantar fasciitis that had hobbled her for months. "I've just kind of been ignoring it," she tells me two days later. Ottley estimated she had walked 83 miles on the streets of Charlotte since police in Minneapolis killed George Floyd on Memorial Day. By the time you read this, she likely will have marched even more.
Ottley's been at this since she was a child in New York City. Her mother, a telephone operator, took her to a protest during a phone company workers' strike in 1971, when she was 6. She kept up her activism in New York even as she worked a corporate job in sales and marketing but put it aside to raise her two children and establish herself in Charlotte; she and her husband moved here in 1997 when his job transferred.
But after a decade or so, she says, she began to sense that not all was quite right in her adopted city. It intensified after the 2013 Charlotte-Mecklenburg police killing of Jonathan Ferrell—a case that went to trial but ended two years later with a hung jury and dismissal of charges against the officer who'd shot him. The result fed the often-violent reaction to the police killing of Keith Lamont Scott in 2016. By then, Ottley was back on the streets, marching and shouting with hundreds of other Charlotteans.
But it's how Ottley, who works as an administrator for Charlotte-Mecklenburg Schools, has approached her interaction with—and often passionate opposition to—CMPD that distinguishes her. Activists here and in other American cities often don't engage with law enforcement at all. ("F— 12" is a common exclamation, here and elsewhere.) Ottley understands completely. But she's been willing to talk at length with CMPD leaders, including former Chief Kerr Putney and new Chief Johnny Jennings, about her issues with the department and its policies and practices.
"We gotta get honest before we can change things," she told Putney and department spokesman Rob Tufano during a CMPD vidcast in May, a few days after police killed Floyd.
Tufano asked if she condoned the property damage and destruction during the Floyd protests.
"We're talking property over people," she shot back. "There's a huge difference. And I hate to say it, but a lot of these companies and businesses in the Black community do absolutely nothing for the Black community except drain their resources and take them back to their communities. So do I condone the violence? No. But I definitely get it."
I interviewed Ottley in late September. Here are some of her answers, edited for space and clarity.
---
I've been here 23 years. I was born and raised in East Elmhurst, Queens. We lived one block over from where Malcolm X was; we lived on 96th Street, and he lived on 97th Street and one avenue over. Malcolm X was a huge influence in my neighborhood. The first Muslim school was in my neighborhood, on 108th Street, and at that time, that was something that wasn't even really heard of. Elijah Muhammad, Dizzy Gillespie, Louis Armstrong—they all lived in that community.
Back in the day, everything was Black-owned. So I know what it's like to come from a neighborhood where everything is Black-owned, the money is kept in the community, and the community thrives. And I also know what it looks like, you know, when that changes.
I went to my first protest with my mother. She was an operator for the telephone company, and I guess there was something going on with their salaries. And I remember I was six, and I had a sign, and I was yelling, "Ma Bell, go to hell." (laughs) My aunt was not happy. She was like, "You got that baby out there?"
As my kids started to get older, I started noticing here in Charlotte, just things changing, you know, seeing more and more homeless people, more and more people on the streets, and I'm like, "Wow, you know, what is happening here?" That's what really kind of sparked me to want to get back out and really start doing things. The whole report, 50th out of 50 in upward mobility, is horrible. You drive to uptown Charlotte, and you would think this is the greatest area, and then you get just outside of uptown, and you have a tent city full of homeless people. It's like no one even sees them, like they're invisible.
I started my organization, Seeking Justice Charlotte, about 10 years ago. It's a grassroots organization. I was trying to connect all the other organizations together. That was my goal. Initially, it was called Seeking Justice Consortium, but people kept not being able to say "consortium."
It was definitely in response to police shootings, police brutality, trying to focus on police reform, then it kind of got into jail reform. I remember when Michael Laney got shot on Beatties Ford Road (in 2012). That was traumatic. La-Reko Williams, who got tased to death at the light rail (in 2011). I mean, there's a lot of things that happened here. I was just tired of seeing so many incidents, you know, and I was like, "OK, we've got to do something." Then it became about fighting for affordable housing. Then our literacy program started because I love kids, and I love books. I love to read. I found that a lot of the kids didn't read because they didn't have access to books.
The first time I got a death threat was when I was doing the event for Jonathan Ferrell's mother. Right after the trial, she wanted to have a candlelight vigil at the site, which I felt like shouldn't be a problem. So I organized that, and I got death threats from people in that neighborhood. And I was shocked—I mean, really shocked. Another time was when we all spoke at City Council, I didn't realize that when you give your information to City Council, it's public. So, of course, I put down where I live, and somebody mailed me a death threat. In the mail.
I felt like we were being ignored. You know, you're telling us to come and speak, and we're coming, and we're speaking, and it's like, "OK, are you finished?" and that's it. And I was like, "Wait a minute, we elected these people. They're supposed to be our leaders, and what are they really doing? Do you hear the people?" Because it seems like they're very out of touch with the community, and I still feel that now.
I think video and social media are why these cases are now front of mind for people—and people are just tired. To hear about something is one thing. To actually see it, it's totally different. And I think as these different cases evolved, like Walter Scott in North Charleston and some of these other cases, a lot of times people say, "Well, he shouldn't have been doing this. He shouldn't have been doing that." We've seen Black people get shot complying, not complying, running, sitting still, standing, laying down—I mean, at a point, you run out of excuses, and you have to really face that there's something wrong here. And I think also, from an organizer and activist side, I think the fear is gone. People are not afraid anymore.
I think, first of all, I'm a lot older. You know, a lot of these protesters are kids, and that's how they choose to express themselves, and that's them. I personally feel like, to be heard, you have to be in the room. If I'm outside of the building, and I'm screaming and hollering, they might hear some of what I'm saying. But if I'm standing in the room—and I'm not changing my messaging, and I'm not compromising anything, I'm saying exactly what I feel needs to be said—I need to be in that room, because I need you to hear me, and I need you to see me. And so in order to change the system, or even dismantle the system, you have to be in the room where they can hear you.
These younger people want to burn the room down, and I get it. I also get that they're tired, because I know I'm tired. You know, like I said, I went to my first protest ever at six years old. I'll be 56 years old in December, and I don't even think I could count how many protests, marches, events I've had, forums I've been to, conversations I've had, and it's like, OK, am I going to live to see this work come to some fruition, or am I just spinning my wheels? Everybody's sitting here, you know, saying "Black Lives Matter," and it's on every major city street at this point, pretty much. But what are you actually doing to prove that's how you feel? What are you changing? Because we're talked out. We're tired of talking.
I've actually thought about running for some type of public office. A lot of people have asked me that, and I'm kind of thinking about it. I don't know yet. I'm just throwing the idea around. But I feel like we need leadership that's connected to the people. I think a lot of the leaders we have in Charlotte have been in their positions for far too long, and they're too comfortable. They get up on that level, and they forget where they came from and the fact that the people put them in that position. I think we need leadership in this city that has the best interest of the people of the city at heart.
I just want this city to be as beautiful as the skyline of uptown Charlotte is, and I feel like we have that potential. If you really think about it, we have this beautiful façade; you look, and you're like, "Oh, my God, this is so beautiful." I thought Charlotte was the greatest thing ever when I moved here. I still love Charlotte. But you start to notice the cracks. You start to notice the discoloration. You start noticing the blemishes and the things wrong. And either you can notice them and just ignore it—It doesn't affect me; I don't live over there—or you can say, "This is my city, and I love it here, and I want to be part of the solution."
Greg Lacour is the senior editor of this magazine.