2022 Charlottean of the Year: Charlotte FC
The first season was far from smooth, on or off the pitch. But our new pro soccer team was the big noise in town, and it echoed throughout a maturing city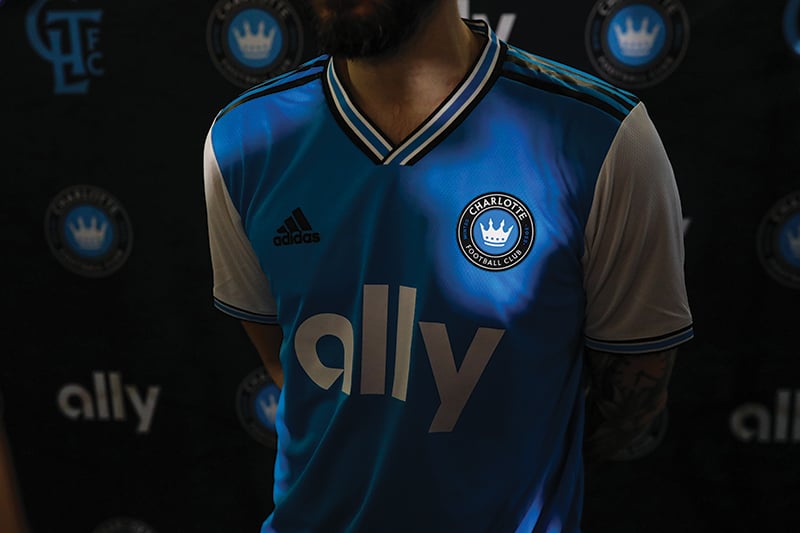 The national anthem moment, before the first match at Bank of America Stadium in March, was the first sign that Charlotte FC would bring something new to its home city. A singer named Michelle Brooks-Thompson was performing the anthem, and her mic cut out. The crowd of 74,479, a single-game Major League Soccer attendance record, spontaneously picked it up. Of course, it went viral. How could it not? A scene like that in a TV series would roll a nation's worth of eyes. Oh, come on. Like that would happen. But it did.
So began a season that, in Charlotte sports history, compares only to that of the 1988-89 Hornets, our first taste of the big time. (The Carolina Panthers, remember, played their first season's home games at Clemson.) The Hornets exemplified a kind of innocent giddiness, a small city's tentative emergence into the spotlight. Charlotte FC, 34 years later, captured the energy of a city in mid-transformation. Crowds of assorted races, genders, ages, and levels of familiarity with the sport waved their flags in the stands; supporter groups' primary cheer was in Spanish. Soccer's newness, its alienation from anything that resembled tradition-bound Charlotte, was what made it thrilling.
The fairy-tale beginning gave way to an adult rendezvous with reality. As of early October, the club occupied ninth place in its 14-team conference. In July, owner David Tepper ditched plans for a youth academy and soccer fields at the old Eastland Mall site—the key promise that assured local government support for the soccer venture. Among fans, the honeymoon will end soon, as it always does in pro sports. We'll see how long it takes for the shine to wear off. For now, though, take stock of what fútbol brought to this city. It planted a signpost for a version of Charlotte we hadn't seen before: loose, rollicking, unpredictable.
Greg Lacour is the editor.