2022 Charlottean of the Year: Lisa Brooks
Without ever intending to, a maven of Southern cuisine cooked up the largest Black-owned personal chef service in the country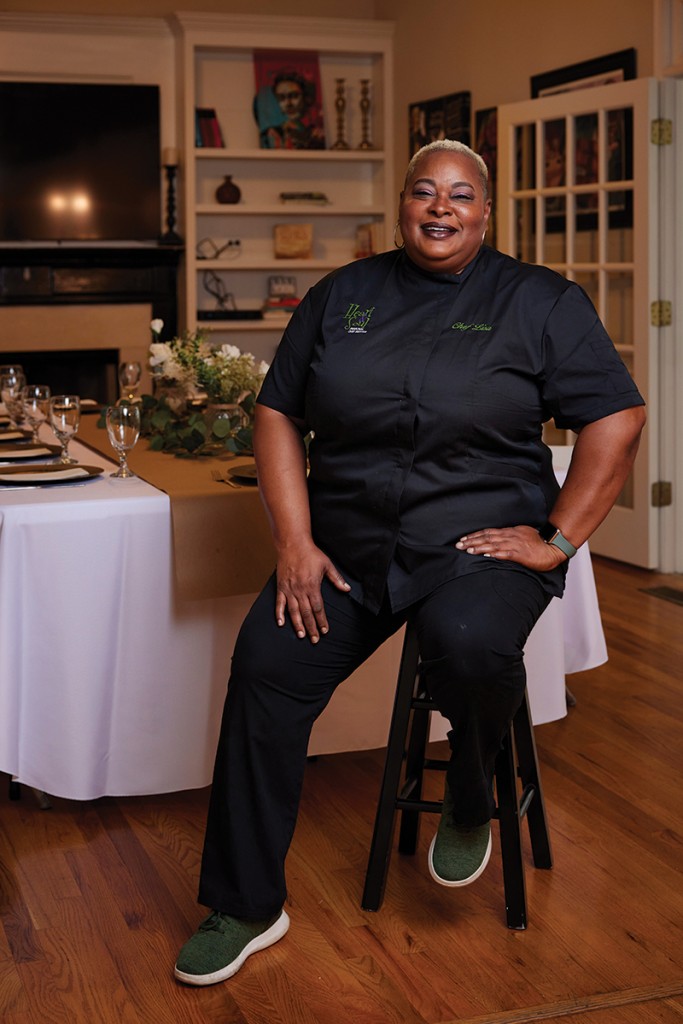 Lisa Brooks will tell you she makes the best low country shrimp and grits on the East Coast, and she's gotten marriage proposals over her Southern marinated filet mignon. "You don't even need a steak knife," she says with a grin. "It's the best. Sorry, it just is." 
For the last 12 years, the 52-year-old owner of Heart & Soul Personal Chef Service has cooked in private homes. Brooks has steadily grown her business in a way she says she didn't intend at first: She's built a team of 10 Black female chefs. But that's just how it's happened—and Heart & Soul has become the largest Black-owned personal chef service in the country. 
Despite that designation (and the marriage proposals), Brooks has received far less media attention than colleagues like Greg and Subrina Collier, who have also pushed for more Black representation in the culinary industry. "Private chefs aren't always invited to big showcases with big restaurant chefs," Brooks says. "When I see rankings of the top chefs in Charlotte, I wish I could be part of those lists, but a lot of people don't know we're here. In that regard, there's still a real divide. The type of accolades some chefs receive, we're largely left out of."
She's working hard to change that. Brooks offers a webinar designed to teach young cooks across the country about the business of being a private chef. She also posts frequent cooking demonstrations for close to 220,000 TikTok followers. That online exposure has helped boost her brand, too. Earlier this year, a casting director reached out to her via Instagram about appearing on the Food Network series Chopped. "I'm a Southern cook, so we take our time. Thinking on the fly terrifies me," she says. "But you've gotta face your fears, right?"
When she learned the episode would focus on Black culinary contributions to American food, Brooks says her fear melted away. "There was nothing they could give me that I wouldn't be able to cook," she says. She assumed they did a show like this every year for Black History Month, but it was the first time ever that all four competitors and all three judges were Black. The episode aired on Feb. 15, and Brooks made it to the final round. She lost, but she still considers the entire experience a win. "I caught the bug with that—I'd do it again," she says. "I love being on camera or on stage." 
Brooks says she's been in the kitchen with her mom, aunts, and grandmothers for most of her life, but she didn't start her culinary career until age 40. After 16 years of working in health care and IT, she quit her job to attend culinary school at Central Piedmont Community College and start her own business. "Even though I'd been cooking for 35 years," she says, "I wanted to show I was serious about my craft."
As Heart & Soul grew, Brooks began recruiting interns from CPCC. Most were young women; some came from tough backgrounds and didn't expect to work as anything beyond a line cook. Brooks wouldn't have that. In addition to cooking, she taught them skills like etiquette, bookkeeping, and how to make a six-figure income as a private chef. "The ones who did really well, I'd hire," she says. "Each year, one or two would stick."
Brooks would often share her own experience as a single mom working her way up in the corporate world. "My story resonated with these young Black women," she says. "It wasn't my plan to create a team of all female or all Black chefs. I wanted good chefs; it just happened that way, and I realized it was meant to be. Now I'm very proud to say we have 10 Black female chefs. It's unheard of for that model to be in place."
In June, Brooks and her team kicked off Mattie's Front Porch, a monthly dinner series that showcases low country and Southern coastal cuisine. "Mattie is my grandmother," she says. "It symbolizes Sunday dinners at my grandmother's house and the joy of feasting together." In September, she co-hosted Taste of Hope Charlotte alongside celebrity chef David Burke after the organizers saw her Chopped episode and reached out. "Now, a well-known chef is pulling me onto the stage with him," she says, "so we're starting to bridge the gap there."
She's working on her second cookbook and remains open to more TV appearances. When that opportunity comes, she says, she'll have her low country shrimp and grits ready to go. "It's my Beat Bobby Flay dish," she laughs. "I've had them up and down the East Coast, and mine are the best." 
TAYLOR BOWLER is the lifestyle editor.