2022 Charlottean of the Year: Marcellus "M.T." Turner
The Charlotte Mecklenburg Library CEO leads an organization on the move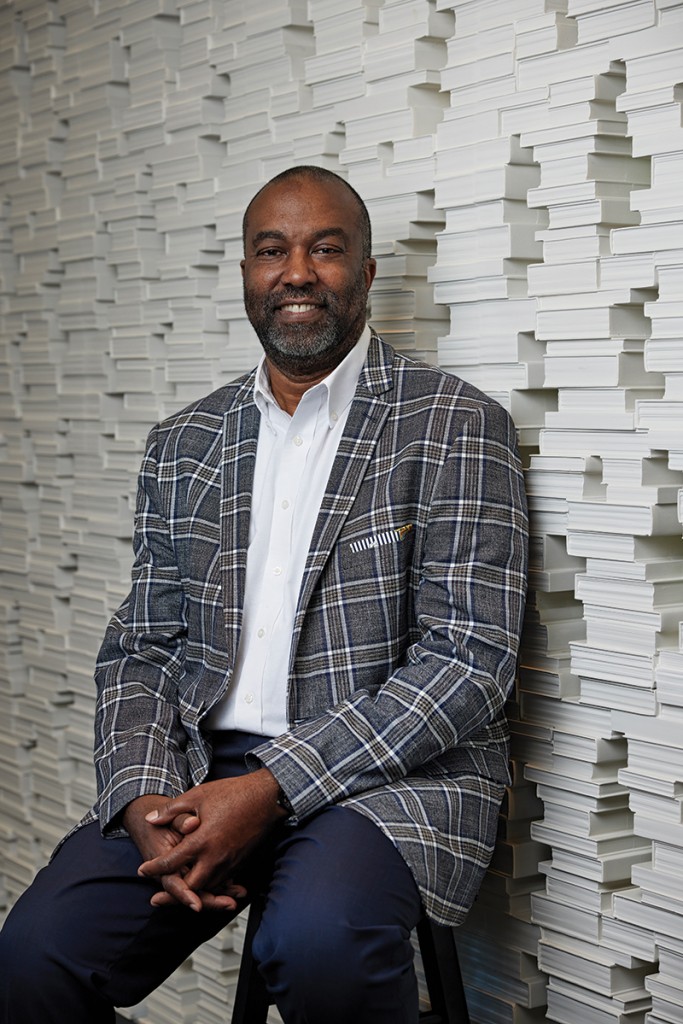 M.T. Turner returned to his native South almost two years ago. Time, he says, moves faster here than on the West Coast, where he led the Seattle Public Library for a decade. "I worked in a job where they told me that you can say that you're new for three years, and then after that you can no longer claim being new," he says. "But my three years is going to be up rather quickly."
The South isn't known for its haste, but a lot has happened since Turner took over as CEO and chief librarian in April 2021. In January, a mobile library named MoLi hit the streets to serve communities without convenient branches. This summer, the library opened an administrative center on Eastway Drive, and in the fall, the addition of a Pineville location brought the total number of branches to 21. Add to that the massive Main Library project and a flurry of equity-minded policy changes, and it's easy to see how the months slip past when he's not looking.
Last year, the library eliminated overdue fines, which "allowed us to bring more of our customers back into the library," he says. Though the plans for the policy shift were in place before he arrived, the move dovetails with his ethos. "That's the real goal: eliminating any barriers to access." He later did away with a program that allowed patrons to pay for early access to new releases rather than wait in line to check them out. The move, intended to equalize access, didn't garner any complaints. He credits the culture of the library: Patrons believe in its product and mission, and, Turner says, "more and more of the staff is understanding what it means to talk from a socially conscious perspective."  
Turner has been in the library business for more than three decades, and he's convinced that the library's success depends on seeing and supporting every patron. "It takes no money to be socially conscious," he says. "Just a commitment to considering and reviewing everything you do to see if it acknowledges and respects that person's existence." Turner, who grew up in Mississippi, has worked in Illinois, New Jersey, Colorado, and Washington, among others, so he speaks from experience when he says that the challenge exists everywhere: Equity is not a tougher sell in the South.
MoLi's rollout has been especially gratifying. About a month after the launch, Turner asked his staff to let him know when the mobile library achieved 100 checkouts. They laughed and told him that they'd hit that number in their first two days. 
But more than metrics, Turner is after interactions and experiences. September was library card sign-up month. "But it's not just about increasing the numbers—it's more about what can you do with that library card," he says. "What I really want is, 'Let me tell you what that kid got to do when they came to story time. They got a chance to interact with other kids. Their caregiver got a chance to interact with other caregivers, to see how they're handling things. They got a chance to play. They got a chance to move.' Those are the things that matter. You're helping a child with their growth and development."
Turner plans to accomplish more while the "new" label still applies. A diversity, equity, and inclusion committee will strategize ways to broaden and deepen the library's services and clientele. In 2024, the University City branch, one of the county's most visited, will reopen in a larger space in the Waters Edge development. 
But Turner's not in a rush. "I've learned to relax and take things as they come, because Charlotte works on its own time, even though I say time moves faster here," he says. "There are times when I'm like, Oh, gosh, I wish we were moving a little faster. But it's all in good stride."
ALLISON BRADEN is a contributing editor.