204 North Brings Industrial Glam into Fashion Uptown
After a much-anticipated wait, 204 North is a welcome addition to Uptown's food and drink scene.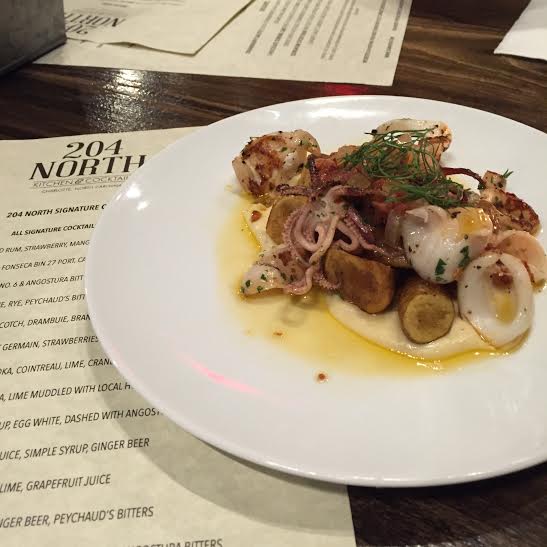 Step inside the much-anticipated 204 North Kitchen and Cocktails and you'll be tempted to look up.
The enormous, multistory light fixture immediately catches your eyes, but don't let your eyes stay there for long lest you miss the exposed brick walls, long wooden tables and the crafted cocktails that are mostly named after Charlotte neighborhoods.
And missing any of these 15 specialty cocktails (all $12) would be a mistake. The NoDa even features a bit of Absinthe. How do you like that, Charlotte?
The charm of one of Uptown's newest spots extends far beyond its cocktail menu, though. The produce that fills the menu (including the overnight heirloom tomatoes in the Caesar salad) come from 13 to 15 local farmers depending on what's available each week. Indeed, local flavors fill the restaurant with 10 North Carolina draft beers gracing the menu, including six from Charlotte.
The restaurant says it wants to feel like a Charleston venue, exquisite-tasting and classy enough while feeling easily approachable. The shrimp and grits ($22) certainly fit that bill.
While both the food and cocktails are a worthy addition to Charlotte's food and drink scene, it was the restaurant and bar's Southern hospitality that help it ascribe to a Charleston reputation.
When the kitchen found out a diner didn't eat dairy, sous chef Toni Moran instantly crafted a specialty trio of sweets: Grand Marnier-soaked strawberries, candied pecans and pickled strawberry sorbet. This was, of course, only right before Moran sent two diners home with an extra loaf of 204 North's specialty bread baked in house after hearing their admiration for it.
Charlotte needs more of this kind of restaurant: locally sourced food, remarkably balanced specialty cocktails with the Southern charm to boot. Welcome to the neighborhood, 204 North. We've been waiting for you. We'll have to name a drink after you.
204 North Kitchen and Cocktails
204 N, Tryon St.
704-333-3747
Entrees: $16 to $26
Send Jared an email at DuskTillDawnblog@gmail.com, or send him a tweet @Jared_Misner.

Also by Jared Misner:

→This Weekend's Social Events
→Bowling For Books, First Friday Fort Mill, Electric Luau Party, Soulmatic Carolina Music Fest and More, Aug. 6 to Aug. 9
→The Moon Walk, Candy Fest, Silly String Party, Booze Cruise and More, July 30 to Aug. 2
→Christmas in July, More Christmas in July, National Dance Day, National Tequila Day and More, July 23 to July 26