23 Stops for Weekend Walks Through Uptown Charlotte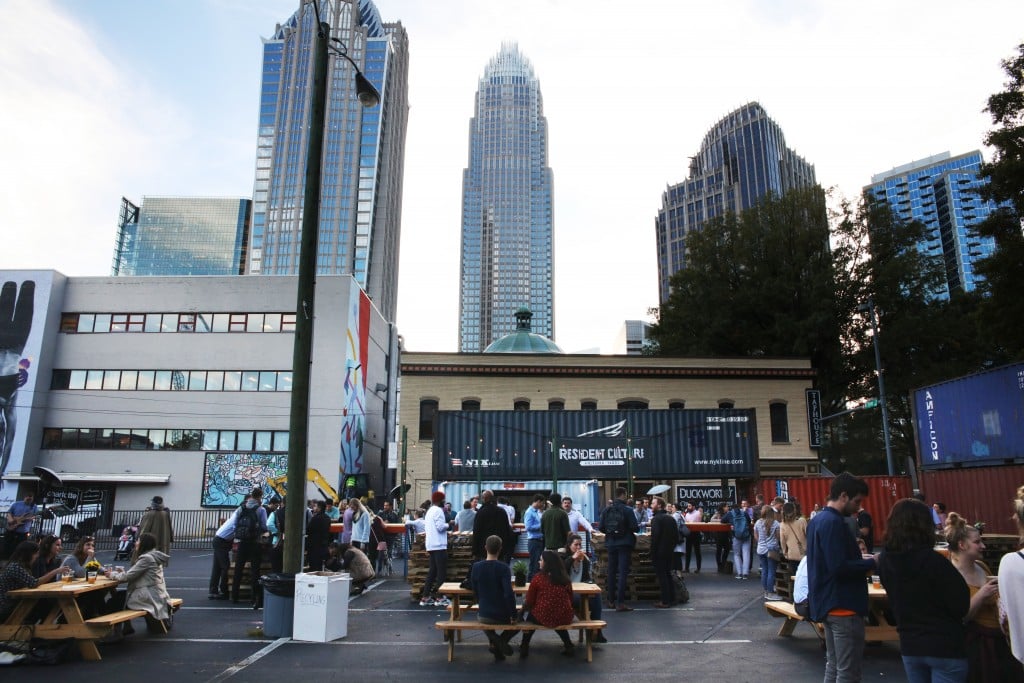 With social distancing putting a damper on being social, Charlotteans are looking for ways to get out of the house and enjoy their city safely.
If you've missed the bright lights of Uptown Charlotte and all the charms waiting within each ward, plan your weekends with our pre-mapped walking route sprinkled with all the must-see stops in Charlotte Center City. (Not into walking? Consider taking a Joy Ride.)
Many of these interesting and iconic places are primarily along Tryon Street, and this path is peppered with plenty of things to do, see, eat, and drink as you go.
Additionally, through the end of 2020, specific blocks of Tryon Street will be closed to car traffic using a phased approach designed by Center City Partners to bring residents and visitors alike a rich, unique-to-Uptown experience.
With these block closures on weekends through year-end, expect to see Street Eats (outdoor dining on sidewalks and curb lanes), street performances, pop-up vendors, and more.
Walking Uptown Charlotte: 23 Must Stops in the Heart of the City
Whether you tackle the entire center city within a day or split up the route into separate weekend jaunts, there are plenty of ways to make your own adventure out of this list of must-sees in Uptown Charlotte. Each stop is separated by just a few blocks or less!

Starting point: Tryon Street Bridge in South End
Pro tip: Heading in from a surrounding 'burb? Park and ride the Light Rail for a car-free, carefree experience. Weekend service operates every 20 minutes during the day and every 30 minutes during late-night hours. Exit at Carson Station to begin your walking tour!
Stop 2: Harvey B. Gantt Center for African-American Arts + Culture, 551 S. Tryon Street
Stop 6: Mint Museum UPTOWN and Bechtler Museum of Modern Art, 500 and 420 S. Tryon Street
Stop 10: Latta Arcade and Brevard Court, 320 S. Tryon Street
Pro tip: Brevard Court is colloquially called Charlotte's "French Quarter" thanks to the 30-year-old French Quarter Restaurant anchoring the space.
Stop 11: One Wells Fargo Center (Overstreet Mall Entrance), 301 S. College Street
Pro tip: Look down. The Black Lives Matter mural on the street was created by local artists in summer 2020.
Pro tip: Don't miss Disc Plaza, Polk Park, and the Bank of America Plaza while you're here.
Stop 14: Belk Theater at Blumenthal Performing Arts Center, 130 N. Tryon Street
Pro tip: Free outdoor movies are hosted here in addition to live music and pop-up holiday markets.
Stop 17: 7th Street Public Market, 224 E. 7th Street
Pro tip: You may know 7th Street Public Market as Charlotte's original food hall, but this hub is also a nonprofit small business incubator.
Stop 19: Levine Museum of the New South, 200 E. 7th Street
Stop 21: Historic Elmwood & Pinewood Cemeteries, 700 W. 6th Street
Stop 22: Historic Fourth Ward
Pro tip: When you start to feel the charm of historic homes and quaint tree-lined streets, you know you're in the Fourth Ward.
Stop 23, ending point: Charlotte Ballet, 701 N. Tryon Street