25 Best New Restaurants in Charlotte 2017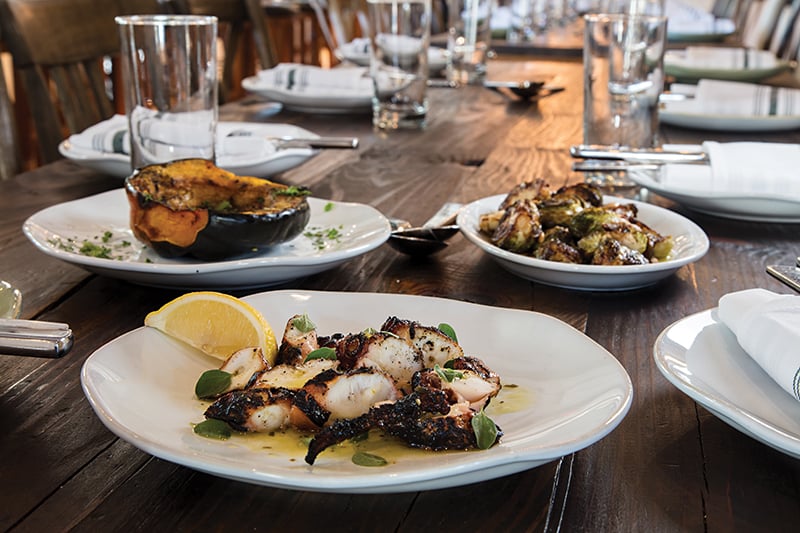 Click here for last year's ranked list of the "50 Best Restaurants in Charlotte."
"What new restaurant should I try?"
We're asked that question often, and it's a tough one to answer. Diners tend to find a new place they enjoy, then years pass before they try anywhere else. And the restaurant scene changes in those years.
Yafo Kitchen is making a statement that fast casual can also be good. Comida is a Los Angeles-worthy concept in our own Plaza Midwood. @Dawn is putting fine cuisine on the breakfast table.
Here, you'll discover 25 restaurants that opened between November 1, 2015, when we finalized our 2016 Best Restaurants list, and November 1, 2016. We ate at restaurants when they opened and kept going back until we found the ones worthy of making this list. We ate there again to rank them against one another. Then again, just to make sure.
We like to think we did this for you. So get out there, and taste how the city is changing.
---
Myers Park
545 Providence Rd., Ste. B, 704-332-1886
Before delivering a dish to customers at Aix en Provence, servers and table runners ask Chef Nicholas Tarnate how they should put the plate on the table. They want to make sure the customer sees the dish at the right angle. Here, first impressions are important.
Owners Patrick Garrivier and Brian St. Clair had talked for months about opening a restaurant with true French countryside fare. They wanted a place with dishes that so closely resembled what's served in France that Garrivier would be transported back to his childhood there. When they found the location for their restaurant in the former Terra space in Myers Park, Garrivier and St. Clair got to work on the interior. They opened Aix en Provence, named after the Provençal town, on December 28, 2015, hoping to please the regulars from Terra who came to check out the new place.
"We needed to make sure when people gave us their first shot, that we did very well the first time—because that's usually all you get," St. Clair says.
They had no money for advertising, but they made sure they had the proper glassware for wine, gave complimentary champagne to people celebrating birthdays or anniversaries, brought bowls of water to diners who ordered the mussels so that they could clean their fingers, and ensured the plate was placed in the right direction on the table.
The owners couldn't afford a large public relations firm like some of the restaurants where Garrivier has worked in his career, such as famed chef Daniel Boulud's Daniel in New York. So they made a good first impression. Guests came back with friends, who told more friends. That word of mouth has been their advertising. Many Charlotteans who don't live in Myers Park haven't yet heard of Aix en Provence, but the word is slowly spreading.
"Obviously, those big restaurants, big companies, or big places have the budget for it," Garrivier says. "We opened this, we did everything with our bare hands in here. We didn't have any contractors or anyone coming in here. We did everything ourselves, because money's tight and you had to make it work."
They chose a menu with a few ingredients cooked consistently, winning guests over with simplicity yet depth of flavor. Dishes such as the duck cassoulet are rich and tender and, to those who have had the dish in France, capable of transporting you into a memory. Garrivier grew up eating these dishes, and if they don't remind him of the place he grew up, they don't leave the kitchen.
Garrivier, St. Clair, and Tarnate have made their first impression again and again in their first year. And now, as they celebrate their one-year anniversary, they're looking to continue introducing their customers to flavors different to them, but familiar to Garrivier—dishes such as paella with frog's legs or preparations of tripe, cow offal that's a canvas for flavor.
"We're not opening now—now we have to exceed what we've done in this one year that we've been open, going forward," Tarnate says. "That can be stressful, scary.
You've got to up what you just threw out there; you've gotta slow down and look at that, and reflect on what you've done that year: what worked, what didn't work, what you can improve on, and be honest about that. And then that's how you go forward." —Kristen Wile
---
SouthPark
720 Governor Morrison St., Ste. 120, 704-365-7130
Yafo Kitchen's flavorful cuisine drew crowds immediately upon opening in SouthPark in June. The fast-casual concept creates lots of flavor with a handful of carefully selected ingredients used throughout the menu. Executive Chef Shai Fargian went through great pains to source these from Israel; a simple sniff test makes it clear that his efforts were not in vain. Here are some key ingredients:
AMBA POWDER
This pungent and tangy spice blend is the key ingredient for Yafo's sabich, a pita stuffed with fried eggplant and hard-boiled eggs. Made from pickled mango, fenugreek, turmeric, and yellow curry powder, it is also often served on shawarma and falafel.
CUMIN
Yafo's ground cumin looks, smells, and tastes different than any kind you'll find at the store, and Fargian will not use anything else for his hummus. The ancient spice has a culinary history of at least 4,000 years and is in a host of Yafo's dishes, right down to the slaw.
TAHINI
"Tahini in Israel is like ketchup here," says Fargian, who worked for seven months to source the specific brand he wanted for his hummus and other dishes, such as the roasted cauliflower. The superior quality of the sesame seeds, which come from Ethiopia, makes all the difference in this tahini, which is good enough to eat from a spoon.
BAHARAT
This intoxicating seasoning blend, whose Arabic name translates simply to "spices," is a Middle Eastern staple made from spices such as cinnamon, allspice, and cardamom. Fargian compares it to Chinese five spice and uses it in his ground beef with pine nuts.
SUMAC
Sour and slightly earthy, this spice gives Yafo's sumac onions their addictive flavor; the restaurant goes through 25 pounds of them daily. The garnet-colored spice is made from ground-up berries of the sumac bush and is essential to Yafo's kitchen—Fargian once had it shipped overnight to avoid running out. —Cat Carter
---
Uptown
100 W. Trade St., 704-353-6005
A bright, open kitchen, family-style dishes, and a laid-back vibe draw hotel guests and locals to this restaurant in the Marriott City Center. The menu includes Southern-influenced dishes such as a pork shank and pimento cheese, along with international flavors. —K.W.
---
South Charlotte
10620 Providence Rd., Ste. A,
704-846-8909
Grant Arons knows his pizza. He opened his first pizzeria, an American-style place named Farley's now with three locations, about 10 years ago in Mineral Springs. This past summer, he opened a pizzeria that serves traditional, Naples-style pies, called Inizio Pizza Napoletana. You can taste the difference in the Italian and American styles, but do you know why? Here's what makes Inizio's pies stand out.
The Dough: Arons makes Inizio's dough almost exactly like what you'd find in Naples. He sources fine-ground, Italian 00 flour. (American flour, he explains, consists of grains that have been deconstructed, then put back together as desired.) Arons even uses bottled water from Italy to get the right mineral content. The rest of the dough is simply yeast and salt; American fast-food joints tend to add sugars and oils. At Inizio, dough ferments for three days, then is brought to room temperature before heading into the oven. The result is a moist dough that even some gluten-sensitive guests say they can enjoy.
The Cooking Process: The oven at Inizio is made out of volcanic ash to retain heat and heated by burning oak wood that's been dried out, so it burns hotter. Pizzas cook in 90 seconds at about 1,000 degrees in this oven, and the last few seconds, the pizza is "domed," or lifted to the top of the oven, where the heat flows, to get a final, extra roasting. The fast cook time helps keep the dough moist, compared to a takeout pizza, which is often cooked on a conveyor-belt oven or gas-powered oven for up to 10 minutes at around 500 degrees. The result? A tougher dough.
The Sauce: On top of your pizza at Inizio, you'll find a sauce made of tomatoes and not much else. That's because Arons gets his 'maters from San Marzano sul Sarno, a small town near Naples, Italy, where the red veg is sweeter and brighter. The sauce is seasoned with a little bit of sea salt. (Typical American pies include sauces made of oils, sugar, and lots of seasoning.)
The Toppings: There's mozzarella, percorino, and buffalo mozzarella—cheese from water buffalo, also imported from Italy—on many of the pizzas at Inizio. The pizza places on every corner of Everytown, USA, generally use only a shredded mozzarella. At Inizio, a little extra virgin olive oil—also from Italy, of course—is drizzled on top of the pie before it goes into the oven. —K.W.
---
South End
1520 South Blvd., Ste. 130,
980-207-0991
Rai Lay brings classic Thai dishes into a trendy dining room that's fit for the young South End crowd. Expect friendly service, a hip vibe, and hearty servings of entrées inspired from various regions of Thailand. See where the menu's most popular dishes come from using the map to the right. —K.W.
---
Uptown
129 E. 5th St., 704-412-2616
There are nine of us perched on high, metal chairs against the blond wood bar. Light glints off watches and a few wedding bands. We're in our 30s and 40s, most of us in suit jackets or fleece pullovers. All of us gulp pints of craft beer—except the one guy holding a can of Bud Light.
Our shirts are tucked in, but not perfectly. We look gently worn, but not ragged. We survived the day; it was fine.
This is the scene on a Wednesday evening at Sea Level, the uptown seafood spot that, since opening last February, has grown into a favorite happy hour stop for the mature bro.
It's not a shots-of-Jaegermeister kind of place. The guys sitting around me aren't high-fiving each other. They're not hovering over the group of beautiful women a couple of tables away. No, the mature bros are here for one reason: dollar oysters.
The happy hour special—fresh, salty bivalves from Sea Level, North Carolina, for a buck apiece—is the palate cleanser we all need after a long day. Or any day, for that matter. (And, even though the restaurant is popular with the bros, it's also well-appointed as a first date spot.)
Some of the guys at the opposite end strike up a conversation about football, gesturing emphatically toward the flat-screen behind the bar. Bud Light dude chugs away. I look down in front of me, at the metal pan filled with ice and a half-dozen empty oyster shells, the bottle of hot sauce, the saltine crackers. I motion for the bartender.
"What the hell, I'll do six more," I say. "And another Jam Session."
The bro on the stool next to me nods, barely turning his attention away from the TV.
"Attaboy." —Adam Rhew
---
7. O-Ku
South End
2000 South Blvd., Ste. 150, 704-594-1922
---
Ayrsley
2130 Ayrsley Town Blvd., 980-201-9839
You're here 38 minutes before Saturday brunch closes, one of four tables with people still eating at the 11-table diner, thanking your lucky stars you didn't get out of bed 38 minutes later than you did.
Sitting down at one of the tables in one of the classic, metallic diner chairs, you look to your right at the half-empty bottle of Texas Pete hot sauce, sticky-handled bottle of Log Cabin syrup, and tricolored cadre of sweeteners. You take comfort in the memories of every other Anywhere Diner you've been in your life. You know the spots—the ones with the paper napkins folded lengthwise with a metal fork and knife placed on top and a coffee cup turned upside down, waiting for you.
Just when you think you've figured this place out, just when you've labeled it Just Another Diner, 23 minutes until brunch closes for the day, a bespectacled server with long, brown hair yells to the open-window kitchen that he needs an order of egg whites and tempeh.
No, this isn't just some other diner. This place has something extra.
"Pancakes are gonna be pancakes; waffles are gonna be waffles," Gregory Collier Jr., owner and cook of the café @Dawn, says after brunch closes that Saturday afternoon. "The simple stuff that you can get at every breakfast place around the world? We're gonna make that the best. But that different stuff? … A lot of people only eat what they recognize. You never ate a butternut squash before, but you'll eat it if I put it in a pancake."
That mentality of pushing the culinary envelope while also being the best at what diners recognize is what has propelled @Dawn, which opened in April 2016, to success.
Above the café's open kitchen, above where diners can usually see the 6-foot-4, 300-pound Collier in the kitchen with his University of Tennessee Volunteers hat whisking and whipping away, specials are scrawled weekly in pastel-colored chalk. These specials aren't bacon and eggs. Instead, they're dishes such as a bacon, cheddar, and sausage quiche and a vegan grain bowl made with wild rice, butternut squash, and a watermelon hot sauce.
And that tempeh? That's not a special on the menu. Those fermented soybean cakes are a staple.
"People who want tempeh, they come in here and look for a vegan option and they say, 'Oh, shit, y'all got tempeh, lemme get that instead!'" Collier says, laughing.
Collier wants his little café, which sells only about a pound of tempeh a week, to offer something for everyone. Vegans have that sandwich; gluten-free diners can order a plate of oat-based pancakes; carnivores who want @Dawn's chicken and waffles, well, they can get that too.
"You can get bacon everyf***ingwhere," Subrina Collier, Greg's wife and co-owner of @Dawn, says. "It's all about opening their minds and their palates."
The diner, located in a corner of the sprawling Ayrsley Town Boulevard shopping plaza, is the second incarnation of a breakfast restaurant for the husband-and-wife duo.
The Colliers opened The Yolk in Rock Hill in March 2012, with the help of a $20,000 loan from Subrina's father.
They took the money and rented out an old diner in the Charlotte suburb for $1,200 a month. The Yolk's beginnings were rough, Subrina remembers. The restaurant didn't even have a soda machine, so they sold cans the first five months.
"When we got there, I thought I was in the Twilight Zone," Subrina, who had just moved to the area from Arizona, says. They started out serving typical breakfast fare.
Then, Greg began rolling out specials he said the city had never seen before: tiramisu pancakes, for example.
Quickly, people started to know The Yolk, to know Greg and Subrina. Four years later, the pair expanded to open @Dawn, and it doesn't look like this diner is going anywhere.
A half hour after this diner closed following Saturday brunch, a man walks in, having ignored the closed sign on the door, and asks what's cooking today.
A take-out menu is all that's left. —Jared Misner
---
Plaza Midwood
1205 Thomas Ave., 980-498-6576
When you buy the building that used to be The Penguin, Plaza Midwood's beloved diner, you'll feel some pressure. For all its flaws—the controversial changes in ownership, the declining quality of food, the cracked and creaking barstools—we still loved the place. Alesha Sin Vanata knew this when she put in a bid for the shuttered restaurant.
In early 2015, she beat out a Five Guys and Firehouse Subs for the space. She hoped the neighborhood would support another locally owned restaurant. She left the old Penguin sign up, despite the fact that people still come in seeking fried pickles after watching a rerun of the 2007 episode of Diners, Drive-Ins, and Dives. She gutted the dingy diner and replaced its old booths with a bright, high-energy, hip spot called Comida. It was her dream concept: a restaurant that combined the local food movement and Latin American flavors.
The masa at Comida is certified organic, non-GMO, and from an heirloom Mexican corn. The shrimp comes from the Carolina coast; the beef is grass-fed from Georgia. But when this place with "contemporary Mexican fare" opened this past March, people were shocked by the prices. If The Penguin was Plaza Midwood's past, Comida is its future—and the neighborhood wasn't quite ready for it. Whether they'd eaten there or not, Plaza Midwood residents took to social media and turned on Comida.
"Everyone wanted it to be cheap and inexpensive and all those things, which I can understand for nostalgia's sake," Vanata says. "The numbers don't work. We weren't gifted this space. It's not about greed; it's really just about staying open."
Vanata has tried to better define the restaurant since opening. She took tacos off the printed menu—you can still order them off-menu—because guests were ordering only what they could picture on a plate, and that was the tacos. The new menu helps organize the often-unfamiliar dishes; it's split into dips, snacks, small plates, and big plates. Diners are getting more adventurous and starting to understand the appeal of the place. It's been a slow education, but Vanata saw the same thing happen with littleSpoon, her first restaurant, in Myers Park: criticism, followed by a small, loyal group of customers growing into a large one. That's helped her stay patient with Comida.
"This is the concept I'm ultimately passionate about," she says. "It's my pet project, my pet cuisine, my baby—it's something I love. And so I'm willing to put in everything we need to. And the city will catch on."
She's expanded the wine list so guests who aren't into the restaurant's stellar tequila and mezcal collection (present company included) can order wine instead. Customers now expect an experience they can get only here. Without tacos on the menu, it's hard to compare Comida to Three Amigos or Sabor; it falls more naturally in conversations about Good Food on Montford or Soul.
Vanata points to Sean Brock's redefining Southern cuisine from fried and fattening to flavorful. She believes this push is happening to other cuisines, too—including Mexican.
"It's going to get better," she says. "It will always get better, because we believe in it too much. And here's the thing—if the food were awful, we would reexamine. I ate here four nights last week and had no problems doing it, and there was always something different and I was never tired of the flavors. So it just, I think, takes time to build trust."
Comida may be far from full many nights, but it's pulling the culinary scene in Charlotte forward. It would be considered an innovative restaurant even in larger cities. We may not be ready for it yet, for dishes that we can't translate, but without restaurants such as this, we'll never be ready.
"That's what we're trying to do, right? As young people, aren't we supposed to influence the city we're in, and try to press for progress?" the 38-year-old Vanata says. "Why else would we do any of this, honestly, if we didn't want to make our mark or leave a stamp or try to help shape this growing city?" —K.W.
---
SouthPark
4331 Barclay Downs Dr., 704-377-7686
With a sprawling patio outside and a large, U-shaped bar inside, the newest iteration of Reid's Fine Foods is a packed happy hour and brunch spot, but guests fill the restaurant during most meal times. Charlotte's longtime local grocer in Myers Park goes a bit more formal in its new SouthPark space, which has less familiar charm than the original. It makes up for that with stylish green accents, coffered ceilings, and broader menus, from both behind the bar and in the kitchen. —K.W.
---
Dilworth
1608 East Blvd., 704-208-4148
GIORGIOS BAKATSIAS opened Kid Cashew last February, six years after opening Georges Brasserie, his first restaurant here. The Durham-based restauranteur sat down with Charlotte magazine recently in the homey dining room of Kid Cashew in Dilworth, rosemary tucked into his suit jacket, to discuss his transition from a child of Greek immigrants cleaning tables at their diner, to owner of more than a dozen restaurants. —As told to Kristen Wile. Edited for space and clarity.
WHEN I CAME to this neighborhood, I fell in love—I see people walking, exercising, running, jogging, walking the dog. I think the community attracted me, and this neighborhood attracted me. In every way, you want to be able to provide something—can you offer the community something they may not have?
(KID CASHEW) became this Mediterranean-inspired, neighborhood bistro where the guest can feel comfortable, whether they want to eat the salad, a simple roast chicken, or they want to eat fish, but mostly constructed in a sense as if it's an extension of your house. You live down the street, you come here, you order two plates, and you share it. It's definitely a shared experience and something I grew up with, growing up in Greece.
LIVING IN the (Karitsa) village in Greece, whatever we grew, we ate. There was no grocery shop. You had to become one with the land, one with the environment of the village. You cultivated everything you ate. That was a gift for me, as I reflect, and a moment of time we all have to be grateful for, where we've been and where we're at.
MY FATHER CAME to this country before I was born, in '51. I was born years later. Every two or three years, he would try to get back to see his family and come back. It was an amazing commitment to family. My mother and my sister and me, I was the baby, we stayed with my grandfather in the village because that was all we knew all our life. The village was security. We had food, we had everything we needed. My father brought my oldest brother, Johnny, and then my other brother, Terry (with him to America). After 25 or so years, myself, mother, and sister came last. I was nine years old.
WHEN I FIRST CAME, I came to Burlington, North Carolina. My father and my brother had a sandwich shop there. We lived upstairs in two rooms, and we worked downstairs. It was that European mentality, where you have this diner. Fantastic restaurant. I was thrilled to come to America.
I LOVED WORKING. I did dishes. The first thing I did was wash dishes. You get into a zone, nobody's telling you what to do, you've got to be very good, otherwise you get buried with dishes. I would clean the booths with the jukeboxes. People would drop their coins. When I was cleaning, I would find coins. I was good at saving money. I would also clean the stainless steel. Diners have great stainless steel.
IT LEFT A GOOD MEMORY. After that, I never worked for anyone other than myself. I think the art of working, and the joy of working, has never been questioned in my life. It's always been something that excites you, ignites you.
I WAS EXCITED and fearless at 21. Of course, not having enough wisdom is good sometimes and not knowing your limitations is always good. I found a little hamburger/hot dog place in Durham, not far from downtown, and of course, at that time Durham was not the food culture it is today. I wanted to do a fine dining restaurant. My first restaurant, Bakatsias Cuisine, was only 30 seats, but I wanted to do extremely fine dining, even more elevated than today, which means a lot table-side, from steak Diane to chateaubriand.
THAT HAD A LOT of stories, but for me, opening the first restaurant was not because I had knowledge, or not because I had experience. I talked to a banker about 30 times and finally convinced him to give 35-, 40-thousand dollars. Then you try to open the restaurant the first day or second day, and you realize that you're still short of money and, how do you pay for the food that's coming in? You go through the experiences. You forget at some point, but at the moment you're living them. Answers come because your intention is to do something of excellence. It's something that will serve a community well. It will serve your profession, your enlightenment, your path to what you love doing.
AFTER CREATING SUCH a fine dining experience over 14 years, I wanted to do more relaxed concepts. I started at that time hip concepts with great food but not so stuffy. I enjoyed that. It was almost like a cycle for me. I grew up in this village, we ate off of what we were growing. Then all of a sudden, what did I do? I went to Paris and got this high-end experience of fine dining. Slowly, I had the desire of, how can I bring high-quality ingredients in a fun environment and create cafes, great bistros, great concepts that the tuxedo and the jean can sit together and have fun? It was a challenge but a great opportunity, and it worked.
I THINK CHARLOTTE is such a vast community that's open to a lot more opportunity. I would like to do more concepts here. I'm open for next year to entertain the idea of other concepts in coming time—maybe doing authentic Greek, maybe do something more with seafood. I like doing a lot with seafood and vegetables and salads. Sometimes, you have to listen well to what the community may like or may need more than they have. Of course, the demand is high in this community, so you have to choose wisely.
---
Matthews
3335 Siskey Pkwy., Ste. 400, 704-708-4137
---
Plaza Midwood
1300 Central Ave., 980-585-4148
Before Moo & Brew opened in May, co-owner Zach Current would stop people in the neighborhood and ask them what they liked to eat and drink. Over and over, they started with some version of, "I'm a simple person, so …" That became the foundation for Moo & Brew, a place for burgers and beer and no BS. The menu is one page, with 10 restaurant-created burgers on the front, and instructions for building your own burger on the back. The beer list is dozens deep, the patio is big, the interior is crisp and clean, and everybody's in T-shirts. Sorry, what else do you need? —Michael Graff
---
Mooresville
130 Landings Dr., Ste. 103, 980-444-2995
Our main gripe with Block & Grinder in Cotswold, with its butcher counter, restaurant, and bar packed into a small space, is that the room is too tight. We don't have that complaint in the new Langtree location, which has multiple dining areas spread over 6,300 square feet of space, a massive bar with a well-stocked bourbon collection, and butcher counter filled with meats, cheeses, and charcuterie. Our favorite addition, though, is in the kitchen: Jossie Perlmutter, formerly pastry chef at The Asbury. Pictured is one of Perlmutter's creations. —K.W.
---
Uptown
100 W. Trade St., 704-353-6003
Marriott's uptown experiment is more than just an on-trend coffee shop; it's also a good place for grab-and-go fare, from locally baked goods to an assortment of snacks and drinks. Monday through Friday, the shop offers a daily sandwich to busy workers who have grown weary of limp deli slices on tired bread. Past offerings of these sturdy, two-fisted specials include a pickle-brined fried chicken with slaw and a sliced rib eye with mushrooms and horseradish aioli. —C.C.
---
Dilworth
1235 East Blvd., Ste. 1, 704-602-2133
Oenophiles must feel the same way here as bookworms do in libraries. Shelves of bottles run from the wood floor toward the ceiling. You hover in front of a varietal, looking at the labels like they're the covers to a Choose Your Own Adventure novel. You make a selection, and the world unfolds in front of you. Or, if it's happy hour on a weekday, the world disappears as you pour, swirl, and sip. Don't get so lost, though, that you miss the menu of small bites that pair well with your wine, including crispy flatbreads and a solid cheese and charcuterie plate. —A.R.
---
Belmont
36 N. Main St., Belmont, 704-396-7169
Just as I shove an entire extra-large, crispy onion ring in my mouth, the band at Nellie's Southern Kitchen starts playing and I hear a voice I recognize.
No, it's not a Jonas Brothers reunion show, but given that the restaurant is owned by Kevin Jonas Sr., the father of the heartthrob musicians who grew up in this town, that isn't a long shot. Instead, I look up, fingers still coated in grease, and see my server, Jake, gripping a microphone on stage, apron and all, as he sings the country hit "Buy Me A Boat" by Chris Janson.
Nellie's Southern Kitchen, which opened last June, has a rooftop seating area with TVs for watching sports; modern accent pieces, including half a dozen white dove chandeliers; craft cocktails; and even some Jonas family paraphernalia in the back hallway. Although the décor is trendy, the food steers toward the timeless, giving diners Southern classics—chicken 'n' dumplings, pulled pork, collard greens, shrimp and grits—without sacrificing the cool vibe.
The pork chops are grilled and topped with a pecan and pumpkin seed crust, and the applesauce is fresh and chunky, with pieces of sweet apples still lingering. Nellie's theme of modern Southern food is evident in the "drunken" collard greens, doused in beer, homemade hot sauce, and bacon.
Everything on the menu is made in-house and nothing is ever frozen. Part of the commitment to quality comes from the restaurant's namesake, Nellie Jonas. Nellie, the owner's grandmother, lived in Belmont until her death in 2011. When the Jonas family decided to open the restaurant, they wanted to incorporate her love of hospitality—and the ideal biscuit—for the community.
Nellie's is open for lunch and dinner seven days a week, has a carry-out menu that includes biscuit sandwiches and pastries, and offers space for private events free of charge. Not to mention, it's a family-oriented yet hip atmosphere where my server not only dishes up soulful food, but also some killer pipes. —Emma Way
---
West Charlotte
5301 Wilkinson Blvd., 980-636-1000
After Andrew King's grandmother, Lucy Pearl, passed away in 1996 and the grief began to wear off, he panicked. He spent much of his life relishing her creamy mac n' cheese and scraping chocolate cake icing off his empty dessert plate, but he never thought to get her recipes. He called relatives, but all said the same thing: "She never wrote anything down."
Even without a paper trail, King was determined to recreate these dishes. So he hit pause on his horticulture career and decided to spend a few weeks in Mississippi, shadowing his aunts, to salvage his grandma Lucy's food legacy. Six weeks later, King walked away with dozens of recipes and a new passion for cooking that he transformed into his own catering company, High Cotton Catering. The slogan? "Come taste the memories."
Now, King is the director of food services for Goodwill Industries of the Southern Piedmont and, along with his team, manages its new restaurant. Community Table Bistro, an affordable, Southern-style food option in West Charlotte on Wilkinson Boulevard, highlights much of the food his grandma cooked up for him as a child.
The Community Table Bistro is located in the Leon Levine Opportunity Center on the Goodwill Opportunity Campus. The campus also houses a boutique called "GW," a Goodwill outlet store, a health clinic, and a job resource center. The bistro opened in late June, with the additional hope of bringing strangers from different walks of life together with unhurried conversations over a home-style meal. The restaurant is affordable to everyone; prices range from 99 cents to $7.99.
All the furniture within the nearly 5,000-square-foot restaurant is donated, with the exception of two large, wooden tables that were commissioned and made from recycled flooring. On any given weekday, the two tables are full, with executives taking their lunch break or shoppers giving their feet a rest over a cup of coffee, or Charlotteans grabbing a snack after seeking assistance through one of Goodwill's many resources. "It's at these tables that conversations happen organically," King says.
He admits that a meal at Community Table Bistro is not the healthiest meal in town, although its bistro salad, with a honey poppy seed vinaigrette, is a must-try. The goal is to provide a balance. For too many West Charlotte residents, fast food is their only option, either because of accessibility or affordability, he says. While King's recipes don't necessarily shy away from butter (churned in-house), all meals come with a vegetable side and incorporate fresh ingredients so diners know what they're eating—a rarity in West Charlotte's food desert.
Community Table Bistro also tries to source ingredients from local suppliers who support Goodwill's mission. King tells me that's why selling Enderly Coffee—specifically, a custom blend of "Coffee Flavored Coffee," made by local news television personality Jon Wilson—was such a great fit for the restaurant. The brand is committed to creating sustainable community development in Enderly Park and Charlotte as a whole through its partnership with QC Family Tree.
There's a daily meal on special, from meat loaf on Wednesdays to chicken pot pie on Fridays, and it always includes veggies and two additional sides. Alternatively, diners can order a la carte, with dishes such as a peanut butter and homemade jelly sandwich for $1.49 or a grilled cheese sandwich for $1.99. With Goodwill's nonprofit status, the bistro is feasible because of proceeds from sales at the 24 Goodwill retail stores across the Southern Piedmont region, as well as the bistro, its in-house catering program, and event spaces.
While King is responsible for most of the recipes, Chef Patty Greene, who came to Community Table Bistro from Bistro La Bon in Plaza Midwood, leads the day-to-day cooking. Community Table has a staff of about 15—20 if you include the catering side of the business.
Community Table Bistro not only creates opportunities nutritionally with fresh, digestible ingredients at a low cost, it also creates opportunities for personal development with its soon-to-launch training program for those with cognitive and physical challenges. King says, "As a Charlotte native, it's my responsibility to give back to my community."
As I sat with King, chatting in between bites of chocolate cake, lemon meringue pie, and banana pudding (yes, you heard me correctly; I ate three deserts), he told me about countless conversations he's had at the bistro. The feedback King says he hears the most is that the food feels like it was cooked with love. "And it was," he says. —E.W.
---
19. Pasta & Provisions
Madison Park
4700 Park Rd., 980-938-6433
Take a busy road and add meatballs and marinara, and people in Charlotte will stop. They've stopped for nearly a quarter-century to pick up ingredients for home-cooked Italian meals at Pasta & Provisions on Providence Road, and since last winter, they've been stopping at the George family's new shop on Park Road. The dine-in menu here includes pastas, 10-inch pizzas, and sandwiches as good as anywhere else in the city. Those beef and pork meatballs you've loved since the first shop opened in 1992? They'll cook them for you, then drop about eight of them in a Jersey roll, and layer on pomodoro sauce and provolone cheese. Or go for the Philly cheesesteak, with beef that's been marinating for two days. Then order a glass of wine or a craft beer on tap, take a spot on the patio, and forget about going home for a bit. —M.G.
---
South End
4004 South Blvd., Ste. E, 980-207-0508
I'd seen the words "MOCCO BISTRO" shining through the fumes of cars passing down South Boulevard near its intersection with Old Pineville Road. The small storefront with big "café" banners along the sidewalk was inviting, despite its location next to a car parts store and vitamin shop.
The restaurant had been open almost a full year before I parked my car in the noisy parking lot and went inside, past the smell of cigarette smoke lingering. I had recently returned from a trip to Greece, and was still struggling with post-vacation, back-to-reality depression.
Walking into Mocco Bistro was like stepping into a scrapbook of our trip. I ordered a hot pie with spinach and feta and an espresso freddo, a shot of espresso shaken vigorously over ice until it is foamy. A bite of the hot pie, the salty cheese and tender spinach wrapped in layers of flaky pastry, brought me back to the narrow streets of Athens, with its blue skies and ancient wisdom—the home of the gods. Photos of the Greek Islands on the wall resembled the views from cafés in Santorini, and for a second, I could pretend they weren't photos but windows, my view of the Aegean Sea.
Vacation was over, but a piece of it was still here, in Charlotte, and I made my way to this place just at the right time. The gods were on my side. —K.W.
---
Plaza Midwood
2903 Central Ave., Ste. C, 980-349-4015
Behind the glass cafeteria counter at Soul Central, there are the Southern basics: mashed potatoes, black-eyed peas, fried chicken. But look just to the left and you'll see a small Trinidadian flag hanging. It's this Caribbean pride that sets Chef David Ragoonath's soul food apart.
When Ragoonath moved from Trinidad to the United States in 1989, he started his career as a chef in New York City. He moved to Charlotte 10 years ago, taking a job as a cook at Lola's On Brevard, an uptown meat-and-three spot. Since then, his soul food cooking has expanded to incorporate pieces from home—such as his spicy and sweet mango-based hot sauce—while keeping the food true to the South.
"Folks come in and look at me. They're skeptical at first," Ragoonath jokes. "But then I let them try my collard greens and mac n' cheese."
He and his business partner, Joe Mahaboob, opened the restaurant in late August in the strip mall space that housed Ajbani Moroccan Cuisine. (Ajbani's owners plan to move the restaurant to a larger space with a sit-down dining room.)
All meals at Soul Central come with a choice of meat, two sides, corn bread, and tea. I choose the jerk chicken, Ragoonath's personal favorite. It's juicy and coated in a mild yet flavorful jerk barbecue sauce and pulls apart effortlessly even with a plastic fork.
When food has this much soul, any skeptic becomes a regular. —E.W.
---
Uptown
204 N. Tryon St., 704-333-3747
Uptown is getting cooler, thanks to an influx of restaurants such as this one. 204 North's New Southern cuisine is appealing to most, but the place is at its best from the perspective of a barstool. Grab a cocktail and a few bites with a friend, and enjoy the big-city vibe. —K.W.
---
23. CO
Montford Park
4201 Park Rd., Ste. D, 980-237-4655
CO Charlotte, one of four locations in the Southeast, is part of Park Road Shopping Center's recent revival. The Asian-influenced dishes may not always be a true representation of the cuisines that inspired them, but the service is friendly and the ambiance is what you'd expect from a Charleston-bred restaurant. —K.W.
---
SouthPark
5110 Park Rd., Ste. 1G, 704-527-3868
Will this restaurant finally settle the best-pho-in-Charlotte debate? Probably not, but we can likely at least agree that this interior beats most pho joints, and the place has a patio to boot. The service is as bright and welcoming as the interior, and staff shirts that read "What da pho?" put guests new to Vietnamese cuisine at ease. The rich noodle soup is why you come, though, so the right question to ask may simply be, what pho? —K.W.
---
Montford Park
1600 E. Woodlawn Rd., Ste. 150, 980-256-4380
There's been a hole in Charlotte for restaurants that serve comforting, healthy food at moderate prices with good service. Hibiscus, which Roger and Robert Kongham, the sons of Thai Taste's owners, opened quietly at Park and Woodlawn earlier this year, helps fill that void. The restaurant's creamy curries, Thai classics, and sushi make this a destination for nights when you're too tired to cook and your eyes are too heavy to stay out long. —K.W.