25 Unexpected Places and Things to Discover in Charlotte
Welcome to our first-ever Great Fall Scavenger Hunt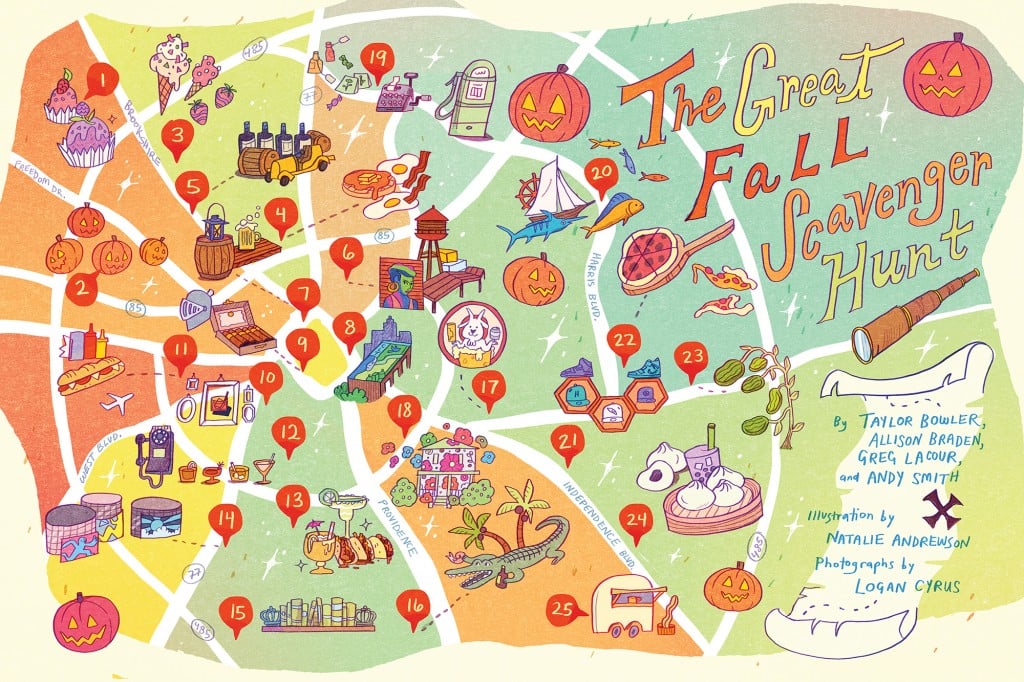 SOME EXIST IN PLAIN SIGHT: inside a shopping plaza off of a busy thoroughfare or nestled between uptown towers. Others operate on Charlotte's rural edges, sites not yet claimed for billion-dollar projects. Over the past year, we've searched for businesses and landmarks that hide in the city's shadows; many have humble flocks of dedicated patrons they've nurtured for decades. Twenty-five of them—speakeasies, general stores, murals, sneaker shops—make up Charlotte magazine's first-ever Great Fall Scavenger Hunt. They demonstrate that our seemingly sedate city is dotted with surprises. You just have to know where to look.
Stop by the Uptown Farmers Market on a Saturday morning and discover just how beautiful a cup of tea can be. These sugar-encased tea bombs dissolve in hot water to release food-grade flowers, a premium teabag, and edible glitter. Get a lavender-lotus or jasmine-rose bomb to go, or enjoy the tea hot or iced as you shop for local produce and baked goods. @southern_tea_blooms
---
2. Find One of @paper.paste's Jack Pumpkinhead Pasteups
An enigmatic artist, known monikers being Paper & Paste or Oz, has been putting up wheatpaste prints of L. Frank Baum characters for the past decade. He most often depicts Jack Pumpkinhead, the Land of Oz character appearing on buildings in NoDa, uptown, and Plaza Midwood. We haven't seen a new one in a while, so we checked in via Instagram. Oz confirmed that he's been on hiatus, but he looks forward to putting up new work this fall—thankfully for us, just in time for our first-ever scavenger hunt. @paper.paste
---
3. Experience a Stuf'd Waffle Cone via Kupkake Kouture
Mobile bakeries with no-contact delivery were the answer to our sugar cravings during the pandemic. Many advertised seasonal specials, gift boxes, and cookie kits on their social media pages to grow their business. With more than 1,000 followers, Kupkake Kouture has a modest but loyal following, thanks to owner and head baker Shannon King (who also has a day job at a tech company). Place an order for Dessert Eggrolls, Apple Kobbler, Cheesekake Stuf'd Apples, Strawberry Kakesicles, Banana Pudding Kups, or her signature treat, the Stuf'd Waffle Cone. This cupcake-ice cream cone hybrid is an edible masterpiece. She'll meet you to do the handoff or deliver the goods right to your door. Each order comes wrapped in a bow with a thank-you note from "Lady Kouture." Find her @kupkakekoutureclt, and catch her if you can.
---
4. Order a Breakfast Platter at Circle G
OK, the skyline emblazoned on Circle G's Styrofoam cups is outdated by a few decades. But that's part of its charm: At 66 years old, the joint and its scrumptious breakfast bites are older than most of uptown. Towers rise and fall in Charlotte, but Circle G's Ribeye Steak and Eggs endure generations of change. Likewise, the slogan on that same cup is evergreen: "Country Cookin' in the City!" 4818 Rozzelles Ferry Road, 704-399-2931
---
Frank Ratcliffe was a bootlegger during Prohibition who later ran a nightclub, the Friendly City Club (later renamed the Flamingo Club), on West Sixth Street uptown, now the site of Discovery Place. Ratcliffe died in 1977, but he always said North Carolina one day would allow small-business owners to distill and sell their own liquor. The day came, and Seven Jars (named after spirit-filled vessels he'd buried under a family-owned golf course) opened in 2014 in a plain-Jane business park 6 miles northwest of uptown. The four owners are all family—a son, daughter, son-in-law, and grandson of Ratcliffe and his wife, Velma, who died in 2013—and they use the distillery as a vehicle to tell the family story, usually in a small presentation room they've set up near where they make Seven Jars whiskey, wine, beer, vodka, and rum. 6148 Brookshire Blvd., Ste. A, 704-919-0278
---
6. Find the Secret Illuminations on Camp North End's Dorothy Counts Mural
Camp North End has a trove of public art from local and international talent, including Fayetteville-born, Atlanta-based painter Fabian Williams. At the site's Boileryard, you'll find Williams' portrait of a woman who might look familiar to Charlotte history buffs. (Hint: Look at her earring.)
Still not sure? OK, that's Dorothy Counts-Scoggins, known for her famous walk to Harding High School in the mid-'50s, captured in one of the civil rights era's most enduring photographs. The portrait is stunning enough, but Williams also used UV paint to create a secret set of hieroglyphics seen only with black lights. They translate to his name, alongside hers.
300 Camp Road, 980-337-4600
---
Uptown's Brevard Court is known for boisterous watch parties as soccer fans pack its pubs on fall weekends. A quiet, cozier spot is closer than you think: There's a speakeasy-style joint above Belfast Mill called The Cotton Room. Much of the space, from its wooden floors and rafters to its brick walls, is original to the century-old structure. One tidbit to drop over a drink: The Cotton Room's name comes from the courtyard's former life as an open-air cotton market. 144 Brevard Court, Ste. B, 704-333-7160
---
8. Look Down at Uptown's New Rooftop Mural
Last year, Vijay Bhojwani of Binaco Real Estate reached out to artist Alex Duncan, aka DUNC, with an unusual challenge: Paint a 5,360-square-foot canvas that won't be seen by a majority of passersby.
Binaco owns a few shorter buildings near its in-progress Binaco Tower in uptown, and Bhojwani wanted DUNC to create a mural on one of those rooftops for the viewing pleasure of tower residents. The result is a collage-like ode to the city, with elements of different artistic styles and techniques. Like DUNC's other work, its symbology is intended to be deciphered over time. An example: the way the bird, moon, sun and numeral 4 form one of Charlotte's area codes when you focus on that corner of the mural. Binaco Tower residents will certainly have more revelations as they observe it over the years. And don't worry if you're not a Binaco resident: Other buildings with a clear view of the mural include Hearst Tower, Bank of America Corporate Center, and The Ivey's Hotel, among others. 123 E. 5th St.
---
Just what is that tiny brick building at the corner of Tryon and Morehead streets? You'll know before you enter. A wave of cigar smoke embraces visitors on the entrance walkway, marked by a statue of a medieval knight. Don't let the guardian fool you, though: Charlotte Cigar Culture's atmosphere is friendly and far more cozy than a suit of armor, as staffers like Joel Wortman patiently explain the contents of the boxes that line the club's walls. A tip: Many of the cigars can be purchased in singles, so create your own sampler pack if you're new to stogies. The joint's drink menu and cushy parlors invite customers to stay a while and crack open one of those singles. 105 E. Morehead St., 704-371-4000
---
10. Try the 'Queen City' at Room 1812
To get inside this speakeasy, you'll first need to make a new friend. The bar Room 1812 is under the restaurant, and to get the password, you'll have to find its private Instagram account and be accepted as a follower. The drinks here are cleverly marked by when they were created, with an abundance of vintage options. Queen City is their Manhattan cocktail, developed in the 1870s as a blend of whiskey, sweet vermouth, and bitters. 1812 South Blvd., 980-237-0391
---
Forget huffing and puffing through the concourse to grab a preflight meal. Grabbing a lunch sub from Niko's Grill is the play. Easily found on the way to Charlotte Douglas International Airport, the counter-service restaurant is typically full of TSA officers, airport staff, and other locals in the know. 4948 Airport Center Parkway, 704-394-6520
---
Charlotte is home to a few speakeasies now, but the one behind the restaurant SouthBound remains the most delightful to enter. First, look at BackStage's latest Instagram post and find the password in the caption. Then enter the Modern Classics Grooming Lounge and head to the mural-filled hallway behind it. This passageway leads to a phone booth, which you'll pick up and answer a staffer who asks, "Password?"
As you enter, you'll notice how the vibe is nothing like that of its sister concept, SouthBound. The neon lights, decor, and rock-star portraits make the spot feel like Hard Rock Café's younger, self-aware cousin. Aside from the robust cocktail program, a favorite feature is the naming system for the private booths. Each is marked with the name of a Charlotte venue no longer open, like The Pterodactyl Club and The Double Door Inn. (Well, except for Amos' Southend, which has its own booth but returned to the scene after BackStage opened.) 2433 South Blvd., 704-705-8447
---
Longtime Charlotteans first knew Maria's Mexican Restaurant as one of several El Cancun locations. In 2008, Maria Sorto, a veteran of local Mexican restaurants, purchased that brand's South Boulevard location and added a few dishes from her native El Salvador to the mix. More recently, the fan favorite is her quesabirria, a quesadilla-taco hybrid that soared in popularity over the past year on TikTok thanks to Charlotte-based influencer Wynee Bermudez. Quesabirria combines melted cheese, birria (tender beef stew slow-cooked for eight hours), and a beef broth for dipping. Sorto, always innovating the menu, offers birria variations that include a burrito, ramen, loaded french fries, and pizza (!). 5234 South Blvd., 704-525-5075
---
14. Find the Business Park Overtaken By Murals
The Talking Walls festival typically adds new paint to neighborhoods around uptown. It switched things up in 2020: Over a single weekend last October, a new roster of artists transformed a business park called ThExchange, off Tyvola Road. The murals, from Killamari, Kathryn Crawford, George F. Baker III, Irisol Gonzalez, Kalin Devone, Kat Sánchez Standfield, Cheeks, and Mario Daniel, are some of the biggest and loudest public artworks in the city. Finding it just takes a bit of work. 5200 77 Center Drive
---
Used bookstores in Charlotte are tragically scarce (R.I.P., The Last Word), but sometimes you need an inexpensive book now. Explore new, used, and unexpected titles at The Book Rack, a fixture in Pineville for 26 years. And if you can't wait to launch into your newest novel, cozy up a couple of doors down at Musashi to enjoy your story with a side of sushi. 10110 Johnston Road,
Ste. 5, 704-544-8006
---
Louisiana-themed restaurants outside the Pelican State are a dicey bet; some haven't grasped that Cajun and Creole cuisines involve more than blackening random food in a skillet and dousing the result in Tabasco. This humble, beloved joint in The Arboretum Shopping Center gets it right with rich roux, crisp fried chicken, NOLA-worthy red beans and rice, and a jambalaya that'd be right at home on the bayou. We opted for the chicken and seafood version, with shrimp, andouille, crawfish, shallots sprinkled on top, and a crescent of mussels, still in their shells, arranged along the edge of the plate. 8036 Providence Road, Ste. 900, 704-752-1750
---
17. Sell Your Soul for a PBR at Bart's Mart
From the outside, Bart's Mart doesn't look like a repository of souls. But step inside this bar and bottle shop, which opened in the Eastway Crossing shopping center during the pandemic, and look up: Certificates taped to the ceiling reveal that plenty of patrons have bartered their eternal souls for a draft PBR (a $3 value). Then look around some more. The decor—graffiti and broken skate decks—makes for a hip hangout, and the bar, lounge area, and indoor and outdoor tables provide plenty of space to enjoy the wines and beers on offer. The shop's friendly service, thoughtful skateboard parking, and mission to support local farm animal rescues should convince you that these souls are in good hands. 3042 Eastway Drive, 980-406-3635
---
18. Find Elizabeth's Flower-Covered Home
Until last May, this boxy, beige two-story home in Elizabeth was easy to miss behind the overgrown trees and shrubs on its narrow lot. The homeowners hired local artist Rosalia Torres-Weiner, whose bold murals have appeared at Camp North End, Eastway, and other neighborhoods, to paint the exterior with a burst of colorful flowers. Along with artists Felicia Sutton and Edith Covarrubias, Torres-Weiner transformed the 1910 home into a community work of art. If you look closely, you'll see a black-and-white hummingbird, a recurring symbol in Torres-Weiner's work, which represents "the wise voices" of our ancestors who guide us. The mural, titled "Nicole's Garden," is now part of Elizabeth's ArtWalk tour, and you can't miss it when you stroll down Eighth Street.
---
No one item could convey the range of products this business sells in its foursquare brick building. It's a general store, after all, retail for farm and railroad workers when it opened in the Croft community in 1908 and much the same in the age of light rail and Apple Pay. Look here: Pitchforks and weed cutters hang from the ceiling. There: bottles of Blenheim Ginger Ale, $10 for a six-pack. Over here: bags of cottonseed meal. Around the corner: 25-ounce bottles of Amish Harvest brand Herbal Tonic ("Sipping Vinegar Blend"). Its formal name is the S.W. & C.S. Davis General Store; Silas Davis, 77, S.W.'s grandson and C.S.'s great-nephew, runs the place, ringing up customers on a century-old cash register that, like so much here, still works. "Hey," Silas yells to a customer foraging for treasure, "you findin' anything you can't do without?" 8940 Old Statesville Road, 704-596-2022
---
20. Satisfy Your Fish Camp Friday Cravings at Harbor Inn Seafood
You'd expect this Doric-columned structure with a broad front porch and seaside-kitsch decor (life preserver and sailboat wall art, seagulls painted on a sky-blue ceiling) to face the Atlantic in a place like Nags Head, not hide in one corner of a business park in University City. But Harbor Inn, which opened in 2004, consistently attracts regulars—especially on Friday nights, the traditional time for North Carolinians to flock to fish camps for inexpensive fried seafood suppers. The lunchtime "everyday special" at Harbor Inn is a platter piled high with baby shrimp, fried tilapia, hush puppies, a stuffed clam, salad or slaw, and a side—all for $9.50. 8805 University East Drive, 704-494-8901
---
21. Shop at a Hip and Hidden Shoe Store: Neckbreakerz
Sneakers have always been popular—they were exempted from World War II rubber rations after widespread protest—but Michael Jordan's historic 1984 Nike endorsement kicked off a modern obsession with athletic shoes. Find a gallery of streetwise styles at Neckbreakerz, which resells pristine sneakers along with apparel from brands like Supreme and The Hundreds. Most sneakerheads keep their investments in the box, safe from scuffs, but if you wear yours, beware: People will whip their heads around so fast to check out your fresh kicks, they just might break their necks. 5301 E. Independence Blvd., 980-498-6574
---
22. Grab a Slice at Why Not Pizza 'Cause Why Not
Here's a tasty take: Some of the best New York-style pizza in Charlotte is found in a shopping plaza on W.T. Harris Boulevard. Why Not Pizza slings gloriously large slices that require a few napkins for grease blotting. The best part of Why Not Pizza's name? It answers that eternal question: "What should we do for dinner tonight?" 7008 E. W.T. Harris Blvd., 704-536-0891
---
23. Pull Over for Pub Grub at Big Al's
Big Al's Pub & Grubberia is where fried pickles count as a vegetable and Tuesday night regulars drink $2.50 Bud Lights at the bar. The self-proclaimed "local gathering place with a ridiculous menu" sits behind the Rite Aid at the corner of Harrisburg and Albemarle roads. Pull over for a heaping basket of wings and a plate of tater tot nachos, or settle in with a meatball sub, barbecue chicken pizza, or mammoth burger with a side of deep-fried mac and cheese. Football and NASCAR paraphernalia clutters the walls, and metal plaques say things like, "Alcohol: Because no good story has ever started with a salad." Don't forget to visit the toy soldier claw machine before you go. 9306 Albemarle Road, 704-567-2333
---
The Chinese buns (baos) at Honey Buns Cafeteria have no social media presence and don't get much buzz among local food writers and bloggers, yet they sell out all. the. time. The in crowd knows: Hit the counter inside the Super G Mart before noon (they open at 10:30 a.m.) to score a Styrofoam box full of warm, airy, tennis ball-sized buns. They come with sweet and savory fillings like Korean pork, BBQ pork, red bean, taro, and custard; eat them with a fork and knife if you like, or just use your hands. Each bun costs between $1 and $3, so it's hard to spend more than $20 if you order a few of each flavor. 7323 E. Independence Blvd., 704-904-4021
---
25. Track Down the Horse Trailer-Turned-Espresso Bar: Wildroots Coffee
Here's a business that's always on the move but worth chasing down. Wildroots Coffee, formerly called Coordinates Coffee, started popping up around Charlotte in 2019. Initially, the buzz focused on its Instagrammable presentation: The mobile espresso bar inhabits a converted horse trailer, and drinks can be served in pouches adorned with messages like "VOTE" and "It Takes a Village." Most importantly, the drinks—like the popular lavender vanilla latte—are as high-quality as the look. In August, owner Jasmine Koch told us she's working on the lineup of fall flavors, so we'll keep our eyes on their social media channels to see where these wild roots spread next. @wildrootscoffee