3 Cold-Weather Recipes to Keep You Warm
Battle the brittle cold with these warm dishes.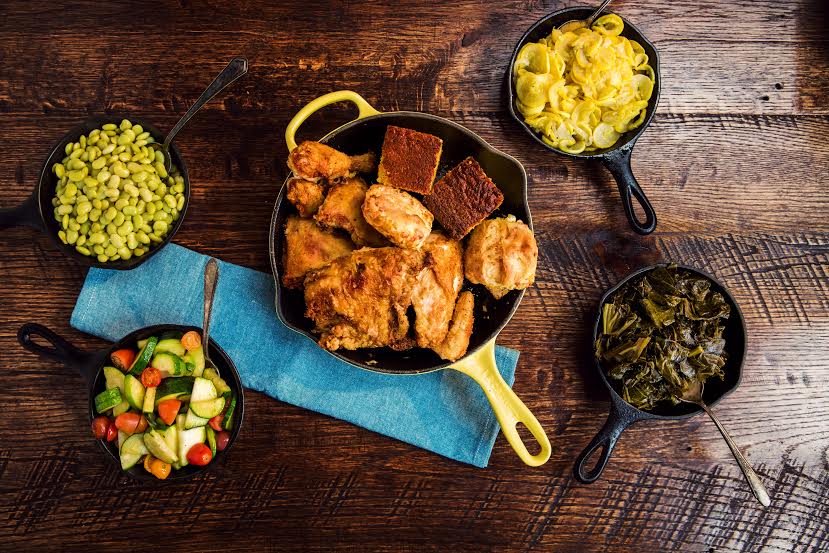 Staying warm is much easier said than done. The lack of one clothing layer can be the difference between a comfortable existence and a quivering, shivering experience.
But clothing isn't the only factor that's important for warmth during the wintertime – especially when you're experiencing a snowstorm that's uncharacteristic for Charlotte. Every little detail – from socks to lunch choice – makes a difference when it comes to warmth.
Yes, what you eat matters.
To combat your cold-weather blues, we asked some of our favorite restaurants for their best recipes to warm the soul. Make one or all three of these concoctions for a freeze-free week.
Stefanie haviv photography
1. Cocoa Rigatoni
Executive Chef/Owner: Trey Wilson
Rigatoni
250 grams flour
250 grams semolina
250 grams water
40 grams coco black onyx powder (Savory Spice)
Directions
Mix in mixer for 7 minutes, adding water slowly to the middle. Let it rest for 1 hour in plastic wrap. Cut in small pieces and put in pasta extruder. Dust in semolina and put it on a sheet tray or let out to dry. Cook for 2 minutes in boiling salt water.
Venison Sausage
2 pounds venison sausage
1 pound pork shoulder
8 ounces pork belly (optional)
6 garlic clove chopped
1 tablespoon 5 spice
2 shallot chopped
1.5 tablespoon salt
2 teaspoon pepper
Directions
Cut up all ingredients, mix it all together, and put through the grinder. Put paddles on mixing bowl and paddle for one minute on low speed. Cook it in pan until it gets nice and golden brown.
Tomato sauce
Chicken stock
Add chanterelle mushrooms
Directions
Sauté mushrooms, then add white wine and chicken stock. Cook down to sauce consistency.
2. Portuguese-Inspired Soup with Kielbasa & Kale
Executive Chef/Owner: Fran Scibelli
Ingredients
1/4 cup canola oil
12 ounces kielbasa (turkey can be substituted), cut into 1/2-inch pieces
1 large yellow onion, medium dice
2 carrots, medium dice
2 fat garlic cloves, finely minced
1 pound russet (baking) potatoes, peeled and cut into 1-inch pieces
6 cups water
1 can cannellini beans, rinsed and drained
1 pound kale (Tuscan preferred), stems and center ribs discarded and leaves very thinly sliced
Kosher salt & pepper
Directions
Heat 1 tablespoon oil in a 5-quart heavy pot over medium-high heat until it shimmers, then brown sausage, stirring often, 2 to 3 minutes. Transfer with a slotted spoon to a bowl. Add 2 tablespoons oil to fat in pot, and cook onion, carrot, and garlic with 1/4 teaspoon each of salt and pepper over medium heat, stirring often, until browned, 7 to 8 minutes.
Add 6 cups chicken stock to pot with vegetables and bring to a simmer.
In a separate pot, cook potatoes in salted water, simmering until potatoes are just tender, 10-12 minutes.
Transfer potatoes to pot with vegetables with slotted spoon, then add kale and beans. Simmer, uncovered, until potatoes are fully tender, about 10 minutes. Stir in sausage and cook until just heated through, 1 to 2 minutes.
Garnish with Parmesan cheese and plenty of black pepper.
3. Aunt Beaut's Fried Chicken
Executive Chef: Cody Suddreth
Recipe: Owner, Chef Jim Noble
Ingredients
1 whole chicken
3 cups buttermilk
Seasoned flour
Salt & pepper
1/4 cup peanut oil
Directions
Cut the chicken into 8 parts, or as you prefer. Soak the chicken in salt water overnight to drain most of the blood. Rinse and dry.
Put cast iron skillet on medium to medium high heat. Add ¼ cup peanut oil and heat until slightly smoking. Dip the chicken pieces in buttermilk and then dredge in seasoned flour. Shake off excess. Add to pan, skin side down. Pan fry until color becomes golden and starts to brown, then turn.
Repeat the process on the other side. Reduce heat to medium low to medium, turn back on skin side and cover for 20-25 minutes or until chicken begins to plump.
Remove cover and raise heat slightly and crisp on both sides to golden brown, being careful not to burn throughout the process.