3 Egg-Dyeing Techniques to Try This Easter
Step up your Easter egg game this year with these cool (and colorful) dying techniques.​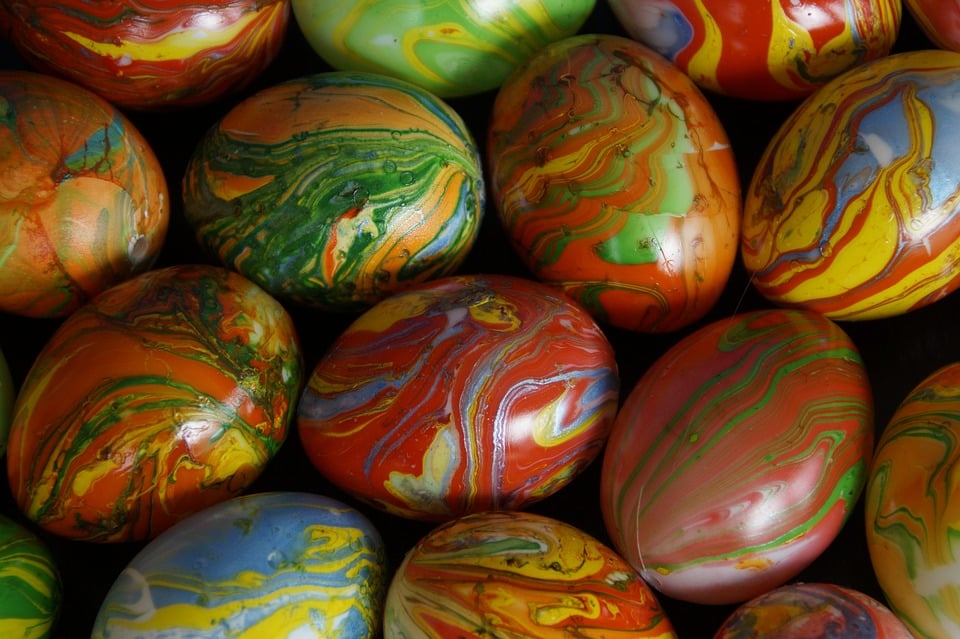 For children, Easter isn't about going to church or the food spread or even wearing extra nice clothes. Easter is about the egg hunts and chocolate bunnies and baskets full of goodies.
If you want to make Easter a little extra fun for the kids this year, considering changing the way you dye Easter eggs. Let the young ones foster some creativity during this holiday full of pastels and sweet treats.
Dip with a whisk
If you are accustomed to using a spoon or similar device for dipping your eggs in dye, you may want to try a different utensil for mess-free hands. Carefully slip your egg into the wires of a whisk, and use it to cage your egg while you dip it, keeping little fingers dye-free and avoiding the disappointment of an egg gone overboard.
Make them marbled
Get some use out of old, unwanted nail polish and be Parent of the Year when you teach your kids how to make marble-colored eggs. How?
Fill a disposable bowl with water and gradually pour different nail polish colors on top of the water. Then, swirl the colors around using a disposable fork or spoon (depending on the design you want). Kids can really get creative with their marbled eggs, customizing with different colors and swirl patterns.
Pro Tip: Using disposable (but durable) bowls and utensils will save your cookware from being ruined by nail polish. Use rubber gloves to dip the eggs if you don't have an old whisk you wouldn't mind throwing away later.
Add some sparkle (and crayons and black paint)
We've all tried the stickers that come with store-bought egg-dyeing kits, only to be disappointed when the stickers fall off way too soon. This year, try an out-of-this-world egg design.
First, have the kids color all over room-temperature eggs with crayons (not too roughly, careful not to crack the shell). Using multicolor or one color all-around is up to each egg artist. Then, paint the eggs with acrylic black paint. If you've got little girls who love sparkle, have them douse their eggs in silver or light-colored glitter for extra glam! Next, let the eggs dry – about 10 minutes. Finally, take toothpicks and scratch off the black paint to reveal funky the fun crayon colors underneath.
The scratch art – no matter what pattern or design – creates a "space egg" look, which is sure to excite any youngster, especially since he or she was the sole artist in the process.