3 Pop-up Markets to Shop for Last-Minute Gifts This Weekend
Peruse these pop-ups for unique and Charlotte-centric gifts.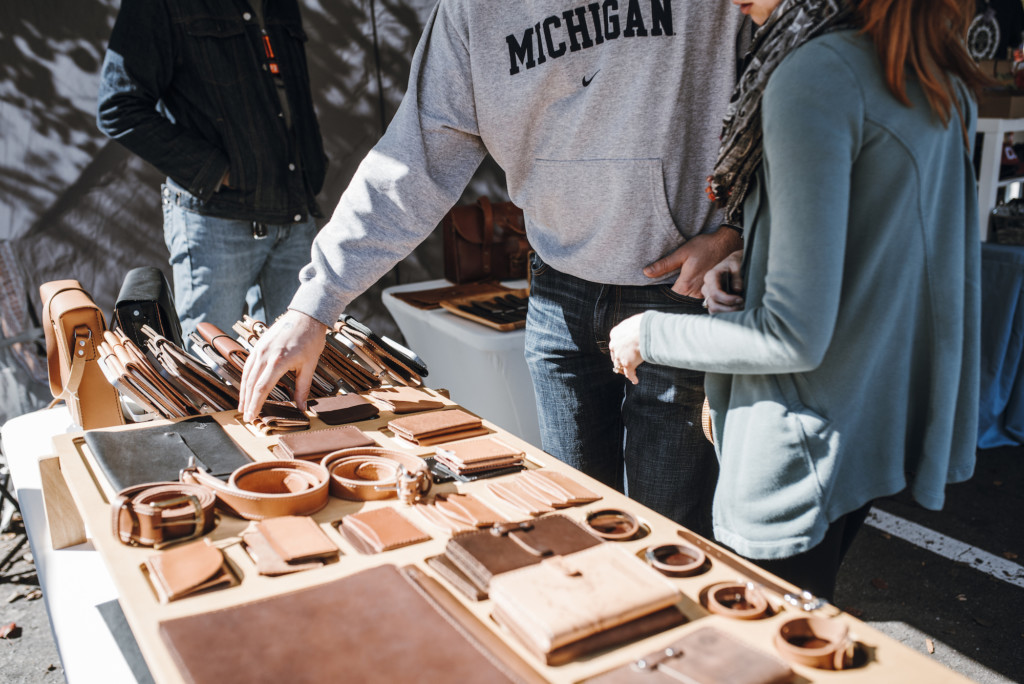 It's not the holidays if you're not stressed about shopping.
With all the manmade shopping holidays that flood our email inboxes each year (seriously, when did Green Monday become a thing?), it can be easy to get caught up browsing online. However, with so many choices and so many sales, falling victim to analysis paralysis can happen to anyone. You click, you scroll, you type something random into your Google search bar. You hope something unique will catch your eye, solidifying your status as the best gift-giver of all-time. But as time continues to dwindle, out-of-the-box gift ideas become more and more elusive in the sea of stuff online.
It's time to go offline.
Whether you're shopping for a White Elephant game, your favorite sibling, or your mom's new dog, you have three more chances this weekend to swipe your card on some sweet finds. There are three markets popping up in Charlotte this weekend, each with its own roster of local, regional, and national vendors. Plus, these pop-up shops know how stressful it can be to scramble around last-minute, so they also feature fun additions (such as beer) that make the process less of a task and more of a festive outing. So, cheers to that.
Uptown Flea
What: New to Charlotte as of this fall, Uptown Flea is a hip take on the hodgepodge of offerings of yesteryear, and this weekend's flea market is the last of 2018. Shop more than 80 vendors selling everything from plants to clothing to housewares and vintage trinkets while you enjoy food trucks and live music. And, because it's set in the center of our city, you'd be remiss not to snap a skyline picture for your Instagram. See the Facebook Event here.
When: Saturday, December 15, from 9 a.m. to 3 p.m.
Where: 700 N. Tryon Street
Cost: $1 entry fee
SouthBound and The Music Yard's Holiday Pop-up
What: If you like doing good while completing your holiday shopping, this pop-up shop is for you. Hosted by Mexican restaurant SouthBound and The Music Yard, this holiday pop-up is partnering with the Ronald McDonald House of Charlotte (RMHC) to spread the joy beyond your own friends and family. There will be about seven vendors on-site, selling handmade and home decor items. The event organizers ask for attendees to bring donations of new, unwrapped gifts for RMHC families (read more about RMHC's mission in this article). For every present you donate, you will receive one entry into the pop-up's multi-winner holiday raffle. Every shop vendor will be donating an item to the raffle, and the raffle drawing will take place at 2:30 p.m. You must be present to win. Additionally, there will be a build-your-own margarita bar, and $1 from every margarita sold will go to RMHC. The event page can be found here.
When: Saturday, December 15, from noon to 3 p.m.
Where: The Music Yard, 2433 South Boulevard
Cost: Free
Holiday Girl Tribe Pop-up
What: The mother of all pop-up shops returns to its hometown after taking its talents to Nashville. The final Girl Tribe pop-up shopping event of the year will host more than 90 local and national vendors, all women-led. In addition to the shopping, there will be photo opportunities and a cocktail bar from Sycamore Brewing. There is also a chance to shop the market before the general public on Saturday morning when you purchase a VIP ticket, which also includes some swag. See the Facebook Event here.
When: General admission is Saturday, December 15, and Sunday, December 16, from noon to 5 p.m.; VIP admission is Saturday from 10 a.m. to noon
Where: 2215 Thrift Road
Cost: General admission is free; VIP tickets are $20 in advance (tickets will not be available at the door)