3 Pumpkin Decorating Ideas That Aren't Messy
Save the pumpkin slime for another time.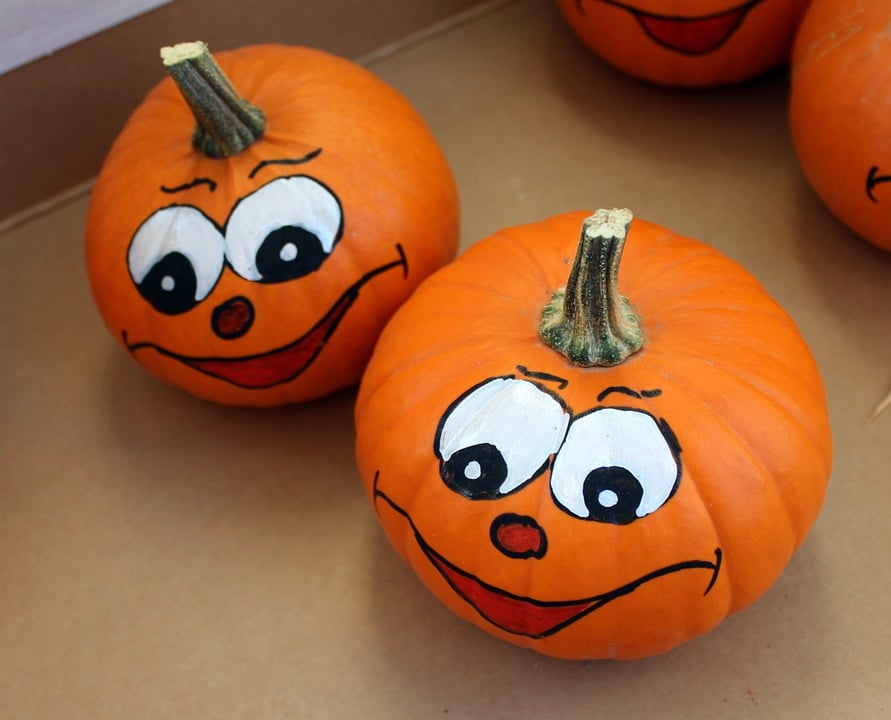 Most of us by now have experienced the deadly stench seeping from a carved pumpkin's carcass. Maybe it sat too long in the sun. Maybe you forgot about it. Maybe you wanted it to fester? (We sure hope not, but, hey… not totally judging.) The point is, pumpkins can be a little messy. Some would go as far to call pumpkins gross, but I don't want to have any pumpkin spice lattes thrown at me, so I'll refrain from formally making that statement. Instead, I'll give you some alternative ways for enjoying pumpkins in the month of October that do not involve you getting orange slime all over your home. Because I care about your home almost as much as you do. And no beautiful home should have trails of sticky pumpkin seeds connecting each room. Talk about the horror.
If your little ones are begging you to help them carve silly or scary pumpkins, try to swindle them out of the activity by way of candy corn bribes. If that doesn't work, you might have to carve a pumpkin. But, if by some miracle your children don't want to carve pumpkins, suggest one of these three fun ideas that'll have them gushing with excitement (and you beaming with joy at your clean home). Everyone wins.
1. Silhouette Pumpkins
This is when those elegant white pumpkins (luminas) come in handy. Stick with a classy theme and create silhouettes of your family members to put on the pumpkins. Simply take photos of your subjects from the side to get their side portraits. Then, make each portrait as large or small as necessary depending on your pumpkin sizes. Print and cut out the portraits and trace them onto black paper. Then, take your cutouts and stick them to a circular white paper background using Mod Podge. Attach a black doily around the trim to frame the white background, glue the masterpiece onto the pumpkin, and you've got personalized pumpkins! Oh, and don't forget to include Fido.
2. Flag/ Striped Pumpkin
Luminas are all the rage. Show your allegiance to any particular country, state, or team using electrical tape to create designs on a lumina pumpkin. Of course, you may want to choose a design that involves straight lines only, given that you're using hard-to-curve electrical tape. The tape comes in basic colors, so this article shows a Hudson Bay blanket pumpkin, if you're into that sorta thing.
3. Wordy Pushpin Pumpkin
This pumpkin involves paint, so take that paint party outside to avoid any potential disasters in your kitchen. Choose a color of your choice that has a matte finish. Then, get a bunch of gold or silver pushpins. Once the paint has dried, simply write out a Halloween-inspired word in cursive with the pushpins. Use a hammer to get them to stick in the pumpkin. We recommend a short word like "boo" or "eek" so that the letters can be large enough for people to see. If you're not confident with your pushpin penmanship, gently write the word out in erasable wax pencil first to give yourself guidance.