3 Spring Decor Ideas
Ring in spring with these simple decorating techniques sure to bring brightness.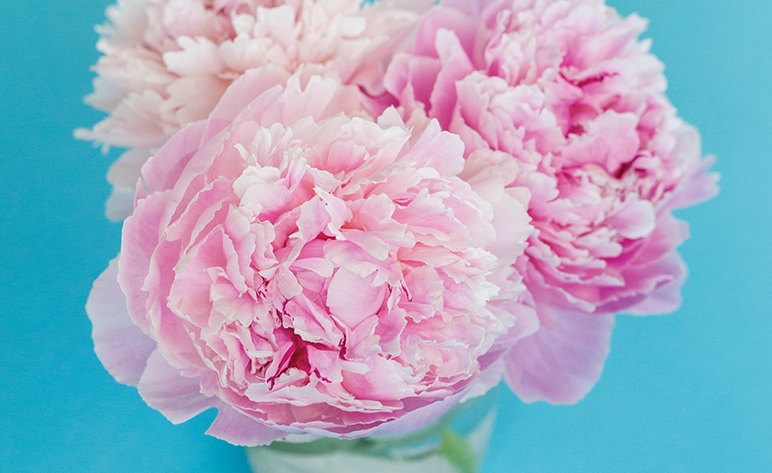 Logan Cyrus
Peonies peak in May, so start planning ahead for the short three to four week season!
Spring might not officially begin until March 20th, but that doesn't mean you can't start adding springtime style to your atmosphere. After all, with daytime temperatures slowly rising and the calendar officially flipped to the third month of the year, spring is so close we can practically feel the lake water on our skin.
To help shed the wintertime woes and brighten up your life a bit, try one (or all!) of these simple yet cheery spring decorating ideas.
1. Switch Your Centerpiece
The centerpiece on your kitchen table should always reflect the season. With sunny days ahead, switch to a centerpiece with seasonal colors like pink, green, and yellow.
Try it: If you like big, beautiful blooms, arrange hydrangeas, roses, and peonies for a charming floral combination. Forego a traditional vase and place them in an unused serving container to bump up the charisma.
2. Give Your Linens Some Love
Something as simple as changing out your plain white linens for a more refreshing color can be the difference between a sterile-looking bathroom and a cute, inviting one.
Try it: Opt for a traditional spring hue, like lilac or a pretty pastel yellow. Consider even sprucing the room up further with a pomander.
3. Fabric-Wrap the Books
Bring bright pops of playful prints into a space by transforming a few books from your coffee table arrangement or those stacked on a mantle.
Try it: Snag a couple different patterned fabrics (paisleys and polka dots are great!) from the local craft shop and wrap them around the book covers, ironing them to crease around the edges.