30 Outdoor Escapes In and Near Charlotte
Top spots for fishing, kayaking, hiking, and climbing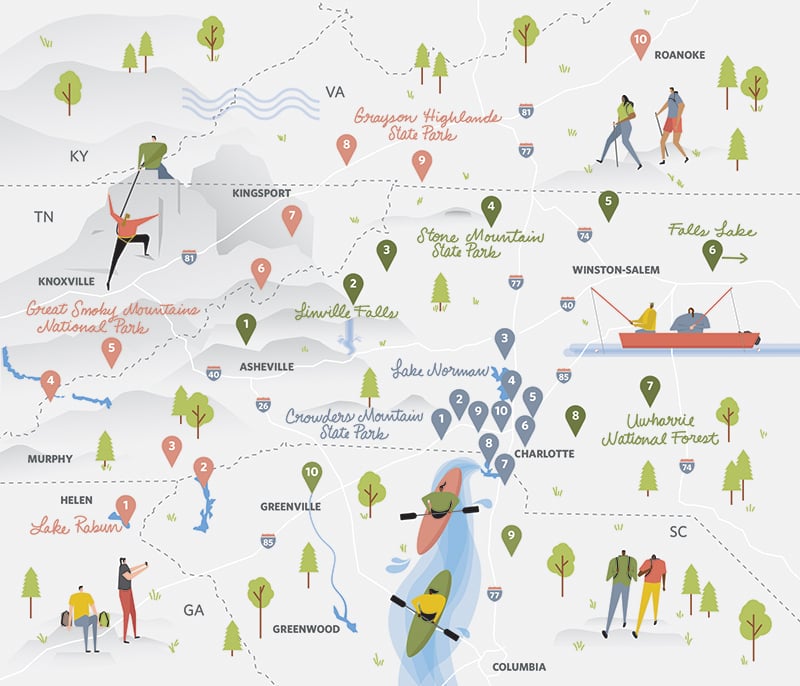 CHARLOTTE URBANIZES more each day, yet the skyline's shadow still falls on pockets of nature. A true escape isn't far away, either: Lakes, state and national parks, and natural wonders encircle the city. Above, we've compiled 30 destinations ripe for exploration and divided them into three groups: Around the Corner, Day Trip, and Weekender. That first category is especially handy for those of us traveling with little explorers. Use the key on the next page for distance from Charlotte and the activities there. —Andy Smith
Our curated list is full of both trusted destinations for Charlotteans and surprises. Just remember: The hill may look daunting at first, but you'll get over it.
Fishing
Laws change state to state, so we're going to focus on North Carolina. The N.C. Wildlife Resources Commission sells short-term (10-day), annual, and lifetime fishing licenses via its website, ncwildlife.org. Short-term licenses cost $6 for coastal fishing and $9 for inland fishing; annual runs $16 for coastal, $25 for inland, and $41 for combined. Lifetime licenses cost $16 to $477 depending on age and type of fishing. Kids under 16 don't need a license.
Kayaking
A Coast Guard-approved life vest must be available for each occupant, and anyone under 13 has to wear one at all times. You don't need a license to use an unmotorized kayak or canoe. If yours does have a motor, you have to register it with the state and complete a boating safety education course. (More info: ncwildlife.org.)
Climbing and Hiking
In state parks, rock climbers have to register at park offices or at access points for climbing and rappelling permits. All climbers under 18 need parents or guardians to sign their permits. The N.C. Division of Parks and Recreation doesn't offer instruction or supervision for climbers, so equipment and training is your responsibility.
State Parks
The State Parks system includes 36 parks, four recreational areas, and six natural areas, each of which has its own specific rules for fishing, kayaking, and climbing. But a few rules apply at all 46 locations: camping in designated areas only; vehicles on-site after park hours must be registered; no alcohol; and pets on leashes at all times.