4 NEW Must-Try Charlotte Pizzas
From our big list of pies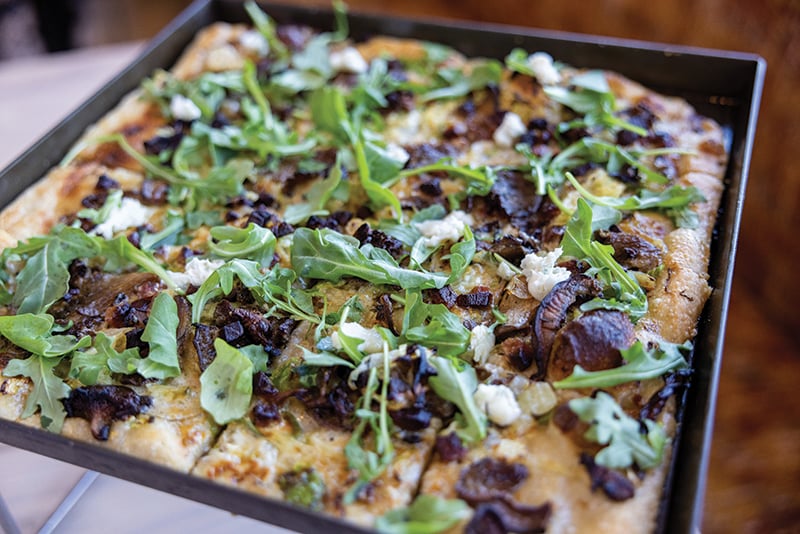 Each of these places have opened since late 2019. See the entire list of "24 Charlotte Pizzas You Must Try" here.
1. Grandma Pie
Geno D's Pizza
Geno D's Pizzeria, which originally operated in New Jersey from 1985 through 2018, has re-emerged as the newest tenant at 7th Street Public Market. The "Jersey Shore-style" pizza joint comes from father-and-daughter team Geno and Gena DiPaolo, and it serves pizza options that include this rectangle, sauce-on-top, Grandma-style one. 224 E 7th St.
2.  The Funghi
The Jimmy
The Funghi, aka "Jimmy's Pie" The Jimmy's 12-inch pizzas are made with 48-hour fermented dough, giving them a crunchy, airy crust with a subtle sourdough flavor. You can get a traditional Margherita, but for something a bit more adventurous, try the Funghi, aka "Jimmy's Pie," topped with roasted mushrooms, taleggio cheese, and balsamic reduction. Though the taleggio may register as "stinky" cheese, it's surprisingly mild and velvety against the tangy pizza crust. 2839 Selwyn Ave., Ste. X.
3. Detroit-Style Pan Pizza
Room & Board
It may not have the cachet of New York or Chicago styles, but Detroit does have its own distinctive approach to pizza: rectangular slices, a thick and crisp crust, and sauce on top of the cheese. Room & Board's owners were smart to fill that quadrilateral hole in Charlotte's pizzascape. More good news: A less common style of 'za means there aren't as many gatekeepers afoot with their NYC comparisons. 3228 N. Davidson St., 980-430-3136
4. Local Mushrooms
Orto
The rectangular, thin, Roman style pizza (with sauce on top) from NoDa's newest Italian spot has garnered several fans already. One of the prized pies from James Beard finalist Chef Paul Verica's new concept: Local Mushrooms, caramelized onions, pancetta, gorgonzola cream, arugula, and sprouts. 416 E. 36th St., Unit 600.