4 Things to Know: New Brewery Armored Cow in University City
Charlotte's newest brewery pours gluten-free beers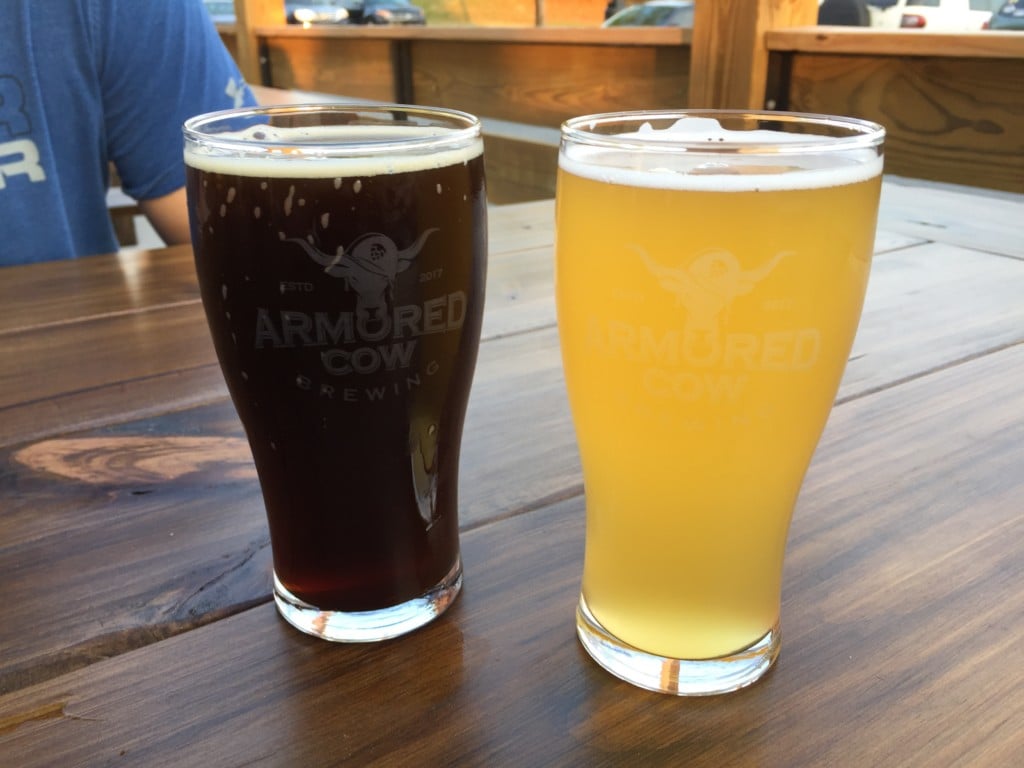 Armored Cow, a brewery specializing in gluten-free beers, opened its doors two weeks ago at 8821 JW Clay Blvd., becoming the first brewery in University City. Andrew Kalinoski, the former head brewer at Sycamore Brewing, began brewing gluten-free beer for his mother-in-law, who has celiac disease. Armored Cow is one of the few breweries with multiple gluten-free options. If you plan on going, here's what to expect:
1. There are both gluten-free and traditional beers on tap.
The brewery currently offers two gluten-free and seven traditional beers, and they plan on adding more soon. Their gluten-free beers are brewed without enzymes in a system separate from the traditional beers. On their gluten-free list, try their best seller, Hell Yeah!, a citrusy and light IPA. Other top sellers include Bitchen Betty, a brown ale, and Strawberry 6&20, a refreshing blonde ale. The average cost for a beer will be around $6 to $7.
2. Don't drink beer? They have something for you, too.
Armored Cow is partnering with local businesses to make sure there's something for everyone, even the non-beer drinkers. There's Red Clay Ciderworks, UpDog Kombucha, wine, and coffee. Plus, there are snacks for purchase, including candy and gluten-free soft pretzels and desserts from a local baker.
3. It's a place to have fun.
Co-owner Stephanie Macall, Kalinoski's wife, says their goal is to "serve great beer and have fun," and their roomy, 11,000 square-foot space helps them do just that. Their inside and outside tables are big enough to accommodate groups, and there are plenty of board games (I recommend Battleship, a classic) to keep you entertained while you sip on your craft. Plus, the brewery hosts trivia every other Thursday, live music twice a week, and, on Friday nights, there will be up to three food trucks on site.
4. Expect more to come.
Having just celebrated their two week anniversary Friday, Armored Cow is only getting started. They'll be adding more events to their calendar, including music bingo and culinary classes. Expect more beers to appear on to the tap list throughout the next few weeks; they plan to eventually serve up to six gluten-free beers.
To see upcoming events for the week, check out the brewery's Facebook and Instagram pages.