5 (Cheap!) Ways to Update Your Bathroom
Don't let your wallet dictate your decor anymore.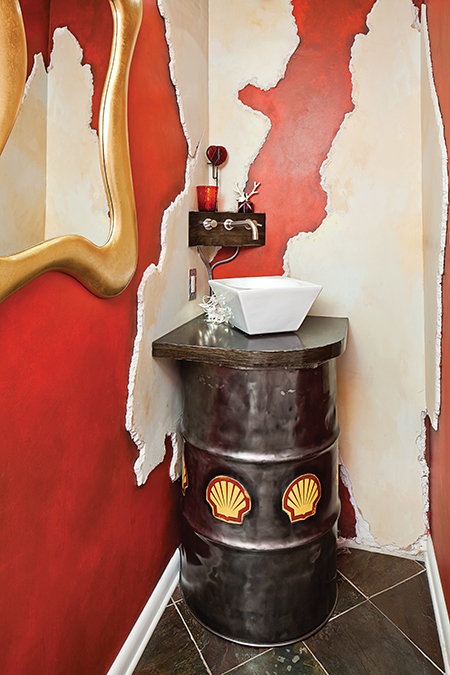 Some people are serial re-decorators. You know the kind: Every time you step foot in their home, something is different. The furniture is rearranged; a new bench sits in the foyer; a gallery wall makes its debut. But for those who don't change things up very often (or ever, really), a home can begin to feel quite stale. Familiarity is nice, but making subtle updates can really refresh and reboot a lifestyle.
If you find yourself shying away from home updates because of budget, don't let your wallet dictate your décor anymore. There are some simple switches you can make that will drastically improve the appearance of a room.
Today, we're looking at ways to update your bathroom on the cheap, because a million-dollar powder room doesn't have to cost a million dollars.
1. Wake up, walls
Old walls can get new life with a fresh paint job, paneling, or bold wallpaper. The ambiance of the bathroom will quickly get a makeover when the surrounding space has a new feel. Choose a damask wallpaper pattern for vintage elegance, or try neutral paneling for increased texture.
2. Fresh features
Affordable new features and hardware are an easy way to instantly add "wow" to your bathroom. Chrome towel bars and faucets are eye-catching and modern. Bring the style up another notch with a new mirror for a fabulous focal point. Circular shapes and other dramatic designs can be found for low prices at places like HomeGoods and local thrift retailers.
3. Rustic charm
Not everything in your bathroom has to scream "contemporary cool" when you're going for an updated look. In fact, it's a much more savvy approach to mix modern and rustic elements. Browse previously owned furniture at the flea market or online for a lightly worn wooden table to create a homey feel. Bonus: You get extra vanity storage or a display space for pretty knick-knacks.
4. Curtain call
For a unique spin on tired shower curtains, replace your old ones with swooping fabric curtains tied to the sides as if your tub were a window. In a stylish pattern and with trendy ties, your shower curtains will immediately become a faux designer hack. This trick is so simple and yet so effective, making it one of our favorites.
5. Best personality
To personalize the powder room while supplying subtle style, add in some accessories. Items like colorful picture frames and freshly picked flowers are points of interest that can infuse personality and charm into the room. Plus, who doesn't love a vase of beautiful blossoms? To cut costs even more, pick the flowers from your own garden or get them from the farmer's market.