5 Design Trends from the Dilworth Home Tour
In case you missed it, we came away with these ideas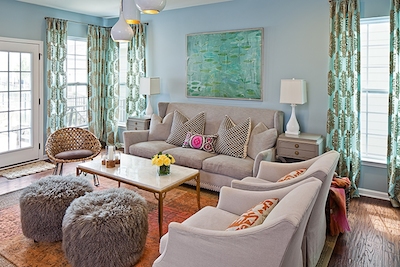 This past weekend, seven Dilworth residences greeted visitors with open doors. Guests arrived at 6 on the dot on Friday afternoon. And the lines of people parading through the houses grew as the night of admiration continued. While each home had its own character and independent features, some trends emerged. Below are five design aspects that are hot right now. (We pulled these photos from the pages of Charlotte Home + Garden to illustrate our Dilworth findings, as no photos were allowed inside the homes for security purposes.)
1. Furry pillows. As evidenced by the cover of Charlotte Home + Garden's fall issue, these pet-like pillows are popular. Reminiscent of the shag-carpet days, the fur coverings are being used on footstools, throw pillows, and benches. A couple of Dilworth homes had these furry accents in white.
photo by joel lassiter
2. French doors. Whether in the kitchen, living room, or bedroom, these glass doors were common occurrences. One home had a set on the front of the house, opening from the living room to front porch, and a matching set on the back of the house, opening from the kitchen to the back patio.
photo by logan cyrus
3. Gray and white. As designer Charlotte Lucas mentioned in the summer issue of Charlotte Home + Garden, gray is a popular color trend. The home tour revealed all shades, from soft and light to bold and heavy. Most of the gray walls were set off with white trim.
4. Built-in bookshelves. Studies, offices, children's rooms, living rooms — bookshelves are playing a large role in home design these days. They've moved beyond the sole purpose of storage, too. Designers and home owners are color coordinating books and choosing titles that express residents' personalities.
photo by chris edwards
5. Statement Fixtures. We saw this trend over in Plaza Midwood during that neighborhood's spring home and garden tour, and Dilworth home owners reinforced the importance of decorative lights this past weekend. You'll find several examples of stylish fixtures in the current issue of Charlotte Home + Garden, including the kitchen pendant lights and breakfast room chandelier at left.
photo by logan cyrus