5 Events for the Week
From gardening tips, to art exhibits, to art in the garden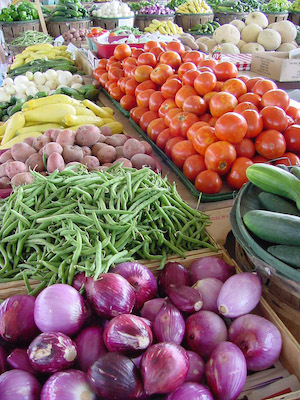 1. This is the final week of the Women in Abstract exhibit at Hidell Brooks Gallery in South End. The exhibit focuses on contemporary women artists working in abstract. Many of the women are from the surrounding Southeast region. The last day of the exhibit is August 30.
2. On Thursday, from 5 p.m. to 9 p.m., Daniel Stowe Botanical Garden in Belmont holds its final Summer Nights event. At 7 p.m. take a curator-led walk and hear the stories behind the current ZimSculpt exhibit. A wine tasting will highlight the wines of Southern Africa. The event is free with garden admission.
3. On Friday, Mecklenburg County Cooperative Extension agent Kristin Davis presents the latest in the Sustainable Living Series. This week's class includes the basics of preserving low-acid foods with pressure canning. The class happens at a good time as attendees can use these skills to preserve the last push of summer produce. Register for the class here.
4. Mecklenburg County Master Gardeners will be on hand at the Davidson Farmers' Market this Saturday. Bring your questions on organic gardening, soil preparation, plant selection, composting, or any other general garden issue. (Check out our latest chat with a Master Gardener about planning for the fall landscape here.)
5. The Matthews Community Farmers' Market will take place at a special time on Saturday—from 7:30 a.m. to 9 a.m.—to accommodate the Matthews Alive Festival parade, which begins at 10:30 a.m. The festival (August 29-September 1) includes rides and games, a cultural center with a quilt show and artist guild, an arts-and-crafts pavilion selling handmade works, and a long list of musical entertainment. All proceeds from the festival benefit area nonprofits.