5 Farmers Market Happenings this Saturday
Eat breakfast, learn to sharpen knives, watch a cooking demo, participate in a Q&A, eat dessert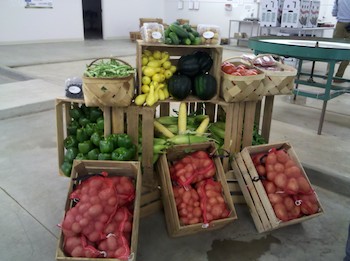 You might need a helicopter to make it to all five, or you could pick out a couple of your favorites from the list below.
Pancake breakfast. Support the Fire Department Auxiliary by eating flapjacks flipped by firefighters. The fourth-annual pancake breakfast at Atherton Mill and Market starts at 8:30 a.m. and continues until 11 a.m. The cost is $5 for pancakes, coffee, and juice. Local bluegrass band The Thompson Brothers will play for the event.
Cooking Demo. At the Matthews Community Farmers' Market, Luca Annunziata will present recipe ideas for spring produce. Annunziata is the chef and owner of Passion8 Bistro in Fort Mill. He's known for using locally sourced ingredients and creating both good-tasting and good-looking plates. The demo starts at 9 a.m. in the chef's tent.
Knife-sharpening skills. Chef Chad Lauderbaugh, of The Pines at Davidson retirement community, will show attendees at Davidson Farmers' Market how to keep their kitchen knives in good shape. Lauderbaugh is a graduate of the Culinary Institute of America and has worked in the food industry since he was 15. His demonstration starts at 10 a.m.
Q&A. Even though many crops were just planted and summer isn't here yet, pest problems lurk. Scott Ewers, an agent with Mecklenburg County Cooperative Extension, will be at the Charlotte Regional Farmers Market to answer questions about pest management and disease control. His expertise covers vegetable plants, ornamentals, and lawns.
Let's go bananas. Every Saturday through September, the 7th Street Public Market has a different event or theme for its Green Market Saturdays. This weekend, it's bananas. Orrman's Cheese Shop will layer peanut butter, honey, and bananas on wheat bread. For those with a sweet tooth, Cloud 9 Confections will serve banana-pudding ice cream and banana-nut muffins. And for the adventurous, Greeneman Farms with sprinkle bananas with chocolate salt.